Phuket is one of the main tourist destinations in Thailand, with flocks of visitors coming to the beach every day…but what to do in Phuket, beyond of the beach of course? Here are the 5 things not to miss while in Phuket.
1. Get shocked at the Vegetarian Festival in Phuket Town
You should really, really try to be in Phuket during the Vegetarian Festival: experiencing this shocking festival was the highlight of my Phuket trip, and I'm still raving about it to anyone I meet.
The Vegetarian Festival is a 9 days event held in October, during which people of Chinese ancestry observe a vegetarian diet for a sort of spiritual cleansing, and go through all kinds of rituals and ceremonies: we are talking about firewalking, bladed ladder climbing and not for the faint hearted street processions, where I saw people with needles all over their chest and some truly shocking cheeks piercings.
2. Party in Bangla Road, Patong… but with a conscience!
If you are in Patong, you shouldn't miss experiencing the infamous Bangla Road (something similar to Khao San Road in Bangkok).
Get the night started at one of the many bars on Bangla Road that sell buckets of mixed drinks and then dance the night away.
It's free entry to the clubs (at least for the ladies), so we were able to try a few: Seduction, Illusion and Tiger Disco : it was lots of fun…but one night for us was definitely enough!
You should indeed get ready for a crowded place where everyone will try to get you into their bar or ping pong show… don't know what it is?
Well, a Phuket Ping Pong show will definitely have you thinking differently about ping pong from now on: it's an erotic show where some older ladies will do all kind of different shows with their … well, private parts! Do I want to see it?? NO THANKS!
Also, it was pretty shocking and very sad, to see all of these young strippers and prostitutes offering sex to older Western men… Bangla Road really is the perfect portrayal of sex tourism in Thailand, so go on and see it yourself, but please party with a conscience!
3. Take a day trip to Phi Phi Island
I usually skip organized tours and organize my day trips myself, but this time Tianna and I didn't really have much time and decided to go for an organized day trip to Phi Phi Island (on a budget).
It is indeed possible to take the ferry and go to Phi Phi Island on your own (and maybe spend one night there), but if you're in a rush I found our tour to be a good value for the price.
You will find tour agencies everywhere in Patong, and they pretty much all offer the same thing but for different prices: we managed to pay 1000 baht (approximately 25 euros) each for an all inclusive trip which included transfers from/to the hotel, lunch (mind you, nothing exceptional), snorkeling equipment and, of course, the cruise in itself.
We booked the cruise at the tourist agency with the red sign right next to Ramada Phuket Deevana Hotel (I'm not sure it had a name!).
The best part for me was the hour spent snorkeling at Phi Phi Don: even though the weather wasn't the best, the landscape was still beautiful! No wonder this is considered one of the best places to visit in Thailand.
If you have more time in Thailand, though, consider spending at least a couple of nights in Phi Phi: it's totally worth it!
READ ALSO: What To Do in Phi Phi Island
4. Treat yourself to a massage at Sweet Lemongrass Massage
In a list of the things to do in Phuket, it's compulsory to insert a massage: but where to get a massage in Patong, where one every two shops is a massage parlour?
I wanted to treat myself to a very good one, so I asked around and found out that Sweet Lemongrass Massage is supposedly the best place to get a massage in Patong, and indeed!
I got a mixed thai + oil massage and it was the bomb! Painful in the beginning (thai massage is a quite strong kind of massage) and super relaxing at the end (they also serve you lemongrass tea afterwards).
The massage was 350 baht (9 euros): you can find cheaper ones in Patong, but I found it worth it.
Sweet Lemongrass Massage is out of the tourist area: if you're staying in the southern end of Patong, then it's possible to walk (I did!) but get ready for a good 25 minutes walk on a dark road.
The place is busy, so email before to get an appointment at sweetlemongrass@hotmail.com .
If you're also heading to Chiang Mai, make sure to check out my guide to the best massages in Chiang Mai.
5. Relax at a swanky resort in Patong
When I plan a trip I like to mix adventure with some relax time… sometimes you need to unwind for a couple of days by just lounging by the pool or on the beach! If you are celebrating your honeymoon or a special occasion with your partner, check out these romantic hotels in Thailand.
I found Duangjitt Resort & Spa to be the perfect place to relax in Patong: located on the southern end of Patong, literally a 2 minutes walk to the beach, Duangjitt Resort & Spa is one of those places where you can do as much or as little as you want.
I stayed for two nights in one of their very well appointed Sino Style Deluxe Bungalows: the bed was one of the most comfy I found in hotels around Thailand, and the wooden furniture gave the room a special charm.
Bathrobes, slippers and all kinds of toiletries are provided, as well as 2 complimentary bottles of water per night.
Internet is supposed to be available and charged on demand, but I found that the common areas complimentary internet worked just fine in my room, where I was able to get some work done while sitting on my front porch.
The bathroom was very spacious as well, and after a swim in the pool I couldn't wait to get under the tropical shower.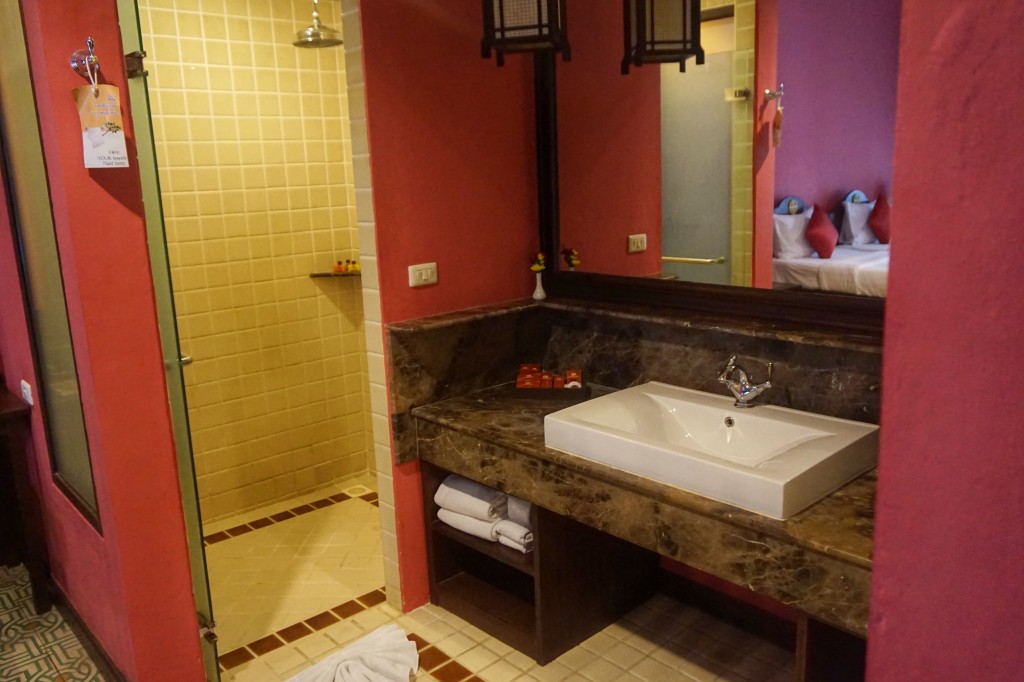 The bungalow was just steps away from the Nopakoaw Pool, the biggest of the three pools that the hotel can boast (and supposedly the biggest in all of Phuket!).
This is a lagoon-style pool with a waterfall, plenty of loungers and a pool bar. There's also a towel desk where guests can borrow towels free of charge.
I found the pool near the breakfast restaurant to be my favourite though, as it was very quiet and I could work from my lounger with nobody disturbing me.
I loved breakfast at Duangjitt Resort (and you know how much breakfast is important for me) ! With a selection of fresh fruit, hot dishes, pastries, fruit juices, and a table with eggs cooked at the moment, you really can't go hungry.
Breakfast time ends at 10, but make sure you get there at least 20 minutes before. At 10 am sharp the attendants close the room with food and no one is allowed to get anything anymore, which I found not very flexible considering the room was still full of guests.
The rest of the service was very attentive, though: the check-in and check-out processes were fast, and I was brought to my room on a golf cart.
I felt taken care of even if Duangjitt Resort & Spa is a pretty big hotel, and I would recommend the resort to anyone who is looking for a fancy and relaxing stay in Patong.
At the time of writing, a Superior Room with breakfast can be booked on Agoda for 106 euros, while rates for a Sino Style Deluxe Bungalow start at 145 euros per night.
I was in Phuket for a short time so I will have to be back, cause there are still so many other things to do in Phuket, including the Big Buddha and cooking classes.
I was a guest of Duangjitt Resort & Spa, but the opinions on the service are exclusively my own (and I don't lie!).
The Info Box
Flights from Bangkok to Phuket can be very cheap: I found a deal on Skyscanner for 27 euros, checked in luggage included with low-cost company Nok Air (and they even gave me food on the plane!).
If you're heading from Phuket airport to Patong, look for the shared minibus desk: a transfer will be about 200 baht or less.
If you're heading from Phuket airport to Phuket town instead, the government-run bus will cost you 100 baht and run every hour. Follow the signs outside the arrivals hall.
Tuk-tuks and taxis in Phuket are way more expensive than in Bangkok: a cheaper way to get from Phuket town to the beaches is to get a songthaew either from the old bus station or at Thalang Road (where the market is). A ride will be about 30-50 baht.
Make sure to pack the right clothes! Check out this packing list for Southeast Asia.
READ ALSO: What to Wear in Thailand
Check Out Other Destinations in Southeast Asia
15 Fun Things To Do in Phu Quoc, Vietnam
4 Days in Koh Samui: Things to Do + Where to Stay and Play