Wondering what are the best Mount Fuji tours from Tokyo? So was I, so I've compiled a list of the absolute greatest day trips to visit the famous volcano. Check it out!
Mount Fuji is arguably Japan's most iconic symbol, and it's on every visitor's bucket list. Not only is it the tallest mountain in the country, but it's a beautiful natural attraction that delights photographers and amateurs alike, and imposes itself on the landscape like no other mountain does.
Being such an important landmark, it's usually visited even by travelers who have little time in Japan, and that's why Mount Fuji tours from Tokyo are so popular. The volcano is merely 2.5 hours away from the capital city, which makes it very easy to reach on a day trip.
A tour to Mount Fuji is not a great option only for those in a rush. With 3 weeks in Japan, I initially thought of visiting Hakone and Mt.Fuji for one night, but the transportation with all the luggage was quite a hassle, and so decided to go on a day trip instead.
I am very glad I did. The day tour packed so much, and I saw more than I probably would have seen on my own in 2 days. Plus, I didn't have to deal with transportation and a big backpack.
But which tour to choose when there are so many? I've listed below the ones I consider to be the best, based on the value they offer and travelers' reviews, along with the tour I personally took and recommend. Read on and take your pick!
I use and trust Viator to book tours around the world, and I especially recommend the platform because of its fabulous cancelation policy. If for any reason your travel plans change, you can cancel most activities up to 24 hours in advance and get a full refund.
The BEST Mount Fuji Tour from Tokyo
The Mount Fuji, Hakone, Lake Ashi Cruise Bullet Train Day Trip is the tour I chose to visit the famous volcano from Tokyo. This is the most popular tour on Viator, so I figured it was a safe bet – and it was!
📝 This tour includes: Transfer by deluxe coach, return by bullet train, cruise in Lake Ashi, tram ride to Mt. Komagatake, visit to Mt. Fuji's 5th Station, a knowledgeable guide, and lunch (if selected). ➥ BOOK IT HERE
---
This full-day excursion, which lasts close to 10 to 12 hours, started at a meeting point where we were divided into groups. Then we took a scenic drive by deluxe coach to Mount Fuji.
We were so lucky to visit on a clear, sunny day! In fact, it's quite rare to see Mount Fuji as it's oven covered by the clouds. Your chances of seeing the mountain are particularly low between April and August, and we visited on a rainy week in May – but somehow we got lucky. I'm keeping my fingers crossed for you too!
The first stop on our tour was Mt. Fuji's 5th Station, which offers spectacular views of the surrounding lakes. Our guide Joe told us about the geology of the place beforehand, and then we had an hour of free time to walk around on our own and take pictures.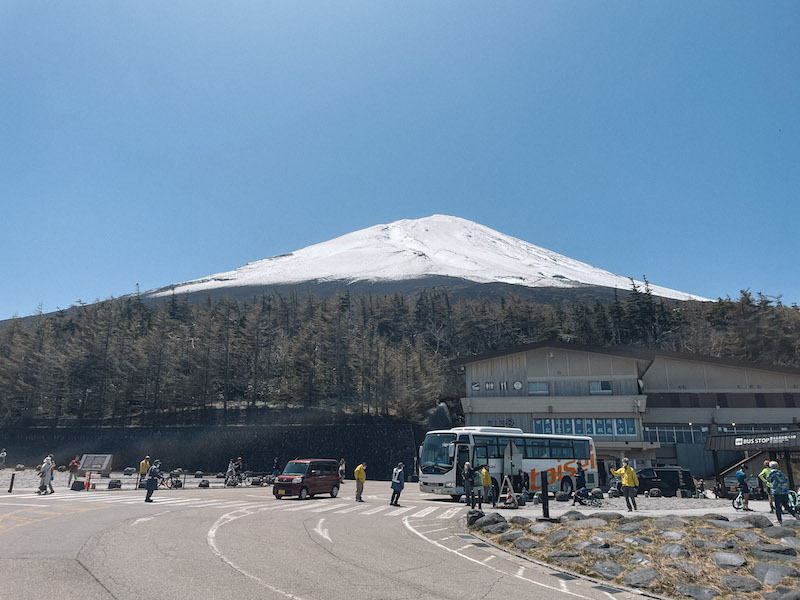 Then we stopped for lunch. I definitely recommend adding lunch when buying the tour (or adding it on the day of the tour by paying on-site for it). This Japanese-style meal – a hot pot plus a bento selection of cold bites – was one of the highlights of the day and one of the best meals I've ever got on a tour.
Next up: Lake Ashi. Lake Ashi is the most famous lake in Hakone, towered by both Mount Fuji and Mount Komagatake. We enjoyed a relaxing cruise across the lake, taking in the sights and, of course, I had to snap a lot of pictures! You know me 🙂
This comprehensive Mt. Fuji day trip also includes aerial tram tickets to reach the summit of Mt. Komagatake, from where the views of Hakone National Park, Lake Ashi, and Mt. Fuji are unparalleled.
If you're feeling up to it, you can venture on one of the mountain top's trails for a little stroll before getting back down and back to Tokyo.
While the tour is jam-packed, you'll be given a detailed itinerary upfront so you know what to expect and how much time you'll have for each activity, ensuring a smooth sailing day. Your guide will then bring you to the train station, where you'll catch the evening bullet train back to Tokyo.
This is an attraction in itself, as the super-fast bullet trains of Japan are famous all around the world.
Our guide Joe was exceptional! One of the best guides I've ever had for a tour in the world. He was funny and entertained us with fun facts about Japan's culture and language during the bus rides, and was happy to help in any way. Once we made it back to Tokyo, he even helped people get back to their accommodation – if you've been to Tokyo, you know the metro/train system can be quite confusing.
👉 THE VERDICT: The tour we went on is the most popular for a reason and I highly recommend it. It was the perfect introduction to the region without the hassle of moving by public transportation. We had a great time and thought the tour was well-priced for what it was (remember you're in Japan).
---
▶️ If you want to save some money, you can choose the more affordable version of this tour that returns to Tokyo by bus rather than by bullet train. The rest of the tour is the same. ➥ BOOK IT HERE
However, there are also other types of tours available. If you can afford it, it's worth looking into a private tour that will give you more flexibility. You can also find hiking tours if that is your thing. Keep reading and check out these other great options below.
Mount Fuji Private Tours
▶️ The Private Full Day Sightseeing Tour is ideal – and cost-efficient – for groups of six people. You'll enjoy convenient pick-up and drop-off and leave the city behind on a picturesque drive to Hakone area.
Weather permitting, this mountain Fuji tour includes a visit to 5th Station, situated halfway up the mountain, to the stunning Lake Kawaguchi, and the town of Hakone, all of which offer unbeatable views of the volcano. The tour is entirely customizable though, so you'll have a say in the itinerary and the time you spend in each location.
📝 This tour includes: Hotel pick-up and drop-off, a guide, and all visits. ➥ BOOK IT HERE
---
▶️ A great alternative is the Chartered Car to Mt. Fuji. This private tour aims to take you to the ultimate viewpoints of Mount Fuji, giving you the option to visit the volcano itself or Hakone, along with other spectacular sites along the way.
Lake Kawaguchi, Lake Ashi, Oshino Hakkai village, and Arakurayama are but a few of them, and the itinerary can be customized to suit your group's interests – one of the perks of booking a private Mount Fuji day trip. A professional guide will accompany you, and the service is available in several languages.
📝 This tour includes: Hotel pick-up and drop-off, a guide, and bottled water. ➥ BOOK IT HERE
The Best Mount Fuji Tour on a Budget
While tours to Mount Fuji can be expensive, that's not the case for all. The Scenic Spots of Mount Fuji from Tokyo is a great day trip for budget travelers.
You'll visit Mt. Nikura National Park, from where the views of Mt. Fuji are not only stunning but one of the most famous, and then head to Lake Kawaguchiko. Also a prime viewpoint of the volcano, the lake is the perfect spot to have some lunch and relax by the water.
Your trip continues to the scenic Oishi Park, where your stroll will likely be interrupted multiple times to take pictures, and ends with a visit to the traditional Saiko Iyashi no Sato Nenba village to get a glimpse into the lives of its inhabitants – and maybe try your hand at craft making!
📝 This tour includes: Transfers with live commentary, all visits, and local taxes. ➥ BOOK IT HERE
The Best Mount Fuji Hiking Tour
Eager to get your legs moving? If you enjoy hiking, Mount Fuji offers a mighty trail to conquer. This Trekking Day Tour comes with an expert guide who'll be leading the way as you climb Japan's tallest mountain.
You'll be taken by private transportation all the way up to 5th Station, where your hike begins. Enjoying sweeping views along the way, you'll follow the Yoshida trail either to the Seventh Station or all the way to the mount's top, depending on your fitness level and energy.
Snacks and water to keep you going are provided, and the tour can accommodate groups of up to 9 people.
📝 This tour includes: Hotel pick-up and drop-off, a guide, snacks, bottled water, and the hiking experience. ➥ BOOK IT HERE
A Mt. Fuji Tour for Shopping Lovers
Shopping spree alert! While the concepts of retail therapy and Mount Fuji might not sound natural together, they combine perfectly on this Mt. Fuji and Gotemba Outlet Day Tour.
You'll head to Fuji mountain from Tokyo on a comfortable private vehicle, and ascend to 5th Station to enjoy the marvelous scenery and visit the shinto shrines. Before embarking on your shopping adventure, which takes place in Gotemba Outlet – home to 200+ stores! – you'll refuel with a scrumptious Japanese lunch (own expense).
Your Fuji mountain tour ends right in front of your hotel, which is very convenient if you plan on coming back with numerous shopping bags!
📝 This tour includes: Private transportation for up to 9 people, a local guide, and bottled water. ➥ BOOK IT HERE
Mt. Fuji Tours from Tokyo FAQs
What's the best Mount Fuji climbing tour?
This Mount Fuji Climb tour is a great option to hike on the volcano's trail. It caters to groups of up to 9 people and includes a knowledgeable guide to lead the way.
Can you do a day trip to Mount Fuji from Tokyo?
You can certainly visit Mount Fuji from Tokyo on a day trip! My personal recommendation is to join the Mount Fuji Bullet Train Excursion which includes hassle-free transfers from the city (plus all the activities).
Is seeing Mt. Fuji worth it?
Mount Fuji is not only Japan's tallest mountain, but one of the country's icons worldwide, and quite an impressive sight to behold. I believe it's very worth the trip!
Disclaimer: I was invited by Viator to experience and review this experience. Nonetheless, all the opinions are my own. I would never lie to you!