Looking for things to do in Seville while you're in town? You've landed on the right page, then, to find out the ultimate attractions and activities you can enjoy in this gorgeous Spanish city.
Seville is the capital city of Andalusia, one of the most beautiful and visited autonomous communities in Spain, and a destination you can't possibly miss.
I lived in Barcelona for over one year and while I love that city, I must admit that Andalusia with its cities of Seville and Granada feel a lot more authentically Spanish. I loved roadtripping Andalusia, and Seville was my favorite stop on the trip.
Birthplace to the famous flamenco dance, home to three UNESCO World Heritage Sites, and heir to a rich culture and fascinating history, there will hardly be time to do everything the city offers when you visit!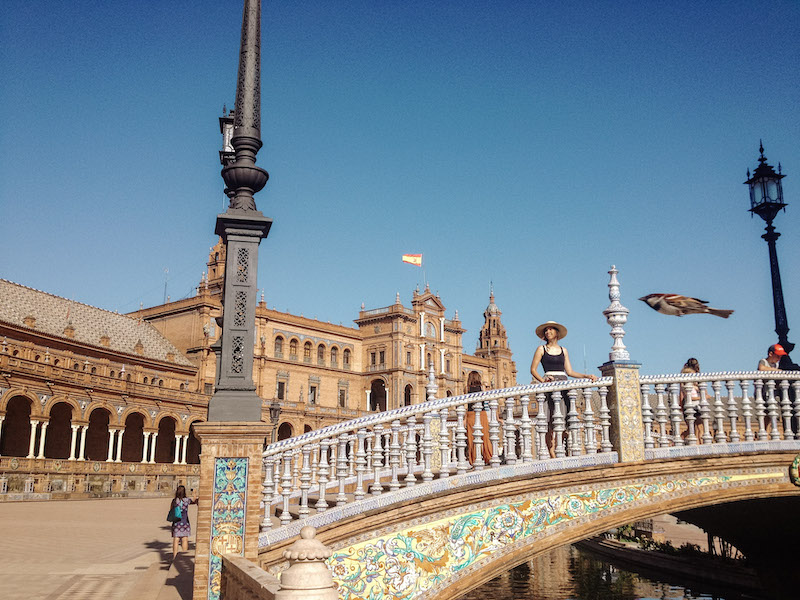 That's why I've compiled a list of the absolute best things to do in Seville, Spain so you're ready to start exploring as soon as you land. If you have time to spare after you've seen it all, keep exploring! You'll surely find new things to do, see, and eat even if you spend several weeks in the city.
BEST SEVILLE TOURS FOR FIRST TIMERS
If you don't have much time in the city, or would rather enjoy a very informative first glimpse of Seville, I recommend booking a tour. This way you'll get to visit the most important landmarks with a guide who'll be ready to tell you all about the city, its history and traditions, and recommend the best viewpoints, restaurants, and activities.
👉 I wrote a whole post about the best Seville tours, here are the ones I recommend for first-time visitors.
➤ The Alcazar and Cathedral Tour includes entry tickets for both attractions, as well as a guided visit so you get to discover interesting facts and curiosities about the landmarks, and some of the history of Seville. ➥ BOOK IT HERE
➤ The Seville Highlights Bike Tour lasts 3 hours, and it takes you through the city's medieval streets, passing by landmarks and stopping for photos in spectacular locations. While you cycle through Seville, you'll learn about its history from your guide. ➥ BOOK IT HERE
➤ The Tapas, Taverns, and History Tour combines a cultural experience as you learn about Seville's history and traditions, with its mouthwatering gastronomy. You'll visit 4 bars to enjoy tapas and food tastings, as well as drinks. Vegetarian and gluten-free options are available. ➥ BOOK IT HERE
16 Best Things to do in Seville
Be in Awe of the Alcazar of Seville
The Alcazar of Seville is the most iconic landmark in the city, and visiting is a must do in Seville. This royal palace was built in the 14th century for the Christian king Peter of Castile, on the site where a Muslim fortress had been.
To this day it's a residence of the Spanish royal family, which makes it the oldest European royal palace that is still in use. The Alcazar is one of the city's UNESCO World Heritage Sites, and besides having a very interesting history it boasts mind-blowing architecture, beautiful tile-covered chambers, lush gardens, and towers. No wonder is one of Seville top attractions!
While you can visit the Alcazar on your own, I highly recommend joining a guided tour. The Alcazar is too grand, filled with history and interesting facts, and spacious, and you wouldn't want to miss its highlights, which include the Baths and the Ambassador's Reception Room.
➤ The Alcázar and Cathedral Guided Tour includes priority access to both landmarks, which you will explore with a knowledgeable guide, getting to learn all about the city's history and the importance of these buildings. ➥ BOOK IT HERE
Eat All the Tapas
The most delicious aspect of Seville is, of course, its tapas. This gastronomic tradition is one of the best Spanish inventions, and you shouldn't leave the city without trying at least a few.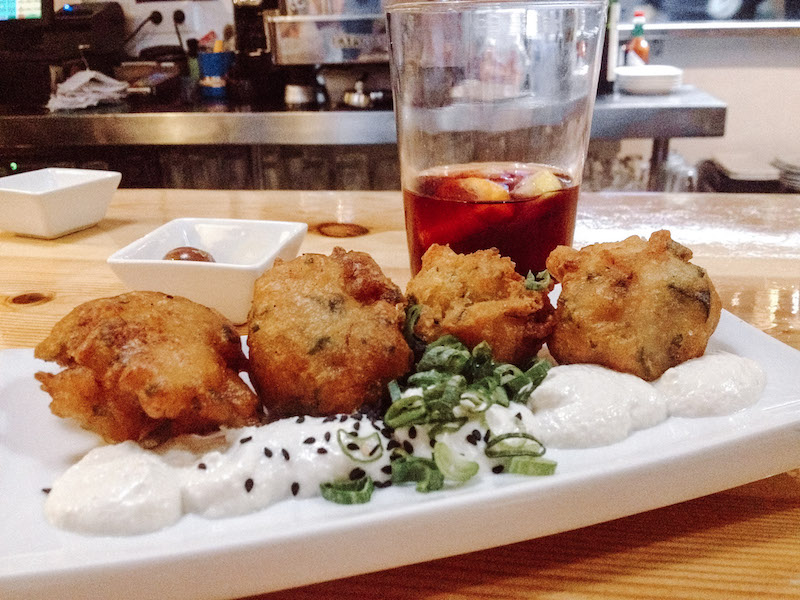 Check out the best eateries to get authentic tapas, or even better, join a tapas guided tour to sample them all!
▶️ El Rinconcillo is the oldest tapas bar in Seville, and has been running since 1670! It's one of the most frequented bar by tourists due to its history, but it still retains its authentic charm and a traditional menu.
▶️ Duo Tapas, on the other hand, is popular for its inventive tapas, which have a modern twist and are most of them influenced by Asian cuisine. If you've already tried traditional tapas and are up for a challenge, this is the place to visit.
▶️ Then there's Mercado Lonja del Barranco, an indoor market with over 20 eateries where you can find countless options of tapas, both traditional and modern, as well as other food items to enjoy, paired with a pint of craft beer.
👉 There are so many tapas bars in Seville that I actually wrote a whole post about them!
If you'd rather meet up with other fellow travelers and join a tapas tour in Seville, these are two options.
➤ With the Tapas, Taverns & History Tour you'll sample over 10 different tapas and gulp them down with several drinks, as you learn about Seville's 2,000 years of history. ➥ BOOK IT HERE
➤ The Tapas & Flamenco Tour combines a session of tapas and wine tasting that will make up for a substantial dinner, with a unique flamenco show in a 15th-century building. ➥ BOOK IT HERE
Watch a Flamenco Show
Did you know that flamenco was actually born in Seville? There's no better place to witness the spectacular art form, which is a Seville must-see, so make sure you have a night to spare to indulge in a flamenco show.
👉 I've written a whole post about the best places to watch Flamenco in Seville, but here are some of them.
▶️ Baraka Sala Flamenca: This venue features the impressive Mudejar architecture which creates just the righ ambiance to enjoying such a traditional show. It holds 50 people at a time, making the experience incredibly intimate and more enjoyable. link
This Triana Tablao Flamenco Show is one of the most popular in the city, and it's beautifully presented by four talented artists. The ticket to the show includes a free drink. ➥ BOOK IT HERE
▶️ Museo del Baile Flamenco: This venue hosts flamenco shows since the 18th century, and it also houses a museum where you can learn about the culture and history of this magnificent dance. Up to 120 people can enjoy each performance. link
This Flamenco Show comes with an optional ticket for the museum so you can combine both activities. ➥ BOOK IT HERE
▶️ Tablao El Arenal: Recognized by the New York Times as the best place to watch flamenco in Seville, you can't go wrong with the show they put on. You can also enjoy authentic Andalusian dishes and tapas to upgrade your experience.
You can choose between buying the ticket with a drink or with dinner/tapas to enjoy during the show. ➥ BOOK IT HERE
Go WOW at Plaza de España
The Spanish Steps, or Plaza de España, is one of the most spectacular attractions in Seville. Built for the Ibero-American Exhibition in 1929, the square was specifically designed to impress its visitors, and it has achieved its goal exceedingly.
It will impress both architecture buffs and those who don't have a clue about Spanish Renaissance style, not only for its size (imagine five soccer fields!) but for its shape, a semi-circle that faces the Guadalquivir river, a symbol of embrace that intended to make peace with Spain's former American colonies.
The Spanish Steps were even featured in the fifth movie of Star Wars!
Take a Day Trip to Granada and Visit the Alhambra
Granada is another one of the beautiful Andalusian cities, and being only 155 miles (250 km) east of Seville, there's no excuse whatsoever to miss this destination! If not for the city itself, make the day trip for the Alhambra, one of the buildings with the most history and fascinating architecture in all of Spain.
Alhambra's history goes all the way back to the 9th century, and it became a royal residence in the 13th century, suffering changes, remodeling, and improvements in the centuries that followed. Today, it's one of the most famous examples of Islamic architecture in the world, and it's absolutely worth the visit.
Besides this special attraction, you'll find tons of other magnificent landmarks and places to visit, which include its Cathedral and the Monasterio de la Cartuja. Other things to see in Granada in one day include the San Nicholas viewpoint where you'll enjoy as-toun-ding views, and the Sacromonte caves where the gypsies lived.
➤ The Alhambra and Albaicin Full-Day Tour includes a guided exploration of the Alhambra, as well as some free time in the city center and a visit to the historical district of Albaicin. ➥ BOOK IT HERE
Enjoy a Cruise on Guadalquivir River
The Guadalquivir river, which runs through Seville, is the only navigable river in Spain, as well as one of the longest and most important ones.
Not only has it witnessed (and played quite an important role) in Seville's centuries of history, being the scenario of conquests and the main maritime route for over 2 centuries, but it's also the river from which the first trip around the world sailed. Talk about historical moments!
This very river is a great sight to behold, but it's even more enjoyable to set sail in it and marvel at the views of Seville as you glide along its landmarks.
You'll be tracing the (can we say steps, if they were actually traveling in ships?) of so many people that were vital to the development of the city, from all the way back to a millennia B.C., and you'll also get to relax from all the walking around on a scenic cruise.
If passively cruising the river is not exciting enough for you, you can also kayak on the river; one of the top things to do in Seville for adventurers!
➤ You can buy your Guadalquivir 1-Hour City Cruise online to save time and ensure your seat in advance! It includes a life vest and access to the panoramic roof. ➥ BOOK IT HERE
➤ Rent a Kayak to paddle on the Guadalquivir at your own pace, passing under bridges and by distinctive city landmarks for a couple of hours. A very original way to see Seville! ➥ BOOK IT HERE
Visit Triana Neighborhood and its Market
When in Seville, things to do include a visit to Triana, an authentic district and one of the most important ones in the development of the culture and tradition of the city, as it's the birthplace of many flamenco artists, great bullfighters, and a spectacular industry in traditional pottery and tile.
This colorful, lively neighborhood is located right across the bridge from Seville's downtown, and it's worth a visit. Be sure to stroll along Calle Betis, the scenic waterfront street with wonderfully colored facades to snap some pictures, and don't miss the Triana Market, the district's most iconic attraction.
The market is built on top of the ruins of San Jorge Castle, the headquarters of the Spanish Inquisition until it was demolished in the 19th century.
The food stalls sell mainly fresh produce, fish, and herbs, and besides being where the locals buy their fresh food daily, it makes for a great visit, as it also features cafes and restaurants to try the local food, as well as tapas bars, and bakeries.
You can also visit the museum next door to see archaeological objects and the cells where prisoners were held, and learn more about the past of the former castle.
➤ To get the most out of your visit, you can join the Triana Market Tour which includes tastings as well as a guide to explain the history of Andalusian cuisine. ➥ BOOK IT HERE
👉 Check out my full post about the best Seville food tours to find a greater variety of options!
Check out the Museums in Seville
Seville has a long, rich history, so it comes as no surprise that it features a great number of museums you can visit; one of the must activities in Seville if you want to learn more about the city. Some of the most recommended ones are the following.
▶️ Museum of Fine Arts: Being the second most important art museum in Spain, after El Prado in Madrid, it's a must for any art lover. It showcases artworks from the medieval period, as well as the Renaissance and Baroque eras all the way to the 20th century, and it boasts paintings by iconic artists such as El Greco, Velásquez, and Murillo, as well as other foreign painters.
➤ You can join a Guided Tour of the Museum of Fine Arts to truly understand the value of the art pieces, their history, and the evolution of the art styles throughout the ages. ➥ BOOK IT HERE
Address: Plaza del Museo, 9
Opening Hours: Tuesday to Saturday from 9 AM to 9 PM. Sunday opens until 3 PM.
▶️ Archaeological Museum: This is a great museum to trace the history of Seville through the archaeological findings dating from the prehistoric times to the Roman period and the Moorish one. They're displayed across over 20 rooms in chronological order, so it's very easy to understand the city's development.
Address: Plaza de América
Opening Hours: Tuesday to Sunday from 9 AM to 3 PM during the summer months. In the winter months it closes at 9 PM from Tuesday to Saturday, and at 3 PM on Sunday.
▶️ Museum of Arts and Traditions: This is the place to learn about the traditional customs and popular arts of Seville. You'll find a collection of crafts, ivory, and porcelain, as well as musical instruments, work tools, and clothing from past eras. The large collection of popular ceramics is one of its highlights, and there are temporary exhibits in addition to the permanent ones.
Address: Plaza de América, 3
Opening Hours: Tuesday to Sunday from 9 AM to 3 PM during the summer months. In the winter months it closes at 9 PM from Tuesday to Saturday, and at 3 PM on Sunday.
▶️ Museum of Flamenco: The words Flamenco and Seville are intrinsically connected, so visiting the museum of this artform and learning about its origins is a must. Understand the depth of this cultural heritage so it's even more enjoyable when you watch a flamenco show!
Address: Calle Manuel Rojas Marcos, 3
Opening Hours: Daily from 11 AM to 6.30 PM
See the tomb of Christopher Columbus in the Cathedral
One of the main Seville tourist attractions is the tomb of Christopher Columbus. World-famous for his journey to the Americas in 1492, his remains were taken to the New World after his death, following his own desires, but they were brought back to Spain after the country lost control of the Dominican Republic, where they were located, in 1795.
Seville was the port from where Columbus sailed on that first trip, so his body was brought back to the city and buried in the Cathedral, where you can visit the lavish monument in which four heralds that represent the four kingdoms of Spain hold his coffin.
The Cathedral is a UNESCO World Heritage Site and worth the visit, besides Columbus' tomb! Be sure to climb to the top of the Giralda, the bell tower, for incredible views.
➤ It's advisable to get Skip-The-Line Tickets for the Cathedral and Giralda, so you don't waste time in the queues. For an extra fee you can get an audio guide during your visit. ➥ BOOK IT HERE
➤ Otherwise, you can go on a Guided Tour of the Cathedral, Giralda, and Alcazar to combine the visits and learn all about their history and importance to the city. ➥ BOOK IT HERE
Have a Picnic at Maria Luisa Park
From Plaza de España continue your stroll to Maria Luisa Park, located right next to it. It's the largest park in Seville, and designed in a typical Andalusian style with ceramic pools, palm trees all around it, a small lake, and over 40 pavilions!
It's a gorgeous place for taking pictures, and relaxing on the grass with a picnic, exactly what to do in Seville, Spain on a warm afternoon.
It also features wide avenues, protected from the sun by tons of trees of all sorts, to walk around, and you can even go on a boat ride on the lake. You'll also find other entertaining activities such as horse carriages and tandem bikes for up to four people, one of the most fun things to do in Seville with kids.
While Parque de Maria Luisa is a great green space to slow down from all your walking around and exploring the city, be sure to stroll around it to witness its beautiful areas.
Hunt the Game of Thrones Locations
If you're a Game of Thrones fan, you probably already know that many of the show's iconic scenes were filmed in Seville. If you didn't, now you know!
If following the footsteps of Cersei and Daenerys is set in stone on your bucket list, you're finally in the right place. Hunt down the places where the show was filmed; one of the most unusual things to do in Seville that will be difficult to forget!
If you're not a GOT fan, keep reading anyway. Some of the attractions may spark your interest nonetheless; they're all worth a visit!
▶️ Alcazar: Alcazar is already on your list, one of the undeniable must places to visit in Seville. Tons of chambers and sections of the complex were used in the show. These include Maria Padilla Baths, the Ambassador's Hall, Mercury's Pond, and the Gardens. Be on the lookout for them during your visit!
➤ If you'd like your visit to the Alcazar to be specifically Game of Thrones-themed, you can do so with the Seville Game of Thrones Tour, where a very knowledgeable guide, both in the show and the Alcazar's history, will take you around the filming locations telling you anecdotes and similarities between the real and the fictional stories. ➥ BOOK IT HERE
▶️ Seville Shipyard: This medieval Shipyard is the best-preserved one in the world, and it operated between the 13th and 15th centuries. It became active when king Ferdinard III and later his son Alfonso X tried to secure their position in the city, after taking Seville from the Moors. In the show, it was the crypt where the weapon to be used against Daenerys' dragons was hidden.
▶️ Osuna Bullring: This ancient bullring was the set for Daznak's Pit, which appears in the 5th season. This building is over 100 years, initially built for the famous Spanish bullfights and to prevent them from taking place in the squares. There's even a museum with a hall dedicated to the show's filming, with photos and costumes.
▶️ Castle of Almodóvar del Río: This castle, known to the show fans as the House of Tyrell, is about an hour from Seville. Built in the Middle Ages, its structure is of Moorish origin and its strategic location allowed it to guarantee the safety of the city and control the river's traffic. While the interior of the castle has nothing to do with the show, it still makes for a great cultural visit.
▶️ Italica: Italica is located about 15 minutes from Seville, and it's a great destination even for those not interested in the show, ad it's one of the best-preserved Roman ruins that remain in Spain, and the birthplace of two Roman emperors. Among the most impressive things to see in Sevile, Spain! The Amphitheater acts as the Dragonpit in Game of Thrones.
➤ You can visit the site with the Italica Roman City Tour, so you get to learn about its importance, the history of the two Roman emperors, and all about the filming of Game of Thrones in the area, besides visiting a Medieval Monastery. ➥ BOOK IT HERE
Stroll along Paseo de las Delicias
Paseo de las Delicias is a broad, tree-lined avenue that runs close to the canal and offers beautiful views of the river, bridges, and buildings as you take a pleasant stroll.
Palacio de San Telmo, Maria Luisa Park, and Las Delicias Gardens are among the prettiest attractions you'll encounter during your walk, along with Costurero de la Reina Tower, and Torre del Oro.
If you're in need of a digestive walk after a substantial dinner (or too much tapas), strolling along the avenue is among the best things to do in Seville at night!
Get Lost in Barrio Santa Cruz
Santa Cruz is one of the most iconic neighborhoods in Seville, and you probably already visited it (hint: Alcazar and the Cathedral are located here!)
But visiting its landmarks is not enough. The neighborhood is a hidden gem in the city, colorful and boasting narrow streets, orange trees, and tapas bars where to stop for a bite.
It's one of the best places to see the authentic Seville, and it not only exudes an irresistible charm but also incredible history, as it's the former Jewish quarter of Seville. Here you'll find pretty alleys, large squares, and impressive architecture in places like the Countess of Lebrija Palace, Plaza de Cabildo, and Casa de Pilatos.
➤ You can wander around the barrio and learn more about its past with the Historical Walking Tour, with which you'll also discover the old town and the city's main landmarks. Should you choose to, you can also enjoy a Flamenco Show afterward. ➥ BOOK IT HERE
Go to Cordoba for the Day
As you probably noticed by now, there's no shortage of charming cities in Andalusia, and Cordoba is another one of them.
Being a 1.5-hour drive from Seville, it's the perfect day trip destination to keep immersing yourself in the culture of this former Moorish region, which has left such a rich heritage of architecture, traditions, and even cuisine.
One of the main landmarks in Cordoba is the Great Mosque, and just as enchanting is the historic old town, listed as a UNESCO World Heritage Site. Make sure to lose yourself in its narrow streets and pop by a tavern or two for a beer.
You'll get to see, as in Granada, the coexistence of Islamic, Jewish, and Christian cultures that inhabited this city. You should definitely head to the Roman Theater, the Jewish quarter, and the Archaeological Museum if you're interested in history.
➤ The Full-Day Tour of Cordoba and Carmona is a great way to learn interesting facts of the city, and also travel through the countryside on your way to Carmona. Entrance to the Mosque-Cathedral is included. ➥ BOOK IT HERE
Meet Velazquez('s art) at Hospital de los Venerables
Don't be put off by the word hospital! I'm not taking you there for a check-up, but instead to admire some of Diego Velazquez's paintings.
This world-renowned Spanish artist, possibly best known for his work Las Meninas (located in El Prado museum in Madrid), has a dedicated center in Seville where you'll get to learn about his life and enjoy his work.
Hospital de los Venerables is a baroque building from the 17th century, which served as a priests' residence after the Great Plague of Seville, and now is a Historical Landmark, and a center of the arts. A great Seville attraction for art lovers!
The building itself is worth the visit, and at Velazquez Center you'll find some of his best work, including Santa Rufina, The Immaculate Conception, and Imposición de la Casilla a San Ildefonso, as well as art pieces by other renowned painters.
Do you think you'll have enough activities to keep you busy during your visit to Seville? Make sure to enjoy as many things as possible on this list to ensure a memorable trip, and don't be afraid to try some others too!
Pose in front of the Metropol Parasol (The Mushrooms)
One of Seville top sights is Metropol Parasol, more commonly known as The Mushrooms for its shape. This wooden structure of six parasols provides shade to the square Plaza de la Encarnación. It also protects the archaeological site where remains of a Roman colony from the first century AD lay.
The mushroom-shaped shadows move around the square throughout the day, and the structure makes for awesome pictures, as they are indeed peculiar! It's also an iconic landmark, as it's the world's largest wooden structure, measuring 26 meters in height, and 150 meters in length.
Not only is it impressive to look at, but one of the free things to do in Seville!
WHERE TO STAY IN SEVILLE
LUXURY: Hotel Unuk – This 5-star hotel boasts rooms with balconies where you can enjoy the complimentary breakfast, an outdoor pool, a spa & fitness center, a bar, and a restaurant.
MID-RANGE: Hostal Sol 4 – This guesthouse features rooms with a private bathroom, A/C, a desk, and flat-screen TV. They're ample and comfortable, some of them even boasting a seating area and balcony.
ON A BUDGET: Hotel Patio del las Cruces – This charming hotel features a spectacular indoor patio, and cozy rooms with a private bathroom and balcony. There's also a vending machine, baggage storage, and daily housekeeping.
Things To do in Seville FAQ
Is Seville worth visiting?
Absolutely yes!! Seville is not only gorgeous, but so full of history (this is where Christopher Columbus sailed from to the Americas!) and astounding architecture that blends Andalusian and Moorish styles. Seville is a must on any Spain itinerary.
What is Seville famous for?
Seville is famous for its incredible architecture, combining typical Andalusian and Moorish styles, and for being the birthplace of Flamenco, the iconic Spanish dance.
Is Seville a walkable city?
You can easily walk around Seville and get to all of its main landmarks on foot. It features broad avenues, parks, and alleys that are perfect for strolling.
How long should you spend in Seville?
Three days is more than enough to visit Seville's main attractions, and do some sightseeing around the city. If you want to go on day trips and explore its surroundings, though, plan for a couple more days.
Is Seville a safe city?
Seville is generally a safe city, and its crime rate is lower than in most Spanish cities. You should exercise common safety practices as you would anywhere else, though, always keeping your belongings within sight and your valuables well hidden to avoid being pickpocketed.