Wondering what to do in Tbilisi, Georgia? Getting pampered at the old baths, taking the cable car up to the Old Town, and eating all the traditional Georgian food are just a few of all the top things to do in Tbilisi!
Tbilisi is the capital city of Georgia. Not to confuse with Georgia the State in the US, it's a country in the Caucasus. If you're visiting Georgia, you will end up in Tbilisi at some point, and even if it wasn't in your Georgia itinerary, it really should be! You'll find traces of a long history, a diverse culture, and plenty of fun things to do in Tbilisi, Georgia.
If you're wondering what to see in Tbilisi, sit down. This is going to be a long post. If you like history, there are plenty of places to see in Tbilisi with its narrow, cobblestone streets that fill the entire city and its diverse architecture, proof of its rich history.
You like food? No worries. You definitely won't go hungry in Tbilisi – the Georgian cuisine is super good. And if you prefer nature or getting pampered, Tbilisi has a little bit of everything. Check out this Tbilisi travel guide!
HOW TO GET TO TBILISI
There are several ways that you can travel to Tbilisi, Georgia from other parts of the world.
➤ Flying into Tbilisi is the best option especially since the Tbilisi International Airport is located approximately 17 km from the city center. The airport is serviced by numerous airlines such as Qatar Airways, Turkish Airlines, Emirates, Lufthansa, Austrian Airlines, and more.
➤ Another major airport that you can fly into is Kutaisi, the hub for low-cost flight companies such as WizzAir and soon Ryanair. The airport offers incoming flights from London, Berlin, and other European cities. There's a modern bus that connects Kutaisi with Tbilisi many times a day, so it's really not an issue to fly into Kutaisi rather than Tbilisi. Check out here down below your options to get to Tbilisi.
➤ Another option to travel to the city from other locations in Georgia and the Caucasus and Turkey is via train. You can purchase tickets in advance by downloading the Georgian Railway Tickets app. Make sure you book a few hours prior to your departure online, or you can also purchase the tickets in person at the Tbilisi Railway Station. There are domestic trains that run to and from Tbilisi to various cities in Georgia.
➤ You can also opt for the bus with direct bus services from Istanbul, Turkey.
HOW TO GET AROUND TBILISI
Once you make it to Tbilisi, getting around is pretty easy.
➤ If you are traveling to Tbilisi from the airport, you can opt for a private airport transfer, a private airport pick-up that will take you straight to the hotel.
➤ Taxis are the primary mode of transportation to get around Tbilisi and they are pretty cheap. But beware when you get on a taxicab as some drivers are known to exaggerate their prices for foreign tourists. Make sure you choose an official taxi with installed meters so you are not overcharged.
➤ To avoid having to haggle, download Bolt. This is the local Uber, and honestly, since I've downloaded the app I've never used a taxi. Most rides in Tbilisi cost between 4 and 6 GEL, the equivalent of 1,45 to 2 USD at the time of writing. You just have to use the app to select pick-up place and drop-off destination and you can either pay cash or by card.
➤ Another good option in Tbilisi is the metro, which costs just $0.20 per ticket! There is a two-line metro system that operates in Tbilisi from 6 AM to 11:59 PM. The signs in the metro are in Georgian and English, so it is easy to navigate the station. The same goes with the station names.
➤ Aside from the metro, the bus is another convenient option to get around Tbilisi. Make sure you purchase the Metromani card (GEL2) and load it with a specific amount that you can use to ride on trains or buses.
BEST THINGS TO DO IN TBILISI
Are you ready to explore Tbilisi, Georgia? Use this guide to add some fun things to do in Tbilisi to your itinerary.
Wander Around the Old Town in Tbilisi
The Old Town in Tbilisi is one of the best spots to start your journey of exploring the Georgian capital, definitely one of the best places to visit in Georgia. There's a good chance your hotel might be here too! It's located on a mountainside with the 4th century Narikala Fortress peeking down upon it (more about it later).
A few Tbilisi attractions on this list are part of this district, but apart from visiting those, it's cool to just stroll around its cobblestone streets and alley… but get ready for some pretty strenuous uphill walking!
➤ If you prefer to learn more about the place, the Tbilisi Highlights Half-Day Walking Tour is a must for those who want to see the very best that Tbilisi and its Old Town can offer. On this Tbilisi sightseeing tour you'll get to explore the architectural wonders of the historic district, and notable attractions such as the Narikala Fortress, Anchiskhati Basilica, the Bridge of Peace, Sioni Cathedral, and the Freedom Square. ➥ BOOK IT HERE
Take a Bath at the Bath Houses in Abanotubani District
The Abanotubani district features many surviving bathhouses that are a must-try if you are visiting the city. The city itself sits on top of a thermal spring, which explains the abundance of these sulphur baths that have an average temperature of 40 to 50 degrees Celsius.
It's an incredibly relaxing experience to soak in these baths, and many believe that they are able to cure a number of skin problems. With many bathhouses to choose from, you can take your pick based on the sizes and prices of private rooms. This is definitely one of the top things to do in Tbilisi in winter when it's freezing cold!
Speaking of the cost, the prices do vary significantly. Access to the public bathhouses only costs a few dollars, while a private room at the most expensive private bathhouses can cost up to 120 GEL (40 dollars).
Visit the Sameba Trinity Church
The Sameba Trinity Cathedral, also known as the Holy Trinity Cathedral of Tbilisi, is the main cathedral in the city for the Georgian Orthodox (which represent 80% of the population), and it's one of the top visited Tbilisi tourist attractions. I had no idea, but apparently it's also the third tallest Orthodox cathedral in existence in the world!
This church was recently built, it was completed just in 2004. It combines the traditional Orthodox style with some Byzantine undertones. Wherever you are in the city, you can't miss its golden dome. It's even more impressive at night when it's dark and the cathedral is wonderfully illuminated.
Located in Elia hill, the cathedral is free to visit. You can either walk from Rike Park up the hill (it takes about 20 minutes), or you can reach it by taxi/Bolt.
Enjoy the Flowers at Tbilisi Botanical Garden
The Tbilisi Botanical Garden is a centuries-old garden located at the heart of the city's historical center, among the oldest botanical gardens in the ex-Soviet Union. This garden served as a royal garden for many centuries, then it was transformed into an arboretum.
You can take a stroll among the gardens filled with 3,500 types of plants (some of which are rare species), along with pavilions, bridges, waterfalls, and trails for walking or biking. Otherwise, it's also the perfect spot to relax when you want to enjoy some idle time.
Watch a Puppet Show at Gabriadze Theater & Check Out the Clock Tower
Located at the heart of Tbilisi's Old Town district, the Gabriadze Theater might be small in size, but it's one of the esteemed cultural institutions in Tbilisi. This theater features puppet performances that showcase depth and meaning. I am not a great fan of puppet shows, I'll be honest, so I skipped this one, but you should still come this way to check out the Clock Tower.
Rezo Gabriadze, the director of the theater, in 2010 built a quirky clock tower right next to the theater. Every hour an angel comes out to ring the bell with a hammer, but try and come at 12 PM or 7 PM, when a small show happens.
The clock tower is one of the symbols of the city, and one of the famous Tbilisi tourist places, but I was a little disappointed. I didn't find it to be that special, to be honest.
Take the Cable Car to Narikala Fortress
One of Tbilisi must see, the Narikala Fortress is an ancient symbol in the city of Tbilisi, Georgia. Also known as Mother Fortress, it serves as a reminder of the city's defense. Established in the 4th century, Narikala Fortress was expanded during the 7th and 8th centuries and was able to survive through many of the city's important events.
To get here, you can either walk (but it's quite the hike uphill!), or take the cable car. If you're lazy like I am, the cable car is the best way. Taking the cable car is also a great way to see amazing views of the Old Town from above.
Admire the Mother of Georgia Statue
The Mother of Georgia Statue, also known as Kartlis Deda, is an important monument in Tbilisi. This statue was erected in 1958 atop Sololaki Hill to commemorate the 1500th anniversary of the city.
This statue is a work of a renowned sculptor in Georgia – Elguja Amashukeli, and represents the figure of a woman wearing the national dress of Georgia.
Honestly, even if you wanted, you couldn't skip this one. The Mother of Georgia statue is visible from many parts of the city. If you want to get closer, though, you just have to either walk up the hill, or take the same cable car you take to get to the Narikala Fortress – they're right next to each other.
Be Amused at the Museum of Illusions
Looking for ideas for a rainy day in Tbilisi? The Museum of Illusions is one of the most fun attractions in Tbilisi. This museum recently opened in Spring 2019 and is already creating quite a buzz among both locals and tourists!
As the name implies, the museum is a great place to go to for mind-boggling optical illusions and visual tricks. From holograms to visual installations, educational projects, and the "upside-down room", it's a fun attraction for people of all ages, definitely not just for kids.
There are more than 70 exhibits on display at the Museum of Illusions. The cost of a standard entry ticket to the Museum of Illusions is 17.5 GEL (roughly $6.6). All attractions and exhibits display information in both Georgian and English.
Walk Over the Peace Bridge & Rike Park
The Peace Bridge of Tbilisi is another one of the top Tbilisi sights and iconic landmarks. This pedestrian bridge connects Rike Park to the Old Town of Tbilisi and straddles the Mtkvari River.
Stretching for 150 meters, the Peace Bridge is relatively new (2010). As it connects two main attractions of Tbilisi, it makes it easier for visitors to explore both places at once.
The unique bow form architecture of the bridge makes it visually stand out. You might like it or hate it (some people say it looks like a period pad!), but for sure it doesn't go unnoticed. The bridge also illuminates at night; from it you can enjoy good views of the old town, the river, and the fortress from the bridge.
When you're here, also check out Rike Park. The main entrance is easily located right next to the end of the Peace Bridge. The park features footpaths for exercising, a children's maze, an artificial climbing wall, singing and dancing fountains, and a giant chessboard.
Stroll Down Rustaveli Avenue
Rustaveli Avenue is the main boulevard in Tbilisi. The street, which used to be known as Golovin Street, was renamed in honor of Shota Rustaveli, a famed Georgian poet. This stretch of avenue starts from Freedom Square until the Kostava Street extension.
You have to stroll down Rustaveli Avenue when in Tbilisi. The street is lively and pretty with trees lining the street. Along the avenue, you'll find shops, eateries, quaint cafes, as well as cultural and government buildings.
Some of the notable buildings you could spot along this avenue are the Parliament Building of Georgia, Tbilisi Opera and Ballet Theatre, and the Simon Janashia Museum of Georgia. It's just a great place to walk around and get a glimpse of how daily life in the city is like.
Pass by Freedom Square
Liberty Square, also known as Freedom Square, is located at the heart of Tbilisi. It's an important landmark for the city as it has been part of many historical events; it's been renamed and reconstructed over the years, and in doing so has become a symbol of the city's identity.
At the center of Liberty Square, you'll find a 40-meter monument of freedom and victory, and a golden statue of St. George slaying the dragon atop this monument. There isn't anything to actually do in the square itself, but you'll pass by it for sure during your visit to the city.
Visit the Tbilisi Ethnographic Museum
The Tbilisi Ethnographic Museum is an open-air museum that is essentially a historic village. This museum consists of dwellings and cultural exhibits about the various regions of Georgia. Although it's a small country, Georgia is rich in culture and history, and this museum is a great place to get familiar with that.
The entire museum spans a total land area of 52 hectares and is divided into 11 zones. There are 70 buildings and over 8,000 items on display. One of the main features of this museum are the flat-roofed stone houses that are on display from Eastern Georgia, as well as the openwork wood houses that come with gabled roofs from Western Georgia.
You can also check out the water mills that exhibit traditional household items such as clothes, carpets, knitting frames, pottery, and furniture, among others.
While you can visit on your own, there are also guided tours available in various languages.
Opening Hours: Tuesday to Sunday from 10 AM to 6 PM.
Entrance Fee: 1.5 Lari for adults. Children below the age of 6 are free.
There's a Waterfall in the City!
Did you know that in Tbilisi there's a waterfall right in the middle of the city? Waterfall Leghvtakhevi has been renamed a few times throughout history. It's a popular spot for locals to go to especially during the summer to cool off from the heat.
It used to be only accessible from the botanical gardens, but the popularity of the waterfall experienced a surge after a series of paths and bridges behind the bathhouses were built to make it easy to access.
Swim in the Tbilisi Sea
The Tbilisi Reservoir, also known as the Tbilisi Sea, is actually an artificial lake. It opened in 1953 and is known as the largest lake in the city. It's north-east of Tbilisi, just a 30-minute drive from Liberty Square.
Swimming in the Tbilisi Sea is free. However, expect it to get crowded, especially in the summertime. Locals love to come to the Tbilisi "beach" to swim or sunbathe, and tourists have started to visit this location more and more as well.
Mtatsminda Park: Incredible Views & an Amusement Park
Whether you are visiting Tbilisi with kids or not, you'll want to stop by Mtatsminda Park. Located on a hill on top of Tbilisi about 7.5 km away from downtown, this is an amusement park that offers spectacular views of the city.
The Mtatsminda Park offers many rides for visitors to enjoy. The park is divided into three zones that also match the excitement of each ride: kids, family, and extreme zones, so there are both kid-friendly and adult-friendly rides.
Other fun experiences are to ride the funicular to Mtatsminda Park, and get some incredible views while riding the Club UNDERWHEEL (ferris wheel). There are also many entertainment venues, restaurants, and shops to explore within the park.
To get to Mtatsminda Park, you can take a taxi or Bolt, the ride takes about 15 minutes. You can also take the bus and the trip will take about 20 minutes (bus 124 from Rustaveli Avenue or bus 90 from Orbeliani Square).
The Hipster Side of Tbilisi: Fabrika
If you want to experience the hip urban culture of Tbilisi, there is no better place to go to for that than Fabrika. It's a contemporary space that combines a hostel, art spaces, alternative shops, and restaurants.
The building in which Fabrika is now housed was a former textiles factory during the time of the Soviet Union, but times have obviously changed.
This place is a favorite among locals and young visitors who are hip but on a budget. It's also a great Instagrammable spot if you want to snap some photos, so add it to your list of places to go in Tbilisi.
Fran and I used to come here every day because our coworking space was here, and we tried every single restaurant. We are not fans of any except the Piper Burger place, to be honest, we found most to be overpriced and not so great. I'd say go here to visit, but maybe don't stick around for a meal!
Take a Cooking Class in Tbilisi
Due to Georgia's proximity to Russia and Turkey, it might be easy to think that the cuisine of Georgia must be similar to these countries' one. But Georgia has a flourishing culinary industry that is unique and worth sampling when you visit Tbilisi. In fact, the city is filled with many restaurants that serve local dishes such as khinkali, khachapuri, Badrijani nigvzit, pkhali, and kharcho (more on these later!).
You can take your exploration of Georgian cuisine to another level by signing up for a cooking class in Tbilisi; this way you can relive your Georgian adventures when you are back home, and impress family and friends!
➤ In the Georgian Cooking Class, you'll learn how to prepare some of Georgia's famous dishes such as the ones mentioned above. In addition, you also get to sample local Georgian wines and get a glimpse into how they are made. ➥ BOOK IT HERE
Discover the Italian Courtyards
All around Tbilisi you'll find the traditional wooden houses, but usually, the best part of these complexes is what lies in the middle. Most wooden houses come with what are known as Italian Courtyards.
People meet in these courtyards, they relax, they chat about their lives… If you manage to enter one of these courtyards, there are some beautiful hidden ones!
Shop at the Dry Bridge Flea Market
The Dry Bridge Flea Market in Tbilisi is a must-visit local flea market, although it's becoming more and more one of Tbilisi tourists posts recommended in every guide. Warning, you could potentially find yourself lost among the many stalls in this flea market for hours to no end.
The different stalls offer a great array of jewelry, accessories, antiques, and other unique finds. It is no surprise why tourists flock here, especially those in search of souvenirs and items that are uniquely Georgian.
The location of the Dry Bridge Flea Market also has some history in it. This used to be the same spot where hard-up citizens would come and sell the items in their possession in order to make some cash. In fact, many of the sellers who come here to the market are still making a living out of their stalls.
When you visit on weekends, you can expect more sellers but more shoppers too!
Opening Hours: Daily from 10 AM to 5 PM.
Take a Day Trip to Mtshketa, the Oldest City in Georgia
Mtshketa is known as the most ancient city in Georgia. Being only a half-hour away from Tbilisi, there is no excuse not to make this your day trip destination. This city offers a completely different feel from that of Tbilisi, which is surprising given how close it is.
Once you reach the town of Mtshketa, you will be spoiled for things to see. Among the must-visit attractions is the UNESCO World Heritage Site Svetitskhoveli Cathedral. This architectural masterpiece dates back to the Early Middle Ages and is the second-largest church in Georgia after the Holy Trinity Church. It's known for being the burial place of Christ's robe and the tomb place of Georgian kings.

Other notable sites to visit in the city include the Samtavro Monastery and the Jvari Monastery.
There are plenty of options to get to Mtshketa. You can ride a taxi for approximately 25 GEL (9.30 USD) per ride. You can also ride the Tbilisi Metro to Didube, and from there take a minibus to reach Mtshketa. The public transport to Mtshketa is very cheap, making this the optimal way to reach Mtshketa if you're on a budget.
However, many people prefer to come on a guided tour to understand better the history of the city. These are my two recommended choices for tours from Tbilisi:
➤ The Mtskheta: Day Tour to Oldest City in Georgia provides you with transport and a guide that will show you the Jvari Monastery, the Svetitskhoveli Cathedral, and the Samtavro Monastery. You'll finish with a wine degustation. ➥ BOOK IT HERE
➤ Another great tour is the Mtskheta: Ancient Capital of Georgia Private Tour. After visiting the three holy places, this private tour will also bring you to the Shio-Mgvime monastery and to have lunch on the river bank. ➥ BOOK IT HERE
Enjoy the Sun at Turtle Lake
Turtle Lake is another place that tourists and locals go to escape the heat of the city in the summer, and to spend a day in the nature in the spring and fall. It's located at the outskirts of the city, so it is easy to find and get to. The lake got its name from the fact that there are plenty of turtles that live in the area.
If you don't care about swimming, that's fine too. There are many cafes with views of the lake you can relax at, or you can rent a boat and paddle around. Turtle Lake is also a great place to enjoy the sunset, some beautiful sunsets color the lake!
Eat All the Food in Tbilisi
As mentioned above, Georgia has some incredible traditional dishes that are a must-try when you visit Tbilisi.
Let's start from my favorite. Khachapuri is a type of cheese-filled bread that is super popular in Georgia and is available in nearly every café or restaurant. Try and order the Adjarian version which also has an egg on top, it's de-li-cious!!
Khinkhali is a type of Georgian dumpling that can be filled with meat, potatoes, cheese, mushrooms… You can have 10 khinkali for $2, which makes it an extremely popular food between locals. It's also a great choice for a bite after a night out, there are khinkhali places open 24 hours! Another yummy dish is Lobiani, a warm pie filled with beans.
➤ One great way to sample these dishes, among other traditional meals, is to join the Food and Wine Walking Tour with Tastings. You'll discover the different flavors of Georgia, plus get detailed insight into its culinary history. The best part is that you get to visit the organic bars, old taverns, and hip hangouts while getting to taste the best food and wine that the city has to offer. ➥ BOOK IT HERE
Explore the Tbilisi Nightlife and Party 'till Dawn
Tbilisi has a lively party and club scene that somehow reminded me of the nightlife in Bucharest, Romania. Bassiani is the largest techno nightclub in Georgia, founded in 2014, and is considered the best disco in Tbilisi. The main dance floor is quite unique as it is a disused swimming pool, and the club is big enough to accommodate up to 1,200 people.
My friends finally convinced me to go visit this past weekend and it was a pretty interesting experience! Even if you're not into techno (I am not), it's a lot of fun to visit for a couple of hours. The bouncers will cover your camera's phone with a sticker when you enter the venue, so unfortunately I don't have a picture for this one.
Aside from Bassiani, other known nightclubs in Tbilisi are Mtkvarze, Café Gallery and Didi Gallery (the sister venue), Mzesumzira's Ezo, and Vitamin.
➤ If clubs and bars aren't your thing, there are other things to do in Tbilisi at night. Why not join the Walking Night Tour through the Old City? This walking tour will give you the chance to witness the beauty of the city illuminated at night. ➥ BOOK IT HERE
Best Day Trips from Tbilisi
There are plenty of activities in Tbilisi itself to keep you occupied for a while. If you have a few more days to spare in Georgia, though, it's also worth taking a day trip to some nearby cities or towns.
The Mtskheta-Gori-Uplistsikhe day trip tour is one of the best day trips you can take if you have limited time.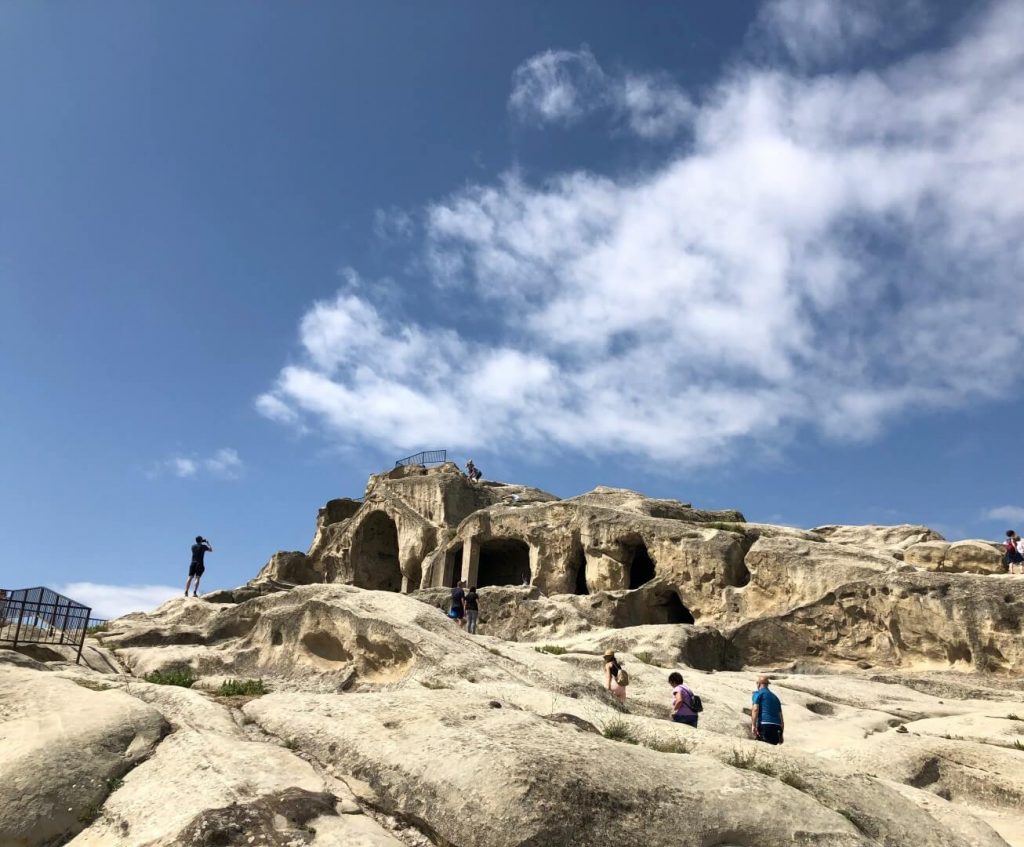 You can easily explore Mtshketa for two hours and then head towards Uplistsikhe next. This is one of the most unique attractions you can go to as it is a city carved into rocks. You can end your day trip at Gori with the Stalin museum is one of the most notable attractions to check out.
Other notable places to visit near Tbilisi are Ananuri and Stepantsminda, and Rabati, Vardzia, and Borjomi. You can put together these destinations in a one-day itinerary.
And there you go! I hope this list of top Tbilisi things to do will help you plan the perfect itinerary in the city. But before you go, here are my tips for where to stay.
WHERE TO STAY IN TBILISI
Book your accommodation by using the map below ⬇
Amante Narikala Hotel: A Full Review
We lived in Tbilisi for a total of three months, but on our first few days we stayed at Amante Narikala Hotel, a charming boutique hotel located in Old Tbilisi.
The location is great if you're looking to explore the main attractions and best places in Tbilisi. Amante Narikala is in fact nestled in the Old Town area, within walking distance to Tbilisi Botanical Garden, Narikala Fortress, and Liberty Square.
Keep in mind the hotel is at the top of a hill, so on the way back you might want to get a Bolt (the local Uber) or a taxi… or you can just work out!
The reception area is pretty cool, excavated in a cave. We arrived at around 5 AM (flight times to Tbilisi airport are always pretty weird ones!), but reception is open 24 hours. I like it when a hotel gives attention to details, and here they gave us a room key with beads forming my name. Isn't it cute? The process to check in was quick and smooth, and in 5 minutes we were in our room ready to crash!
This 4-star hotel has a very distinctive design, very different from the classic look of most hotels in Tbilisi. If you like sophisticated, minimalist, and Nordic design, this is the hotel for you. And if you check out the hotel's reviews, they are really great. Not many hotels can boast a 9.4/10 rating on Booking.com!
We stayed in one of the Vogue rooms, which are more spacious than the standard ones. Our room had a modern design, and featured a desk and a chair, a clothes rack, and coffee and tea facilities. The wi-fi in the room was fast, and we had no problems working on our laptops while we were there.
I particularly liked the design of the bathroom that was all white and yellow (yellow is my favorite color!), very Scandinavian with a touch of color. The shower was huge, and the amenities were all great quality. There were robes and slippers at our disposal as well.
From our balcony, we had great views over the city. It's particularly spectacular at night when the Sameba Trinity Church is lit up, it looks massive!
If you can splurge a little, their Amor suite features a bathtub with views of the city, and looks awesome!
Breakfast is a mix between buffet and made-to-order. You can find cheese, chia seeds, pastries, cured meat, yogurt and fresh fruit in the buffet section. Plus you can order a cooked dish such as pancakes, oatmeal, and eggs.
But the coolest part of it all for me was the rooftop terrace. Here you can have a coffee or drink, but you can also just come up to enjoy the views and sit in the sun.
Overall, we had a great experience at Amante Narikala Hotel and would recommend staying here while visiting the city, as it's close to tons of the best places to visit in Tbilisi. Plus, the hotel has everything you need for being a great base in Tbilisi!
CHECK OUT RATES & AVAILABILITY FOR AMANTE NARIKALA
We were guests of Amante Narikala Hotel, but our opinions can never be bought.
This post contains affiliate links, which means if you book something through one of my links I might get a commission, at absolutely no extra cost to you