Wondering what the best things to do in Dubai are? You've come to the right place. I'm a local, let me tell you what to do in Dubai for the trip of a lifetime!
Dubai has plenty to offer, and when I say plenty…I mean it. From astounding beaches to vast deserts, world-record buildings, cutting-edge technology, and insanely thrilling waterparks, this bustling city is packed with entertainment options.
Since I moved to Dubai, I've never been bored. There's always something more to do, something more to see… and when you think you've seen it all, something new pops up.
How can you choose what to do and what to leave out, then? (answer: read this post!).
Here you'll find a curated list of the very best things to do in Dubai, both the essentials for any Dubai itinerary, and the quirky, fun, and historical options that you can choose depending on your interests.
THE VERY BEST THINGS TO DO IN DUBAI
Explore the Dubai Marina
Dubai Marina is a residential neighborhood with spectacular skyscrapers and numerous fancy attractions that you can't miss on your trip to Dubai.
Among the best things to do in Dubai Marina are strolling along the Marina Walk, a beachfront walkway that passes by hundreds of stores, restaurants, and cafés with outdoor seating areas, and visiting the Dubai Marina Mall, which boasts tons of retail shops to keep you entertained.
And walking around the Marina when it's dark, with all the skyscrapers illuminated, is one of my favorite things to do in Dubai at night.
If you want to enjoy views of the Marina, however, (which I highly recommend!) it's best admired from the water. Taking a cruise will grant you unforgettable sights as well as a really fun experience. You can opt for daytime or nighttime scenery to marvel at.
➤ The Yacht Tour with Breakfast or BBQ offers either a morning or sunset cruise sailing past Dubai Marina and other top landmarks like Burj Al Arab and the Palm. ➥ BOOK IT HERE
➤ Get the Marina Dinner Cruise to see Dubai Marina completely illuminated from an open-air deck, and feast upon an international buffet dinner. ➥ BOOK IT HERE
See Dubai from At the Top – Burj Khalifa
The Burj Khalifa is not only the tallest skyscraper in Dubai but in the world, holding the Guinness World Record since its completion in 2010. Burj Khalifa is 828 meters tall and houses a hotel, offices, residences, and wellness facilities with several swimming pools, as well as an incredible 360-degree viewpoint from where you can enjoy the city from above.
At the Top – Burj Khalifa is an observation deck situated on levels 124, 125 and 148 of the building. To get up here, you'll get to ride the elevator with the longest travel distance in the world! (Oh yeah, Dubai is all about world records).
From up there, you'll get to see the whole city stretching over to the Persian Gulf, and spot landmarks like the Dubai Fountain, which is right below it, the famous Burj Al Arab hotel, Palm Jumeirah, and even the artificial World Islands in the distance.
You can enjoy the breathtaking views from either the indoor observation deck, through floor-to-ceiling windows, or, if you're brave enough, step outside into the open-air terrace.
➤ The Burj Khalifa Entry Ticket grants you access to levels 124 and 125, from where you'll see magnificent views of Dubai. ➥ BOOK IT HERE
➤ Choose the Dubai Burj Khalifa Tickets & Tour to skip the lines and reach the 148th floor, enjoying coffee and dates at SKY lounge, as well as personalized attention. ➥ BOOK IT HERE
⚠️ Visiting the Burj Khalifa can be expensive, but totally worth it. A way to save some money is to buy the Dubai Pass which includes multiple (costly) attractions.
Stroll Around Al Seef
Al Seef, Dubai is the place where the new meets the old, blending traditional buildings and streets that make you feel like you've stepped back in history, and elements of contemporary life.
Located by Dubai Creek, it features a promenade where you can take a stroll and spot Deira district across the creek, wonderful corners that are totally photo-worthy, and many eateries to consider.
One of the places you'll definitely want a picture at is the Starbucks, located in a traditional and old-looking building, as well as along the banks of the creek or its tiny alleyways (honestly, every building at Al Seef is photogenic!)
If you're in the mood for a bite, head to Al Fanar Seafood Restaurant for some seafood, Dukkan Burger for arguably the best burgers in Dubai, or Hello Fruits for a healthy smoothie.
One of the best modern twists of this area is the Museum of Illusions, where you'll put your mind to work trying to solve the puzzles and brain teasers, make sense of the optical illusions and stare at your million reflections in the Infinity Room.
➤ The Museum of Illusions Entry Ticket grants you immediate access, without having to book a time slot or wait in line. Great for kids, grown-ups, and everyone in between! ➥ BOOK IT HERE
Go skiing at Mall of the Emirates
Did you know you can go skiing in Dubai? While sandboarding in the desert can be tons of fun, the city's heat has to be escaped at times, and there's no better way to do it than by sliding down the slopes at the largest indoor ski park in the world!
Since the environment is enclosed it's completely safe, and it's one of the absolute best things to do in Dubai with kids. Plus, it's a great way to escape the heat if you're visiting Dubai in the summer!
If skiing is not your thing, you can still get access to the Snow Park and enjoy the cold building a snowman or riding the Mountain Thriller, the Giant Ball or bobsledding down the slopes.
➤ The Tickets for Ski Dubai are for experienced skiers or snowboarders ready to hit the ski slope. You can choose between full-day access or a couple of hours of fun. ➥ BOOK IT HERE
➤ The Ski Dubai Snow Classic Pass offers unlimited rides in the snow park for a full day, and includes the winter equipment to keep you warm and cozy. ➥ BOOK IT HERE
Opening Hours: Monday to Friday from 10 AM to 12 AM, Saturday and Sunday opens at 9 AM.
Soak Up the Views from Ain Dubai Ferris Wheel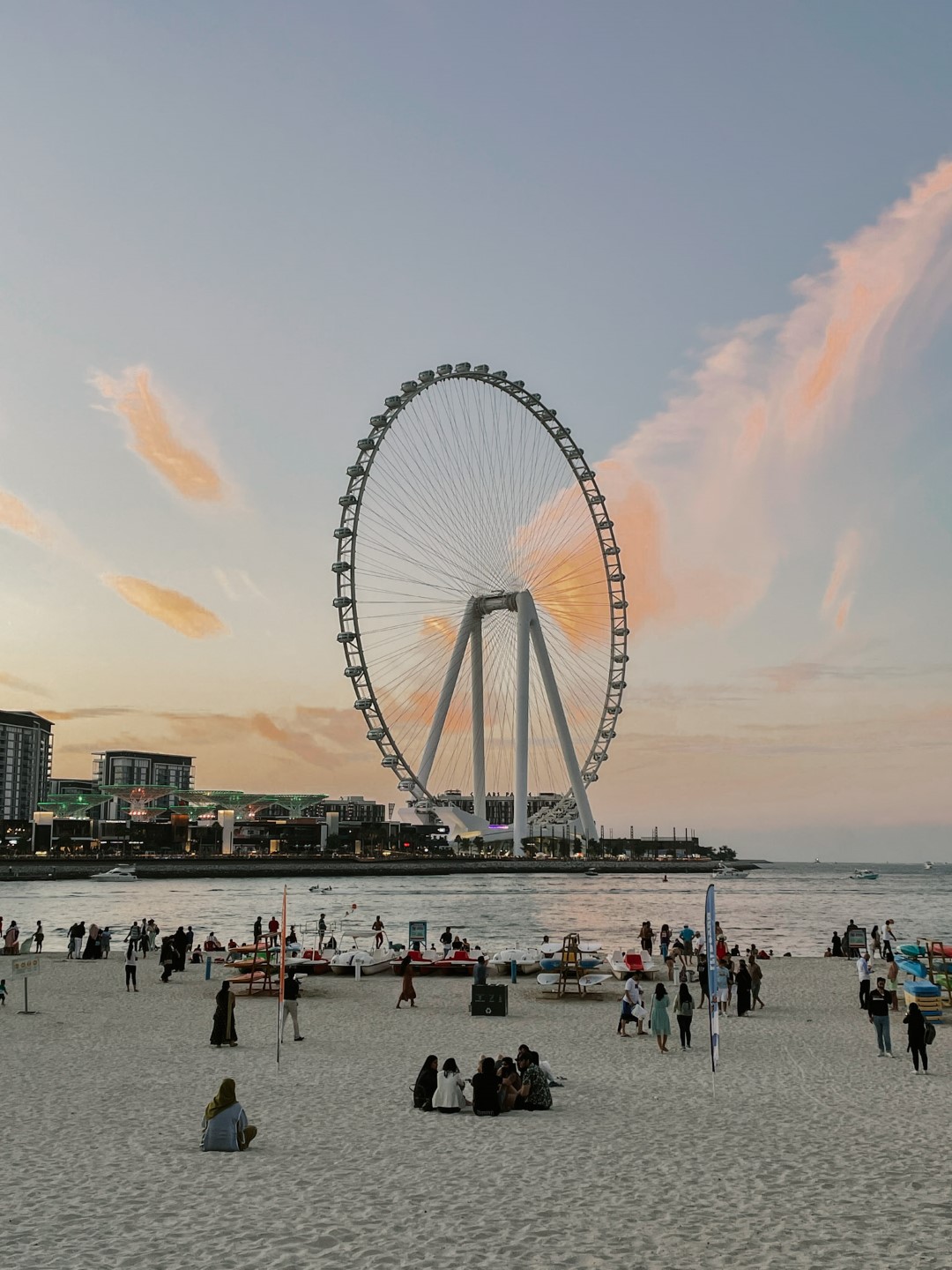 Ain Dubai is the new observation wheel that will give you one of the highest panoramic views of the city, taking you 250 meters off the ground for the ride of a lifetime.
From the heights, you'll get to see Dubai Marina's skyline, the coastline, spot some of the most important landmarks such as Burj Khalifa, Burj Al Arab, and the impressive Palm Jumeirah, and get photos from every angle as the air-conditioned cabins offer 360-degree views.
➤ The Ain Dubai Views Ticket is the way to claim your place in one of the cabins, making history as you go up the tallest observation wheel in the world. ➥ BOOK IT HERE
Opening Hours: Tuesday to Sunday from 11 AM to 9 PM
Have Fun at These Dubai Waterparks
Craving some fun in the water to be relieved from the afternoon heat? Waterparks are among the most popular Dubai attractions, so you can't skip visiting at least one of them! You'll be refreshed, have tons of fun, and enjoy some very exhilarating rides, so get that swimsuit ready.
Aquaventure Waterpark
Located in Palm Jumeirah at the Atlantis Hotel, Aquaventure is the largest waterpark in the world and home to over 70 exhilarating rides, a private beach, a children-friendly games area, and incredibly fun waterslides.
➤ With the Aquaventure Admission Ticket you'll enjoy a full day of activities as you try out every available ride and relax at the beach after all that action. ➥ BOOK IT HERE
➤ Get the Aquaventure & Lost Chambers Aquarium Ticket to combine your day at the waterpark with a visit to the incredible Atlantis-themed aquarium. ➥ BOOK IT HERE
Opening Hours: Daily from 9.45 AM to 6 PM
Wild Wadi Waterpark
Wild Wadi Waterpark offers aquatic adventures for the whole family, featuring more than 30 rides and attractions for the surfers, the adrenaline junkies, young children, and everyone else in between!
➤ Wild Wadi Full-Day Entrance Ticket is what you need to enjoy full access to the waterpark's attractions and have an incredibly exciting day. ➥ BOOK IT HERE
Opening Hours: Wednesday to Monday from 10 AM to 6 PM
Get Mesmerized at the Dubai Aquarium
The Dubai Aquarium and Underwater Zoo feature a 10 million-liter water tank where over 400 sharks and rays, as well as countless fish of several species, live. The Aquarium is also home to otters, penguins, and crocodiles, summing up a total of 33 thousand animals.
You'll get to walk through the Dubai Aquarium Tunnel and you can even choose to hop on a glass-bottom boat to glide on the water, watching the animals below your feet. If you're the adventurous type, meet the sharks and rays by diving with them or getting in the cage for an unforgettable shark encounter!
➤ Get the Aquarium & Burj Khalifa Combo Ticket to access both attractions for less. You'll fly up to the 124th and 125th levels of Burj Khalifa, and also enjoy the wonders of the underwater world. ➥ BOOK IT HERE
➤ The Day Ticket to Aquarium and Underwater Zoo allows you to enjoy a full day among the sharks, otters, and King Croc, one of the world's largest crocodiles! ➥ BOOK IT HERE
Opening Hours: Sunday to Wednesday from 10 AM to 10 PM, Thursday to Saturday open until 12 AM
Go On a Desert Safari from Dubai
Dubai is surrounded by the Arabian desert, and the best way to explore its dunes and meet the Bedouins is with a desert safari.
There are many different types of Dubai desert safaris. You can choose anything from full-day excursions to half-day tours, camping experiences, and camel riding, so make sure to choose the one that suits your interests best!
➤ This Desert Safari is packed with adventure as you'll get to drive your own quad-bike, go dune bashing, ride a camel and try your sandboarding skills. ➥ BOOK IT HERE
➤ The Premium Red Dunes is a full-day safari that includes dinner at a Bedouin camp, camel rides, dune bashing, and activities like Shisha, Henna painting, and traditional dancing at the camp. ➥ BOOK IT HERE
➤ For a unique experience, get the Sunrise Balloon Flight and marvel at the vast desert from above. You'll also enjoy breakfast at a desert camp and meet a falcon.➥ BOOK IT HERE
Check Out the Dubai Gold Souk & the Other Souks in Deira
Deira is a district in Dubai, formerly known for being the city's hub for all trading and financial activities. Nowadays it's mostly recognized for being the home of the popular souks (markets), which are among the top Dubai tourist attractions.
The Dubai Gold Souk is a must when visiting the city, as it showcases hundreds of shops that sell jewelry, precious stones, and some gold pieces that will make you drop your jaw.
The Spices and Textile souks are close by, so you can combine a visit to the three and maybe come back with a golden, shiny souvenir!
Gold Souk Opening Hours: Saturday to Thursday form 9.30 AM to 9.30 PM, Friday opens at 4 PM
Spice Souk Opening Hours: Monday to Saturday from 8 AM to 9 PM
Textile Souk Opening Hours: Saturday to Thursday from 9 AM to 2 PM, and 4 PM to 8 PM
I highly recommend coming with a tour to this part of the city. Below are two of the best options:
➤ Explore the Backstreets of Old Dubai with an Insider to learn about Emirati history and culture as you browse the Deira souks and enjoy an Arabian lunch. ➥ BOOK IT HERE
➤ Otherwise, choose the History Sites City Tour which passes by popular landmarks and historic sites, and includes a stop to wander around Deira's Gold Souk. ➥ BOOK IT HERE
Visit the Etihad Museum
Etihad Museum is the perfect place to discover the history of the United Arab Emirates and learn about its foundation which took place, befittingly, in the very same spot where the museum now stands.
Through interactive exhibitions, programs and initiatives you'll get to explore, in chronological order, the events that led to the foundation of the UAE in 1971. The Etihad Museum also displays artifacts from the founding fathers, as well as photographs and videos.
➤ Tickets for Etihad Museum also include access to the Al Shindagha Museum, so you can combine the visits for a more comprehensive approach to UAE's history and development. ➥ BOOK IT HERE
Opening Hours: Daily from 10 AM to 8 PM
Get Lost at the Dubai Mall
Dubai Mall is the biggest mall in the world, and you can spend hours exploring it and still don't see it all. In your Dubai things to do list, this ought to be among the top.
Dubai Mall is one of the best places to get your souvenirs and enjoy some shopping, as here you'll find the most renowned brands in the fashion industry, as well as local retail shops. There are also restaurants and plenty of exciting things to do in Dubai Mall including the cool Dubai Mall waterfall to check out.
Opening Hours: Sunday to Wednesday from 10 AM to 12 AM, Thursday to Saturday open until 1 AM
Dubai Mall is right in front of the Dubai Fountain, where you want to be any day from 6 PM to enjoy the spectacular water performance from the largest choreographed fountain in the world!
➤ To see the Fountain Show from every angle and enjoy it in the first row, take a boat ride on the lake, sailing around the dancing waters with the Burj Khalifa as a backdrop. ➥ BOOK IT HERE
Visit the Museum of the Future
Dubai is all about joining the past with the future, and it invests in futuristic designs, attractions, and technology. A Museum of the Future, therefore, was pretty much mandatory.
Besides its astounding structure, the museum showcases, across six floors, interactive exhibitions on AI, climate change, outer space, and resource developments, among plenty of other topics related to the world's future.
There are plenty of activities to be enjoyed as well, from taking a journey to possible futures to immersing yourself in the Amazon rainforest, visiting space, and exploring the new technologies from leading innovators. It's truly one of the best museums in Dubai.
➤ Get your tickets for the Museum of the Future in advance. Since the museum has opened very recently, they are likely to sell out very quickly! ➥ BOOK IT HERE
Opening Hours: Daily from 10 AM to 6 PM
Have Fun at Dubai Parks and Resorts
Fun things to do in Dubai definitely include checking out its amazing theme parks, specifically designed to offer you the time of your life and a day full of laughter and entertainment.
Dubai Parks and Resorts houses 4 theme parks, one of which is a waterpark for children, and it's conveniently connected to a dining area so you don't have to leave the fun even when it's time for lunch.
The theme parks include Motiongate, Legoland, Bollywood Parks, and Legoland Water Park.
➤ The Motiongate Pass gives you access to this Hollywood-inspired park so you can enjoy a whole day of cinematic adventures. ➥ BOOK IT HERE
➤ With the Parks and Resorts: Two Park Pass you get to choose two of the four parks and enjoy unlimited rides and activities in both of them for a full day. ➥ BOOK IT HERE
Experience Jet Skiing in Dubai
Watersports are a big deal in Dubai, and one of the favorites of tourists is jet skiing, not only because it's fun and exhilarating, but because you can get to explore the coast and enjoy the views of the city from afar. It's one of the best things to do in Dubai today, this weekend, and (whenever it is you visit!)
Regardless if you're an experienced jet skier or have never tried it before, you'll get an initiation to jet skiing so you feel confident when touring along Dubai's waterfront.
➤ Get the 30-Minute Jet Ski Tour to enjoy a ride alongside incredible landmarks, and a photo stop at the foot of Burj Al Arab. You'll also have access to changing facilities. ➥ BOOK IT HERE
➤ You can also choose the Jet Ski Tour of Dubai, from which you'll get to see Burj Al Arab, Atlantis, the Palm, and some other incredible city landmarks in an hour's ride. ➥ BOOK IT HERE
Take a Tour of the Infamous Burj Al Arab Hotel
Burj Al Arab is an incredibly luxurious 7-star hotel situated in an iconic building that has become one of the most important landmarks in Dubai.
To give you an idea of exactly how opulent this hotel is, know that its interiors are gilded in 24-carat gold, it has its own helipad, and features a pillow menu with 17 types of pillows you can choose for your sleep!
Unless you're staying at Burj Al Arab (lucky you!), your only chance of marveling at its grandiose rooms (one of the most astounding things to see in Dubai), is not limited to the lobby; you can actually explore the hotel with a guided tour!
➤ The Burj Al Arab Experience takes you inside this iconic hotel where you'll explore, guided by a butler, the atrium, the Royal Suite, and other inaccessible spaces as you hear untold stories about the hotel. ➥ BOOK IT HERE
Relax at the Beach
Dubai boasts beautiful beaches where you can relax, sunbathe, and enjoy a wide array of watersports. The best part of spending a day at the beach? It's one of the few free things to do in Dubai!
Some of the most beautiful beaches in Dubai include:
Jumeirah Public Beach features palm trees, lifeguard service, and an adjacent park with playgrounds and BBQ areas.
Kite Beach, named for its popularity among kitesurfers, has great sports facilities.
La Mer is surrounded by restaurants, cafés, and stores, and it features cabanas to lay down in the shade.
Marina Beach boasts a wide stretch of sand and clear water that makes it perfect for swimming.
Dine at the Best Restaurants in Dubai
What to do in Dubai besides having fun and going constantly WOW? Eat! Dubai strives to excel and impress with its experiences, and going out for dinner is not an exception.
Check out the top places to visit in Dubai for a meal to remember.
Ossiano – This sophisticated, underwater restaurant is surrounded by the immense Ambassador Lagoon, offering views of the sharks and rays swimming by as you enjoy the chef's culinary delights.
Al Iwan – One of the luxurious Burj Al Arab's restaurants, Al Iwan serves a traditional Arabic buffet and local delicacies.
Tribes Carnivore – If you enjoy a good stake, check out this African-inspired restaurant, which blends the flavors of the continent with Arabic and western cuisine.
Zheng He's – Located by the water and recreating a dockside seating area, its award-winning chefs have created a delicious fusion between Chinese flavors and western culinary techniques.
Visit Souk Madinat Jumeirah
Souk Madinat Jumeirah is an Arabian market that displays a modern atmosphere in an old-style bazaar with countless alleys, walkways, and traditional buildings, recreating in a sense an old Arabian town and market with modern shops, restaurants and facilities.
This impressive market can be explored following its alleyways, where you'll find an incredible number of bars and cafés, as well as a theater and stores selling pretty much anything you need (jewelry? A last-minute souvenir? Traditional attires?)
The souk is surrounded by almost 2 miles of waterways lined with lush vegetation and gardens, becoming one of the best places to visit in Dubai!
Opening Hours: Daily from 10 AM to 11 PM
Take a Day Trip to Abu Dhabi
Abu Dhabi is the capital of the UAE, and while it's less populated and visited than Dubai it boasts landmarks and attractions worthy of a visit.
The city is situated on an archipelago that's connected to the mainland and which features 200 islands, and is also home to some pretty amazing world records (how does the world's fastest roller coaster sound, thrill-seekers?)
Abu Dhabi's most important landmark is the Sheikh Zayed Mosque, the country's largest mosque which can welcome over 40 thousand worshippers. The building is massive and features 82 domes, as well as incredibly gorgeous chambers that boast gold gilded chandeliers and columns.
Corniche Road, the Observation Deck at 300, and Formula Rossa, the said fastest roller coaster, are other fantastic attractions. Abu Dhabi is a little over an hour away from Dubai, so it's the perfect day trip destination.
➤ The Abu Dhabi Premium Sightseeing Tour is a full-day, guided excursion that takes you to explore the highlights of the capital city as you learn about its history and culture. ➥ BOOK IT HERE
➤ If you can't spare a whole day, get the Abu Dhabi Sheikh Zayed Mosque Tour, with which you'll explore the glorious mosque and get a better understanding of Islamic culture on a half-day trip. ➥ BOOK IT HERE
Visit the Jumeirah Mosque
Jumeirah Mosque is one of Dubai top attractions. This mosque is open to the public for visits (the only one in the city!) and, besides the Abu Dhabi mosque, it's the only one in the country which allows non-muslims to enter, so don't miss your chance of seeing it from the inside!
You can enjoy a tour around the mosque's main areas and learn about the rituals for praying and the culture and religion of the Emiratis, as well as enjoy a complimentary breakfast of Arabic coffee and dates served at the entrance.
Opening Hours: Daily from 10 AM to 8 PM
Entrance Fee: Entrance to the mosque is free, while the guided tour costs AED 25 (7 USD)
Spend the Day at La Mer
La Mer is a charming beachside community with enough attractions to entertain you for a whole day. The beach is perfect for laying under the sun, swimming or practicing watersports, and after your dose of sea and sand you can head to its boulevards and stroll around.
La Mer features plenty of open spaces with incredible views of the beach, as well as tons of food trucks, stores, ice cream parlors, and restaurants to satiate hunger (or cravings!) You'll also find entertainment options and great street art to marvel at.
TIP: If you only have half a day to spare for La Mer, make it around sunset so you can witness the area come alive as its streets light up and are filled with music, performers, and shoppers.
Opening Hours: Sunday to Thursday from 10 AM to 10 PM, Friday & Saturday open until 12 AM
See the Palm From Above at The View at the Palm
The Palm is an iconic landmark in Dubai, a man-made island shaped like a palm and home to incredible resorts, upmarket stores and restaurants, luxury villas, and stylish apartment complexes.
While you can visit the Palm and its main attractions from Dubai, its most awe-striking characteristic is indeed its shape, and this can only be appreciated from above. You can do so from The View at the Palm, a 360-degree observation deck that faces the island and offers incredible panoramic views for you to enjoy and immortalize on your phone!
➤ The View At The Palm Entry Ticket grants you access to the 240-meter tall vantage point, as well as entrance to The View Exhibition, where you'll learn about The Palm and its creation. ➥ BOOK IT HERE
Opening Hours: Monday to Thursday from 9 AM to 10 PM, Friday to Sunday open until 12 AM
Taste Dubai's Traditional Food
Dubai prides itself, among other things, in its traditional cuisine. You'll find plenty of restaurants and food markets in the city, and you can't leave without trying some of the Emirati traditional food!
Among the top traditional dishes are the Manousheh, a sort of Arab pizza; Balaleet, a dish that's sweet and savory; the Emirati pancake called Chabab; Tharid, especially popular during the month of Ramadan; and Arabic coffee and dates, the favorite snack.
Make sure you don't miss any of the must-eats and also learn about the culinary culture by joining a food tour. Definitely one of the top things to do in Dubai!
➤The 10 Tastings of Dubai is a private food tour in which locals will take you to the best places where you can try the most delicious and typical dishes and desserts. ➥ BOOK IT HERE
➤The Middle Eastern Food & Culture Walk takes you around Old Dubai, trying the local specialties of a wide array of restaurants, cafeterias, and shops. ➥ BOOK IT HERE
Live the Glam Life at One of Dubai's Beach Clubs
Dubai boasts a large number of sophisticated beach clubs where you can enjoy the most luxurious facilities mere steps from a refreshing dip in the Persian Gulf.
Comfy sunbeds, access to drinks and snacks, and glorious swimming pools are some of the amenities you'll enjoy on your glamorous day at the beach.
Check out the best beach clubs in Dubai:
Beach by Five – Boasting a 150-meter private beach, it features jacuzzis, double sunbeds, a glass-lined pool, and delicious European tapas and signature cocktails.
White Beach Dubai – Its highlight being the infinity pool, it also has an open-air terrace and hosts DJs and shows in the afternoons.
Bla Bla – Featuring spa pools, loungers, and poolside dining, this stylish beach club offers top-rated amenities.
Enjoy Dubai's Best Show: La Perle by Dragone
La Perle by Dragone is the number 1 show in Dubai, displaying an astounding combination of gravity-defying acts, aquatic performances, and mind-blowing high-tech that makes the impossible possible.
Designed by the man who transformed the shows in Las Vegas, artistic director Franco Dragone, this show is conceived to mesmerize you from beginning to end.
➤ La Perle by Dragone is Dubai's most attended show, so make sure you buy your tickets in advance! You can choose your preferred seat area and even get access to the VIP Lounge. ➥ BOOK IT HERE
Slide Down from the 53rd floor at Sky Views Dubai
If you're looking to experience the gorgeous views of the city in a more original way than just standing at the observation deck, then you should head to Sky Views Dubai.
Sky Views Dubai is 219.5 meters above the ground, and besides featuring a spectacular viewpoint it is especially popular for the heart-racing activities it offers.
Among them is the Glass Slide, which allows you to slide down from the 53rd floor to the 52nd one in an entirely transparent slide, enjoying stunning views on your way down. The Glass Slide is completely safe and suitable for all ages, so there are no excuses not to try it!
➤ Get your Sky Views Dubai Entry Ticket to enjoy the once-in-a-lifetime slide and catch the views from the observatory. ➥ BOOK IT HERE
Opening Hours: Daily from 10 AM to 10 PM
Explore Al Fahidi, Dubai Old Town
Al Fahidi is a historic district built in the early 20th century which really contrasts the modern and even futuristic buildings of downtown Dubai. Strolling around Al Fahidi feels like stepping into the past, and it's a great way to get a sense of the city's history.
Increasing its cultural importance, the Dubai Museum is located in Al Fahidi Fort, the city's oldest building, displaying artifacts from Dubai's trading past, as well as exhibitions and information about UAE's way of life before the oil boom.
Nearby is the Coffee Museum, which depicts the strong coffee culture of the Emirates and displays antiques and artifacts about the different coffee styles, its history, and the diverse ways of making it.
Dubai Museum Opening Hours: Saturday to Thursday from 8.30 AM to 8.30 PM
Coffee Museum Opening Hours: Saturday to Thursday from 9 AM to 5 PM
➤ This Old Town Tour takes you around Al Fahidi with a knowledgeable guide and includes street food sampling, an abra ride to visit the souks, and entrance to museums. ➥ BOOK IT HERE
Have Breakfast at the Sheikh Mohammed Center for Cultural Understanding
The Center for Cultural Understanding was founded by His Majesty Sheikh Mohammed to educate foreigners, tourists, and expats on the Emiratis' culture, history, and religion, creating a bridge between the land's traditions and its visitors.
A visit to the Center for Cultural Understanding will teach you about the impact of Islam, Arabic expressions and greetings you can put to practice right away, and the cultural values of the country, all while you enjoy a traditional breakfast the way locals do it.
➤The Emirati Cultural Breakfast Experience will allow you to taste authentic Emirati food as you immerse yourself in the culinary, religious, and cultural traditions of Dubai. ➥ BOOK IT HERE
⚠️ You need to make reservations to visit the center and enjoy breakfast; you won't be able to get in if you just show up.
Opening Hours: Sunday to Friday from 9 AM to 2 PM, Saturday open until 1 PM.
Take a Boat Tour in Dubai
Dubai's most impressive landmarks are best appreciated from a distance…that is, from the water!
Take a boat tour to stand right in front of the glorious Atlantis the Palm, pass by the famous Burj Al Arab, and get up close to the Dubai Eye, all the while you learn interesting facts about these locations from your guide.
If you're on a tight budget, you can still enjoy the experience in a cheaper way by making the tour yourself! To do so, take the public Dubai ferry from Dubai Marina Mall to Al Ghubaiba, which goes around Dubai Marina and Palm Jumeirah. You'll then get off in Bur Dubai near Al Fahidi, so it's the perfect way to combine both activities.
➤ The Dubai Speedboat Tour departs from Dubai Marina and takes you on a 90-minute sightseeing ride along Dubai's coastline with photo stops at its landmarks. ➥ BOOK IT HERE
Brunch in Dubai
Brunching in Dubai is very common, maybe even more so than in the States!
Going out for brunch is such a trend that most places offer brunch throughout the day, some of them even serving an evening brunch! With that said, check out your best options for brunching in Dubai.
Atelier M's rooftop is the setting for Friday's Sky High Brunch, which from 2 PM to 5 PM offers a wide range of dishes and desserts and ongoing entertainment.
Toro Toro is a South American restaurant that offers 3 hours of unlimited brunch dishes and beverages every Saturday at 1 PM.
If you want to indulge in an evening brunch to see what the fuss is all about, head to the fancy Karma Kafé on a Thursday or Friday night, where you'll enjoy Pan-Asian cuisine with views of the Burj Khalifa.
Take a Stroll at Dubai Miracle Garden
This flower garden is unlike any other you may have visited in the past. Occupying an area of 72 thousand square meters, it displays over 60 million natural flowers in spectacular arrangements and forms that will blow your mind.
Being an attraction in Dubai, of course it is the largest natural flower garden in the world, and you'll encounter a splash of color and photogenic shapes in every corner.
➤ Get the Dubai Miracle Garden: Skip-the-line Ticket to avoid waiting and access the garden as soon as you get there, making the most of your time. ➥ BOOK IT HERE
Opening Hours: Monday to Friday from 9 AM to 9 PM, Saturday & Sunday open until 11 PM
See Old Dubai & New Dubai from the Dubai Frame
Dubai Frame is an impressive cultural landmark with the shape of a photo frame which frames to one side the Old Dubai and to the other the modern city, serving as a sort of metaphorical bridge between the past of Dubai and its present.
The Dubai Frame is 150 meters tall, and its towers are connected by a glass bridge from where the views are also impressive (although the idea is to catch them enclosed in the frame).
Opening Hours: Daily from 9 AM to 9 PM
Entrance Fee: AED 50 (14 USD) at the time of writing
You can go to Dubai Frame on your own, or join a tour of Dubai's landmarks and visit the attraction with a guide.
➤ The Dubai Frame Ticket grants you access to the attraction's gallery and museum, and also to the Frame's bridge, from where you'll enjoy unrivaled views of Dubai. ➥ BOOK IT HERE
➤ Otherwise you can join the Small-Group City Tour, which includes Dubai Frame tickets, as well as visits to the Blue Mosque, the traditional souks, Palm Jumeirah, and the Dubai Creek, among other places. ➥ BOOK IT HERE
Check Out the Fountain Show at The Pointe
The Palm Fountain, located in The Pointe, is one of the new attractions in Dubai that has rapidly become an icon.
It's not only the single multicolored fountain in Dubai but the world's largest dancing fountain, boasting over 3 thousand LED lights that dance along with the water jets to the rhythm of Arabic, classic and international music.
What's more, the fountain system takes water directly from the sea, and the performance is carried on with energy-saving technology to be as sustainable as possible.
The Fountain Show is a Dubai must see, and you can enjoy it every 30 minutes from sunset to midnight on a daily basis.
Have Fun at Dubai Garden Glow
Visiting the Garden Glow is a must do in Dubai. This theme park boasts more than 500 installations, mostly made from recyclable items, that actually glow in the dark, creating a dreamy atmosphere.
The installations, arranged in different theme areas like the dinosaur park, an aquatic life display, and ice sculptures, are inspired in nature and utilize energy-saving bulbs to light up.
You can also enjoy shows, live performances, and changing themes depending on the season, so make sure to add Dubai Garden Glow to your itinerary!
➤ The Glow Garden Admission Ticket allows you to skip the line and start enjoying the wonders of this theme park immediately. ➥ BOOK IT HERE
Opening Hours: Sunday to Friday from 4 PM to 10 PM, Saturday open until 11 PM
Travel Around the World at Global Village
Global Village is a spectacular fair where you'll be embedded in full Carnival spirit and travel the world at the same time.
Global Village features tens of pavilions that recreate landmarks from around the globe, as well as 31 themed rides for all ages and adrenaline tastes.
You can (and should!) spend a whole day to enjoy and see it all, as there are food stalls to keep you fed, over a hundred arcade games to keep you entertained, and fireworks, live performances, and choreographed car chases to highlight your experience.
To top it all, it proudly holds 25 Guinness World Records…you ought to see what is so enticing about it, right?
➤ Get the Full-Day Global Village Tickets to avoid lining up at the ticket booth and head directly where the fun is. ➥ BOOK IT HERE
Opening Hours: Sunday to Wednesday from 4 PM to 12 AM, Thursday to Saturday open until 1 AM
Global Village opens only in the winter, from late October to early April. Check the exact dates for this year here.
Have a Drink at a Dubai Rooftop
Dubai completely transforms itself when the night falls, and there's no better way to witness it than by enjoying a drink in the height of a rooftop bar.
Ce La Vi features a Skybar where you can enjoy signature cocktails, bites from its impressive bar menu, and astounding views.
The Penthouse at Five Palm Jumeirah boasts a spectacular lounge area overlooking the sea, Ain Dubai, and the city skyline. The drinks are as good as the view!
Neos is on level 63; getting a drink here is one of the best indoor things to do in Dubai. The stylish decor and impressive skyline are topped with delicious light bites and drinks.
Level 43 Sky Lounge is right in the middle of the city, offering some of the best views in Dubai from up close as you sip on your drink.
Walk Around The Beach at Dubai Jumeirah JBR
The Beach is a fabulous shopping area at Jumeirah Beach Residence (JBR), a waterfront residential community with plenty of activities and attractions.
At The Beach you'll find high-end stores to indulge in some shopping, as well as cafés with seaside views and ample boardwalks.
Pop by the I Love Dubai shop for a themed souvenir, scan through the offers at international brands like Sephora and Victoria's Secret, and check out the screenings at the open-air cinema before heading to the actual beach for a swim.
Get Your Adrenaline Pumping at the World's Biggest Indoor Theme Park
If you were looking for fun indoor activities in Dubai look no further, because you'll have the time of your life at IMG Worlds of Adventure.
This gigantic theme park features 5 different adventure zones with amazing live shows, exhilarating rides and activities that will delight Marvel fans, dinosaur enthusiasts, and horror lovers alike.
The park is also home to a cinema and dining options, so you don't have to leave until you want to (or it closes, whichever happens first!)
➤ Get your tickets for IMG Worlds of Adventure to enjoy unlimited access to all the attractions, meet the characters, and check out your favorite zones (or all of them!) ➥ BOOK IT HERE
Opening Hours: Monday to Thursday from 12 PM to 10 PM, Friday to Sunday open until 11 PM
Unwind at the World Islands
One of the cool things to do in Dubai is visiting the World Islands, one of the Emirates' world-renowned attractions.
The World Islands is a man-made archipelago off the coast of Dubai made up of 300 small islands that resemble a world map looked from above.
The archipelago's construction began in 2003, and while most islands were sold to private investors and are yet to be built on, some of them are completely developed, and there's even an Anantara hotel in one of them!
The luxury of Dubai has imprinted itself on the World Islands, so head out there for a relaxing weekend or a full-day trip.
➤ The Lebanon Island Full-Day Access offers a whole day of unwinding by the pool, swimming at the beach and enjoying the exclusive facilities of the World Islands' first beach club. ➥ BOOK IT HERE
---
… and that's a wrap! I hope this list of the best things to do in Dubai was useful to plan your trip. If you have any questions, let me know in the comments. Have fun!