Mountains, cities, old churches, and more: road trip Georgia (country) with this one week in Georgia itinerary + check out some of the best places to visit in Georgia!
Georgia is a country that on one side seems untouched by time. It has a unique beauty and various cultural influences from past invaders and neighboring countries: Turkish, Russian, and Persian, to name a few. Anyone who visits Georgia cannot stop singing praises for its unique beauty characterized by rolling green hills, mountain scenery, vineyards, old churches, and watchtowers.
However, when you step into Tbilisi or Batumi, you'll find a hip, young, modern vibe. Great eateries, shops from all the major international brands, and nothing to envy to any major European city. I love how Georgia manages to merge old and new in such a seamless way!
Fran and I were already considering Tbilisi for our summer base. A few of our blogger friends were in town, and Georgia is one of Fran's favorite countries (I hadn't been yet!). So when JayWay Travel invited us on a one-week trip to Georgia to show us some of the best landscapes of the country, it was a no-brainer: we had to go!
If you're wondering what to do in Georgia in one week, keep reading: here it's a full itinerary + a list of the best things to see in Georgia.
HOW TO GET TO GEORGIA
There are several options for tourists who wish to travel to Georgia. The entry point to the country is in the capital city: Tbilisi. There are many airlines that service flights to the city such as Georgian Airways, Austrian Airlines, Turkish Airlines, Czech Airlines, and AirBaltic, among others.
Finding a flight to the Tbilisi International Airport is, therefore, not a problem. Another major airport that you can fly into would be Kutaisi, the hub for low-cost flight companies such as WizzAir and soon Ryanair. The airport offers incoming flights from London, Berlin, and other European cities. There's a modern bus that connects Kutaisi with Tbilisi many times a day, so it's really not an issue to fly into Kutaisi rather than Tbilisi.
Aside from traveling via plane, there are options to travel to Georgia by land. One option is by bus with direct bus services from Istanbul, Turkey. You can also travel via train, with starting points in Azerbaijan, Armenia, and Turkey.
HOW TO GET AROUND GEORGIA
Once you make it to Georgia, getting around is pretty easy. You have plenty of transportation options to be able to see as many attractions within your one-week itinerary.
In the cities, taxis are the primary mode of transportation to get around and they are pretty cheap. But beware when you get on a taxicab as some drivers are known to exaggerate their prices for foreign tourists. Make sure you choose an official taxi with installed meters so you are not overcharged.
To avoid having to haggle, download Bolt. This is the local Uber, and honestly since I've downloaded the app I've never used a taxi. Most rides in Tbilisi cost between 4 and 6 GEL, the equivalent of 1,45 to 2 USD at the time of writing. You just have to use the app to select pick-up place and drop-off destination and you can either pay cash or by card.
Another good option in Tbilisi is the metro, which costs just 0.20 per ticket!
A yellow minibus is another convenient method of public transportation in Georgia. They operate based on established routes so you'll need to determine what route to take to get to your destination here. You can simply flag down a yellow bus by waving your hand.
Marshrutkas, the shared vans, are a great option for traveling outside the city. They link most cities and towns in Georgia, and even if you have to travel across the country, you probably won't pay more than $10.
For trips outside the city, a bus is another great option. There are many bus companies that operate in Tbilisi and Batumi, along with other major cities. You can also find many inter-regional buses.
Another method of transportation available in Georgia is the train. Georgian Railways connect Tbilisi and Batumi, to Kutaisi, Zugdidi, Borjomi, and a few other destinations. The trains usually run a couple of times a day per each destination. Download the Georgian Railways Mobile App for schedules and prices.
Search here what's the best way to get to your destination:
If you prefer to avoid the hassle of figuring out transportation in Georgia, you can also let a tour operator such as JayWay Travel organize the trip for you. More on this down here below!
ONE WEEK IN GEORGIA ITINERARY
JayWay Travel, the tour operator that hosted us on this trip, offers personalized tours in Georgia and around the Caucasus, Eastern Europe, the Balkans, and other European countries.
The trips with JayWay Travel are semi-independent, meaning that they will create the itinerary for your trip based on your interests, they will make all the reservations for you, but it won't be one of those tours where you feel like you have a babysitter. JayWay tour guides are knowledgeable, fun, and young and they'll be able to tell you everything about their culture and country.
This is how our itinerary in Georgia created by JayWay Travel looked like:
DAY 1 & 2: Tbilisi and half-day trip to Mtshketa
DAY 3: Chiatura, Baia Wines, Kutaisi
DAY 4: Mestia
DAY 5: Ushguli
DAY 6: Mestia (cooking class or Shdugra Waterfall)
DAY 7: Martvili Canyon, Kutaisi
DAY 8: Gori, Uplistsikhe, Tbilisi
This roadtrip through Georgia reminded me of my previous Balkans road trip, for the diversity of natural landscapes combined with vibrant cities, and a long, painful history. I enjoyed this trip so much that I also included it in my list of the top road trips in Europe.
These are the best attractions and destinations you need to add to your one-week itinerary to make the most of your Georgia trip.
Day 1 and 2: Tbilisi
As the capital city of Georgia, Tbilisi is a must-visit destination. Culture, history, great food, hipster cafes, and a modern vibe mixed with the traditions of Georgia make Tbilisi a very cool city. It has many layers to it that you can slowly peel off and be fascinated by, and there are tons of things to do in Tbilisi.
I've been living in Tbilisi for a month and a half now, and I can easily say say I could see myself living here for quite a long time. Tbilisi has already become one of my favorite cities to live in as a digital nomad together with Chiang Mai in Thailand.
But whatever type of traveler you are, it's a must to explore the Old Town in Tbilisi.
➤ The sulphur bathhouses in Abanotubani are one of the top attractions in the Old Town. Here you can take part in the traditional bathhouse experience, which can be communal (divided by gender), or private if you decide to rent an entire room (it's generally pretty cheap).
The Old Town of Tbilisi consists of a labyrinth of churches, museums, monuments, old houses and cars, and quaint cafes, and it's really nice to just walk around without a pre-planned route.
➤ Get ready for a hike up the hill to reach the Narikala Fortress and the Mother of Georgia statue, which are about a 10-minute walk from the baths. If you're feeling lazy, you can also reach the Narikala Fortress via the cable car that you take by the Peace Bridge.
➤ When you are done exploring the Old Town, you can soak in some quiet time at the Tbilisi Botanical Garden of Georgia. The gardens offer a sanctuary-like atmosphere with a photogenic bridge, waterfalls, and a pond. This served as the former royal city garden and is a favorite spot by locals to relax in during weekends or holidays.
➤ If you're up for a more cultural experience, you can visit the Georgian National Opera and Ballet Theater of Tbilisi. This attraction is located in Rustaveli Avenue and boasts a neo-Moorish architecture style. It's also the oldest opera house in the region, founded in the mid-19th century; it serves as a venue for many internationally acclaimed theatrical and ballet performances.
➤ The Sameba Cathedral can be seen from any corner of Tbilisi, 'cause it's huge! Built only in 2004, it's 101 meters high, and it's by far the highest church in Georgia. It's especially beautiful at night when it's all lightened up.
➤ Finally, Tbilisi is also known for its wineries. When you visit Tbilisi, add a wine tasting to your list of things to do. As one of the birthplaces of wine, Georgia is home to many independent wine producers. Go in for a taste and bring some bottles home with you.
READ ALSO:
24 Best Things To Do in Tbilisi – The Ultimate Guide
Day 2: Half Day Trip To Mtshketa
Mtshketa is one of the oldest Georgian cities, dating back to the 5th century BC. As the former capital of Georgia from the 3rd century BC to the 5th century AD, the city contains various sites of historical importance. The Historical Monuments of Mtskheta were in fact given the status of a UNESCO World Heritage Site in 1994.
Mtshketa is only 20 kilometers north of Tbilisi, so it's very easy to come visit either on your own or with a tour.
The highlights of your trip to Mtshketa include a visit to the Javi Monastery (one of Georgia's oldest Christian monasteries) and the Svetitskhoveli Cathedral. When you are visiting the Javi Monastery, make sure to check out the great view over the city (photo above)!
Remember that this is an Orthodox church, so you'll need to dress conservatively: long skirt/pants for the women, something to cover the arms. At the entrance, there are also scarves available for women, as it's mandatory to cover your head. Once you are done in Mtshketa, go back to Tbilisi for the night.
Day 3: Chiatura
➠ Tbilisi to Chiatura: 187 km / 116 miles, around 3 hours by car.
Known as the city of cable cars, Chiatura is one of the most unique places to visit in Georgia.
This unique town in the Imereti region is relatively new – it was established by the end of the 19th century when iron and manganese ores were discovered here. Since then, numerous mines have been built here and during the Soviet times manganese production in Chiatura accounted for 60% of global production.
Since then, the town has lost more than 2/3 of its inhabitants, to the point that it's often called a ghost city.
The cable cars, which Chiatura is famous for, were introduced in 1954 as a public transport system. Riding these cable cars was the only way to go from villages to the city center and the mines. There are 17 cable cars still in operation in the city, and there are many stations all over the city.
⚠️ It is possible to ride on them marvel at the deep gorge and valleys that form the city below, but it's honestly not recommended. The cable cars haven't ever been updated since the 1950s and they are pretty rusty and scary looking.
Day 3: Baia's Wine
➠ Chiatura to Baia's Wine: 55 kilometers / 34 miles, around 1 hour 45 minutes drive.
Georgia is known for its wine-producing regions. Most wine lovers will visit Kakheti, but there are some very good vineyards all over the country. The one we visited was Baia's Wine, located approximately 40 minutes away from Kutaisi.
If you're looking for good wine, a jovial and homey vibe, and some incredible food, make sure you add a visit to Baia's Wine to your list of best things to do in Georgia.
Located in the village of Obcha, Baia's Wine is part of a five-acre farm that is family-owned and operated. Each bottle of wine that they produce is considered a rare treat since they only produce 3,000 bottles each year, 90% of the wines they produce are exported to the US.
Our visit started with a walk around the vineyard and the winery, where Gvanca explained us the process of making the wine from the harvest to the bottling. We then sat down for a supra, a traditional Georgian feast where you basically eat too much delicious food and drink way too much wine. If you visit Baia, call them in advance and reserve the supra. Totally worth it.
When you visit Georgia (country), don't miss the opportunity to experience first-hand how these wines are produced, and make sure you bring home a bottle with you, if you're lucky enough to get your hands on one!
Day 3: Kutaisi
➠ Baia's Wine to Kutaisi: 35 km / 21 miles, about 45 minutes by car.
As the third largest city in Georgia, Kutaisi is home to some of the oldest settlements in Europe. This is also where the seat of the Georgian parliament was located up until last year.
Kutaisi is one destination in Georgia that is often skipped by tourists. Many people arrive to Georgia at Kutaisi airport, the hub of the low cost flights, but most people will just take a bus and go straight to Tbilisi.
I understand if you have limited time, Tbilisi is more interesting, but during this itinerary you'll pass through Kutaisi twice, so definitely include it in your list of cities to visit in Georgia next time you pass through (today you won't have much time to explore the city).
Day 4: Mestia
➠ Kutaisi to Mestia: 222 kilometers / 138 miles, approximately 6 hours drive.
Mestia is the capital of the Svaneti region in Georgia. Located 1,500 meters above sea level, Mestia is often used as a jump-off point for exploring other destinations within the region, such as Ushguli that's coming up next on your Goergia road trip.
But that's not to say that Mestia isn't a great destination itself. It reminded me of the mountain towns in the Dolomites with its wooden cottages and people selling honey at the side of the street! There are tons of people walking around in hiking attire, and tourists coming from all over Europe to hike around here.
➤ Mestia is also home to a few historical and cultural attractions that include the Svaneti Museum of History and Ethnography, where we were able to see old Georgian manuscripts, icons, and clothing.
➤ Our guide Nata also brought us to visit a traditional Georgian tower house that dated back to the Middle Age. It was really interesting to see how a family lived in the house with the animals during the winter! We also climbed up the tower to check out the view… clearly centuries ago Georgians were pretty short, Fran and I almost got stuck coming down!
➤ For the most breathtaking views, be sure to head to Mount Zuruldi in the Caucasus Mountains range. We took the Hatsvali cable car all the way to the upper station, where we had lunch at the Zuruldi Restaurant. Right next to the restaurant, there's a terrace which offers some incredible views over the mountains and the valley below.
The cable car operates from 10 AM to 4.45 PM in good weather. You can take it to the lower Hatsvali station, or keep going to reach the Zuruldi ridge (which I totally recommend!).
Day 5: Ushguli
➠ Mestia to Ushguli: 43 km / 27 miles, it takes about 2 hours with a 4×4.
Ushguli is a beauty of the highest standard – literally and figuratively. It is set atop the Enguri valley just below the highest peak of Georgia, which is Mt. Shkhara ( 5193m). This destination is special, to the point that it's recognized as a UNESCO World Heritage Site.
The feature that make Ushguli a unique place is its many medieval stone towers, that date back to as far as the 9th century. I've been told that in the region of Svaneti there are still 200+ towers!
These towers used to serve for the defense of each family's property, and in fact Ushguli has never been conquered – not by the Turks, not by the Mongols, not by any other people that tried to conquer it.
Ushguli is made of four villages that are located 2100 meters above sea level. I had no idea, but Ushguli apparently is also known as the highest continuously inhabited settlement in Europe.
In Ushguli you can marvel at the glaciers of Mt. Shkhara, as well as the collection of crosses and icons found in the 10th century Lamaria Church, is one of the most iconic buildings in Ushguli. But honestly, the best thing to do in Ushguli is just walk around, marvel at its green rolling hills, sit down and just enjoy the silence. It's one of those places where nature reigns, and you just want to take it all in. It almost looks like a painting.
Due to its natural beauty, Ushguli is a great destination to visit in Georgia all-year round, although in the winter it's definitely harder to reach the destination due to the abundant snow.
At springtime and in the summer, the fields are lush and vibrant. Once the snow caps melt, it reveals beautifully green pastures that are ample for grazing. By winter, it is a picture of ethereal beauty with the glaciers and snow-capped peaks towering over the villages.
We visited in the summer and it was just beautiful. However, make sure you bring some warm clothing. When we visited it was 35 Celsius degrees in Tbilisi, and it reached less than 10 degrees at night in Ushguli!
Spending the night in Ushguli is the best way to properly experience the destination. Don't expect anything fancy though, there are no proper hotels in Ushguli, but the local guesthouses are perfectly fine for one night or two.
Day 6: Cooking Class in Mestia or…
➠ Ushguli to Mestia: 43 km / 27 miles, it takes about 2 hours with a 4×4.
After breakfast, we drove back to Mestia. If you're lazy like me and my other travel companions, in Mestia you can take part in a cooking class where you'll learn how to cook some traditional Georgian food, especially from the Svaneti region.
We learnt how to make Kubdari, a pie filled with mice meat, and Chvishtari, fried cornbread filled with cheese, among other recipes.
In alternative, you can go on a trek to Shdugra Waterfall, like Fran did. Keep reading below!
Spend another night in Mestia before starting the 2-day drive back. If you prefer not to drive (it is quite a long drive), you can also take a flight with Vanilla Sky, a tour operator with a small fleet of 16-passenger aircrafts that serves Mestia. The flights cost around $30, but make sure to book your ticket in advance, especially if you travel during the summer, as they get booked out all the time.
…Hike to Shdugra Waterfall
If you like nature and hiking, the Shdugra Waterfall is one of the must see places in Georgia. It's situated at the end of the Shikhara valley within Becho, and the hike trail starts in the village of Mazeri, approximately one hour drive from Mestia.
The actual trail towards the waterfall embarks in Shikhra valley towards an altitude of over 1,600 meters above sea level. You'll find the border police post trail near the bridge on Dolra and continue your way towards the forest. You can potentially get to the border police post trail by horseback, but from that point forward, the trail is only suitable for hiking. It's approximately a 1.5 kilometer hike from there, with a maximum altitude 2200 meters above sea level.
It might not be a beginner hike, but when you reach the waterfall, which is the tallest waterfall in Georgia, you'll understand it's worth hiking for. Fran came back from his hike super happy, and said it was the highlight of his trip!
If you want, after the waterfall, you can continue hiking towards the Ushba glacier. On the way there, you will encounter a beautiful pine forest and spectacular river gorge.
Day 7: Martvili Canyon
➠ Mestia to Martvili Canyon: 174 kilometers / 108 miles, 4 hours drive.
Martvili Canyon is a natural wonder that you can't miss while in Georgia.
Known as the former bath place for the Georgian nobles, it's now a famous tourist site in the country's Samegrelo region. I'll admit I didn't even know about the existence of this place before they brought me here, and it became one of my favorite places we visited during the trip.
I recommend buying your tickets online in advance, as when we went the queue at the ticket office was one hour long or more, but we got to skip it with our online ticket. Make sure to buy a ticket that includes a boat ride, as that was super cool!
Walk around the trail around the canyon and stop to take pictures of the flowing water among the rocks. It's so beautiful!
⚠️ PHOTOGRAPHY TIP: Did you know that you can get the smooth water effect with your iPhone? Just press the Live photo icon and take a photo of the flowing waterfall. Make sure to keep your hand steady! Then open your photo gallery and swipe up on the photo. You'll see a few Live photo effects; select the Long Exposure effect and voila! Check out how cool it is!
Then head to the embarking point for the boat ride. You will be taken through the canyon on a short 10-minute journey… Sure, it might not be as big as the Sumidero Canyon in Chiapas, Mexico, but still, get ready for some paddling!
Day 7: Kutaisi
➠ Martvili Canyon to Kutaisi: 47 kilometers / 29 miles, 1 hour drive.
Back to Kutaisi for one last night! If you're interested in historical attractions, visit the Bagrati Cathedral (pictured here below) or the Kutaisi Historical Museum.
If traditions and culture are more your thing, you might want to check out Centraluri Bazar, the traditional market. If you have extra time, why not drive to the Gelati Monastery Complex, which is a UNESCO Heritage site, located just 10 kilometers outside of town?
And when you are done with sightseeing, make sure you reserve a table at Sisters, one of my favorite restaurants on this trip. The ambiance is so cool, the food is good, and there are live piano and cello players!
Day 8: Gori
➠ Kutaisi to Gori: 149 kilometers / 92 miles, 2 hours and a half drive.
Gori is located right in the middle of Georgia, and it's mostly known for being the birthplace of Joseph Stalin.
It doesn't surprise that the main attraction in Gori is Joseph Stalin Museum, dedicated to preserve the memories of his life. This museum is a top attraction in Georgia, along with a few other museums like the War Museum and the Ethnographic Museum in Tbilisi.
When visiting the city, check out also the Gori Fortress; it's free to enter and within a short walk from the museum. At the foothill of this fortress are numerous warrior statues. Finally, wander the streets of Gori and take a stroll along the Stalin Avenue, a way too big boulevard for this town of 50,000 people.
Day 8: Uplistsikhe
➠ Gori to Uplistsikhe: 15 kilometers / 9 miles, 30 minutes drive.
Uplistsikhe is one of the most unique places to visit in Georgia.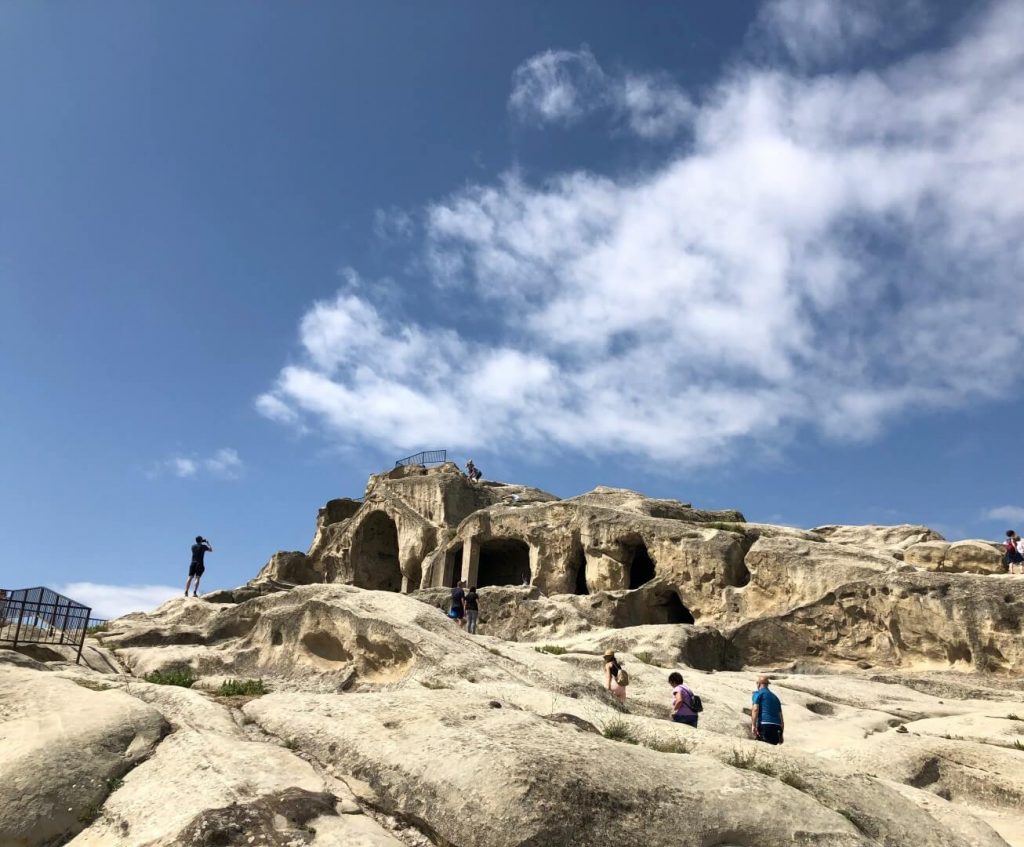 Literally translating to Fortress of the Lord, the ancient town of Uplistsikhe is rock-hewn and played a vital role in shaping Georgia's history – the town is over 3,000 years old after all! There have been many archaeological excavations done here, that have produced many important archaeological artifacts that date back to the late Bronze Age.
Uplistsikhe is remarkable as it features a wide range of rock-cut structures and formations. Some of the rock-cut structures that can be found here include dwellings, bakery, prison, large hall, cellars, and places of sacrifice. It's really a pretty cool place (get ready for a light uphill hike)!
This was the last destination of this 7 days in Georgia travel itinerary. From here it's about a 2 hours drive to get back to Tbilisi. If you still have time in Georgia though, check out these other beautiful destinations in Georgia.
10 DAYS IN GEORGIA OR MORE? OTHER COOL PLACES TO VISIT IN GEORGIA
The one above is just a sample itinerary, the one that JayWay put together to show us some of the best natural landscapes of Georgia. But you might be interested in more beach time, or other hiking destinations for your 1 week in Georgia, or you might have two weeks or 10 days in Georgia, which is even better!
Here are other major Georgia tourist attractions and noteworthy places to visit in Georgia (country), if you decide to spend a little more time traveling around.
Batumi
Batumi is one of the most thriving resort zones in the Black Sea region, and one of the most famous Georgia tourist spots. Georgia tourism has grown like crazy these past few years, and this lazy seaside town is a perennial favorite for beach bums and party-goers, mostly from Russia and the Middle East.
It almost looks fake with all those high skyscrapers and condos, doesn't it? But apart from its many beach clubs and casinos (Batumi is also known as the Las Vegas of the Black Sea!), this seaside town is home to sulfuric hot springs and stone beaches that are reminiscent of Greece.
Kazbegi
Kazbegi, now officially known as Stepantsminda, is another Georgian destination revered for its natural beauty. It's the perfect place to go to for those who want to enjoy mountain biking and hiking, or simply relax with a view. Some of the attractions worth checking out such as the Tsminda Sameba Church and Mt. Kazbek with its snowy cone.
I'm planning to visit Kazbegi soon – my dream hotel is Rooms Hotel Kazbegi. It looks so incredible! I can totally picture myself relaxing in the lounge with a book and a fantastic view of the mountains.
Kakheti
Kakheti is known as the main wine-producing region in Georgia, so if you're a wine lover, this is one of the best places to see in Georgia. Some of the top wineries you need to check out include Schuchmann Winery and the Pheasant's Tears Winery.
But there is more to see and do in Kakheti than just wine tasting. You can visit one of many monasteries in this town, including one of the oldest Christian churches in Georgia at the Nekresi Monastery. You can also explore the estate of Prince Chavchavadze, one of Georgia's most influential figures, at Tsinandali Estate.
Some of the estates in Kakheti remind me of Midalidare Estate, a wonderful winery spa hotel where I celebrated my 29th birthday, and which is that's the perfect day trip from Plovdiv, Bulgaria.
Borjomi
You might recognize the name. Borjomi is the name of a famous mineral water name, which is the most exported product from Georgia. But where does the water come from?
Borjomi is a small resort town in Georgia located in the valley of the Mtkvari River. The town was discovered in 1810 by Russian soldiers (or at least, this is what is believed). When the mineral spring with supposedly health properties was discovered, Borjomi was developed into a resort.
It's now a go-to destination for holidaymakers and people with health issues in Georgia and is also a jump-off point for visiting Vardzia.
Katskhi Pilar
Katskhi Pilar is a limestone monolith that rises 130 feet from the ground. It's located in the village of Katskhi, near the town of Chiatura, and on top of the monolith there are a church, three hermit cells, and a crypt. The buildings that sit atop this monolith structure were built in the 9th century, but they were abandoned in the 15th century and are shrouded in mystery.
It was in the 1990s when the religious activity resumed at the buildings on the top of this natural monolith, and there's currently a monk living on top of the Katskhi Pilar in isolation. Access to the top of the pillar is not possible, so you'll have to be content marveling at the awe-inspiring pillar from below.
Mtirala National Park
Mtirala National Park is located in southwestern Georgia, approximately 40 minutes away from the city of Batumi. The highlight of your visit to this national park will be the beautiful valley of Chakvistskali River.
This national park has a couple of marked trails that you can explore to see more of the park's beauty and natural scenery. Aside from hiking, there are many adventure tours, horseback riding, and bird watching opportunities you can enjoy. The best time to visit the park is from May to October, so you can really enjoy the sun and nice weather outdoors.
You can also camp in Mtirala National Park, but make sure to bring some warm extra blankets as it gets cold at night. Fran visited in May and says the night spent camping here was the coldest night of his life!
Vardzia
Vardzia is one of the most unique attractions you'll find in Georgia. This is a town fortress located in Southern Georgia, where there are hundreds of caves excavated in the mountain. The caves served both as a monastery and residence since it was established in the 12th century during the time of King Tamar's reign.
The rock-hewn town was designed to protect the people from the Mongol Empire. It consists of 13 levels with more than 600 rooms, a church, chapels, a reception chamber, and a throne room.
Tusheti National Park
Tusheti National Park is one of the hidden gems in Georgia. Part of the historical province of the Mountainous Tusheti, this national park is known for its rich biodiversity, folk culture, beautiful landscapes, and its old defensive towers that are similar to the Ushguli's ones.
Prior to 1975, this area was only accessible via helicopter until the Tusheti Road was built. You can't visit Tusheti in the winter, as the road is closed all throughout winter and until late spring.
The national park was established in 2003 and here you'll find rare plants and animal species like the Anatolian leopard. Within Tusheti there are villages that are inhabited by highlanders, each known for its unique traditions and characteristics.
Rather than doing day hikes, you can decide to go on a loop trek in Tusheti and do homestays in the villages such as Dartlo. For sure it'll be an incredible way to interact with the locals and learn more about the region's culture. Don't miss one of the most beautiful places in Georgia!
And there you go. Hopefully, this post will help you plan the perfect Georgia tour itinerary for 7 days, or convince you to let JayWay Travel take care of your holidays in Georgia!
Let me know in the comments if there are other incredible places to visit in Georgia (Europe) that I'm missing.
I was hosted by JayWay Travel on this trip. However, all the opinions included in this article are mine and mine only.