If you're considering going to La Perle in Dubai, take this post as a sign: you definitely should! The show is unmissable, and here you'll find all the info you need about the best tickets for La Perle Dubai and other tips on how to choose your seats.
La Perle by Dragone is Dubai's number-one show, and the region's first resident spectacle. Created by the mastermind behind the transformation in the shows of Las Vegas, artistic director Franco Dragone, this spectacle offers nothing but a first-class, astounding theatrical masterpiece.
Inspired by traditional tales of the United Arab Emirates, the narrative follows the adventures of a few characters while displaying a massive show of aquatic feats.
You'll be in awe as you witness the artists perform up in the air, the stage get completely covered in water and drain within seconds, and the impressive high-tech that makes the impossible possible. It's a mind-blowing experience and in my experience one of the very best things to do in Dubai.
It took me a whole year of living in Dubai to make it to the show. I had been to other similar shows in the world and I thought this wouldn't blow my mind… but I was so wrong and glad that I finally made it here! The choreographies were beautiful, as well as the light shows, and the presence of the water component made the show even better.
In this post, you'll learn all you need to know about the show, tips for choosing your seats, how to get your La Perle by Dragone tickets in advance, and even recommendations of where to have dinner after. Read on!
La Perle Show Timings
La Perle show in Dubai takes place from Tuesday to Saturday, twice a day at 6.30 PM and 9 PM.
How To Get to La Perle Theatre
La Perle's location in Dubai is in Al Habtoor City, a multi-use venue right off Sheikh Zayed Road.
▶️ If you're driving to the site, you'll find complimentary parking at Al Habtoor City for up to 3 hours. If there's no availability, you can also make use of the paid street parking right by Al Safa Park, or the valet service at the entrance of the theater.
▶️ If you're getting there by metro, you can take the Red Line to Business Bay Metro Station and then either walk to the theater (it's a 1.8-mile walk!) or take a taxi there.
▶️ You could also take a bus from the metro station to XL Tower 1, from where the walk to La Perle is about 20 minutes. Bus numbers 44, 8, 50, 93, 29, 15, 21, X22, F19A, F14, and F41 all stop there.
La Perle Seating
Let's go over La Perle seating plan so you're prepared to choose the best seats for the show when booking.
La Perle has a central stage and a 270-degree seating disposition, with 14 rows and over 1000 seats that are divided into different categories: VIP, Gold, Silver, and Bronze.
The VIP seats are located in the heart of the theater and have direct access to the VIP lounge where attendants can enjoy refreshments before the show. For added comfort, the seats in this section are bigger than in the rest of the theater.
There are four Gold sections, in front and at the sides of the stage. The seats offer an up-close view of the show, so you don't miss any detail.
The Silver seats still offer pretty good views of the show, but aren't as centrally located as the other sections. You can find two tiers of Silver seats at the back of the theater, right by the entrance, and two other sections on the stage's sides.
Finally there's the Bronze section, located on both sides of the stage behind the Gold and Silver seats.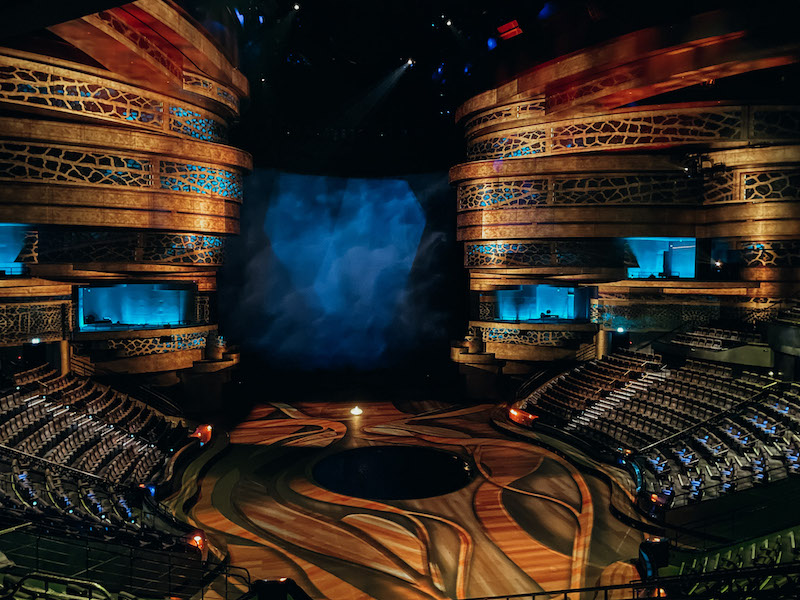 All seats offer great visibility of the stage, and you'll get to enjoy the show from whichever section you go to. However, for unparalleled views of the action, you should choose seats next to the stage's center area, or at the very least facing the stage directly.
👉 We bought tickets for the silver section and it was honestly perfectly fine. We had a clear view of the stage and everything happening around it. You can see in the picture above my point of view during the show.
La Perle Dubai Tickets
When buying La Perle tickets in Dubai, you'll get to select the category you want to book, from Bronze to VIP, as well as the show timing.
Bronze to Gold tickets only include access to the show in the section selected, while the Platinum Ticket ensures a seat in the VIP section with lounge access and free valet parking. The VIP Ticket also offers complimentary snacks and soft beverages at the VIP lounge.
⚠️ I recommend buying your tickets through a trusted platform such as Get Your Guide, because if you book them on the official website, no refunds or exchanges are available upon cancellation. If for any reason your plans change and you can't attend the show, you would lose the ticket money.
On the other hand, Get Your Guide has a great cancellation policy, so you can get a full refund by canceling up to 24 hours before the show. ➥ BOOK YOUR TICKETS HERE
However, if you're a UAE resident and have a valid Emirates ID, check out the residents' offers, they often have some that will cost you considerably less than the regular ticket,
What To Expect at La Perle Show
La Perle by Dragone is not only Dubai's number one show, but also the city's first permanent spectacle – and there's a good reason for that!
At La Perle show you'll be mesmerized by a fusion of aquatic performances, imagery, and technology created by the world-renowned artistic director Franco Dragone.
An incredibly talented cast of 65 artists and impressive sound and light special effects bring to life this fantastic live show in which acrobats perform 25 meters high in the air – and dive into the aqua-stage pool, filled with 2.7 million liters of water, from that height!
This stage is where both aqua and aerial feats take place, and in less than a minute it can be transformed into a regular, dry stage where you'll get to see mind-blowing, gravity-defying acts involving motorbikes, flying acrobats, and dancers.
You can expect 90 minutes of pure magic, and a first-class show that won't only not disappoint, but will very likely leave you wanting more. You just need to read the reviews to be convinced!
And if you're visiting Dubai in the summer, this is one of those activities that will give you respite from the heat.
Al Habtoor City Restaurants
Depending on the show timing you choose, you may want to have dinner before or after watching the performance. Either way, you can enjoy your meal at one of these fantastic restaurants of Dubai at Al Habtoor City, since you'll already be in the venue.
Even better, you'll get 20% off your meal at some of the restaurants below by showing your ticket.
➤ Il Pastaio is a branch of the famous Beverly Hills restaurant, which continues the dynasty of a Sicilian family and specializes in Italian cuisine.
➤ BQ French Kitchen and Bar celebrates France's culinary heritage by offering all the classics of French cuisine in a beautifully decorated dining room.
➤ Ribs & Brews emulates an American bar serving prime, slow-cooked barbeque ribs, and traditional American comfort food, as well as small plates to share and cocktails.
➤ Gonpachi, a Japanese restaurant, Babiole, which serves Greek and Mediterranean cuisine, and Le Patio, an open-air lounge for alfresco dining, are other terrific options to dine in Al Habtoor City.
➤ For a drink before or after the show, head to The 44, a sports bar with darts, bowling, and a pool to keep the fun going a little longer.
➤ You could also hit The Rose & Crown, a British-style pub, or V Lounge for a drink. They're both located right by La Perle Theater.
Tips for Your Visit to La Perle by Dragone
⏰ Aim to arrive at least 45 minutes before the show starts, especially if you're traveling by public transportation. If you arrive very late, you might not be able to enter the theater, even if you have tickets!
📷 You can take pictures at La Perle DXB, but the use of flash is not allowed.
👗 La Perle Dubai dress code is smart casual.
♿ The theater is accessible for guests with disabilities, and all restrooms have a family room that's fully accessible, and also features baby changing facilities for families with young children.
👶 Children that are 2 years old and above can attend the show accompanied by an adult, and they must have their individual tickets.
🥂 Before the show, you'll find a snack bar selling popcorn and beverages, and also a fancier bar where you can have a cocktail or a champagne glass while waiting for the show to start.
La Perle by Dragone Dubai FAQ
How long is the La Perle show in Dubai?
La Perle Dubai show lasts around 90 minutes.
What is the story of La Perle by Dragone?
La Perle is inspired by traditional tales of the UAE and Dubai's rich culture. The performance tells the story of a young fisherwoman who travels around the country in search of a perle, meeting people from different cultures and worlds along the way.
What time does La Perle by Dragone finish?
La Perle by Dragone has two nightly functions. The first performance finishes at 8 PM, and the second one at 10.30 PM.
How much is the admission for La Perle?
La Perle Dubai Ticket Price varies depending on the seat you choose. Prices go from 205 AED ($56) for the Silver Section to 698 AED ($190) for the VIP Ticket.