Eager to discover Georgia's wine country? In this article, you'll find the best Kakheti wine tours available, selected by a wine-lover expat. Check them out!
Georgia is considered to be the oldest wine-producing region in the world, with traces of the craft dating back as far as 6,000 BC. Georgians would bury their grape juice in the ground during the winter…and discovered that it wasn't juice but wine when they took it out.
So as the birthplace of wine, no visit to Georgia is complete without heading into its main wine region: Kakheti. Located in the east of the country, Kakheti is responsible for growing three-quarters of the country's grapes and offers a breathtaking landscape of mountains, vineyards, and hilltop towns.
Kakheti is the best place to enjoy a quality wine-tasting session and learn about the ancient process of making wine, which is why I have compiled a list of the very best Kakheti wine tours available, some of which I've personally been on and can absolutely recommend.
Fran, my partner, and I, have been living in Tbilisi, the capital of Georgia for a few years on and off. Of course, we've had the opportunity to visit the country's wine region multiple times.
Every visitor to Tbilisi should make time in their Georgia itinerary for some wine tasting in Kakheti! In this article you'll find all the information needed – plus personal suggestions – so you can make the most of your trip there. Read on!
Kakheti Region: A Short Intro
Kakheti is a region in eastern Georgia comprised by 8 districts. Telavi is its capital city, and one of the starting points to exploring Kakheti. The second city, and probably the most famous from a touristic point of view, is Sighnaghi, known as the city of love and home to an impressive monastic complex.
The area of Kakheti is beautiful. It features enchanting hilltop towns, monasteries, a mountainous landscape, and picturesque lakes, although its major attributes are its vineyards and wineries. There are also two river basins here, Alazani and Iori, which greatly influence the region's wines.
👉 Did you know that wine was invented in Kvemo Kartli, close to Kakheti?! Traces of winemaking dating from 6 millennia BC were found in Kakheti, and the region is believed to be the starting point of this precious – and ancient – art, which has then spread throughout the world.
The production of wine was established as a monastic practice as early as 1011 AD, and it wasn't until the 19th century, after Georgia's annexation to Russia, that the wine started to be stored in glass bottles rather than the traditional clay vessels.
Considered a cradle of wine, wineries in Kakheti, Georgia still use many traditional wine-making methods, the most popular being the Qvevri method. It consists of making, storing, and aging the wine in an earthenware amphora that is then buried in the ground. This technique has been recognized by UNESCO as an Intangible Cultural Heritage of Humanity in 2013.
Kakheti is known for its indigenous grape varieties, including Saperavi, Ikalto Red, Budeshuri Red, and Simonaseuli in the red category, while the whites produced there include the famous Manavi, Khikhvi, and Green Kakhetian.
And finally, there's the famous amber wine, also known as "orange wine", typical of this region. White wine takes this color when the grapes are left fermenting in the qvevri with the skin. You can't leave Georgia without trying some Kisi or Rkatsiteli wine.
How To Choose the Perfect Kakheti Tour
The best way to embark on a wine adventure in Kakheti is by joining a tour from Tbilisi. But how to choose the perfect one? There are a few things to consider when shopping for this memorable experience.
▶️ For starters, wine tours in Georgia don't only offer a wine-tasting session. You'll get to visit local wineries for a comprehensive tour of the vineyards in Kakheti and the cellars, discovering in-depth the steps in the production process, besides learning the amazing history of the region.
Make sure that the tour you're choosing is not very rushed. Try to select one that offers a visit to 2 or, at the most, 3 wineries, and allows for enough time to enjoy the experience in each.
▶️ I think it's also important to check what kind of wineries you'll be visiting. As you probably expect, there are countless wine businesses in Kakheti, including very big, commercial wineries and family-run ones. In my opinion, it's totally worth visiting both, not only to support local smaller producers but also to witness the differences in the wine-making process, the product, and the history of each.
Smaller wineries are also your best bet at observing the traditional methods, such as Qvevri, that are still used to this day. Meeting the winemakers and experiencing true Georgian hospitality first-hand is another benefit of including local wineries in your itinerary.
▶️ Ensure that the guide is a wine connoisseur, so you get the most out of the tour (especially if you're genuinely interested in learning about it!).
▶️ During the most premium tours, you'll also get to indulge in local delicacies, along with a fantastic selection of wines to taste. Georgia is getting more and more famous around the world for its food, and trust me, you don't want to miss it. Budget tours usually do not include any food, and some don't even include any wine tastings (you'll have to pay for your own tasting). Before booking a tour, make sure that the wine tastings and food are included in the price.
▶️ For me, it's imperative that the tour companies I choose support local communities. Do your research on any tour company before booking an experience!
Most of the tours you'll find in this post are by Eat This! Tours, a premium food and wine tours company in Georgia. I've personally known the owners of the tour company for 8 years, and they're committed to providing the most authentic and local experience to their guests.

Plus, one of the owners is getting his Georgian sommelier certification, so he understands a thing or two about wine! I've gone on 3 tours with them and I can wholeheartedly recommend this company.

Use this coupon code for 5% off their tours: STEPH5
The budget tours that you'll find in this post were carefully selected on Viator and GYG. These are the platforms I personally use to book activities around the world. They feature a great cancellation policy which allows you to cancel most activities up to 24 hours in advance and get a full refund.
The BEST Kakheti Wine Tour: A Mix of Wine, Food and Culture
The Vines & Villages Signagi Tour – 1 Day Kakheti Food & Wine Tour is THE best option in the market and the tour I personally joined. It offers a comprehensive, full-day trip into the Kakheti region for a delicious and informative experience.
👉 Why is this the best Kakheti tour? This tour offers the perfect mix of culture, food, and wine. You don't need to be a wine connoisseur to enjoy it, but you do need to like good food and good wine… there'll be a lot of it! I've personally gone on many wine tours around the world, but none were as fun and comprehensive as this one.
Use this coupon code for 5% off: STEPH5
We started the tour at 10 AM with pick-up at our accommodation in Tbilisi, and headed with 5 other wine enthusiasts (the tour group is capped at 7 people) to Kakheti, with a quick stop at the impressive 6th-century Ninotsminda Monastery complex.
At noon we reached the first Kakheti winery of the day, Giuaani Winery in Manavi. This is a beautiful, independent winery located right in the heart of the region.
Combining a focus on tradition with the most modern equipment and technology, the guided tour enlightened us with the main differences between the traditional winemaking of Georgia, using the Qvevri method, and the classic European techniques.
Here at Giuaani, they make wine with both techniques.
We got to compare the two by tasting different wines and were treated to a delicious 6-course lunch with locally made wine pairings (in very generous servings!). My favorites were the Saperavi, the Ojaleshi Barrel, and the Kisi Mtsvane Qvevri (a famous amber wine).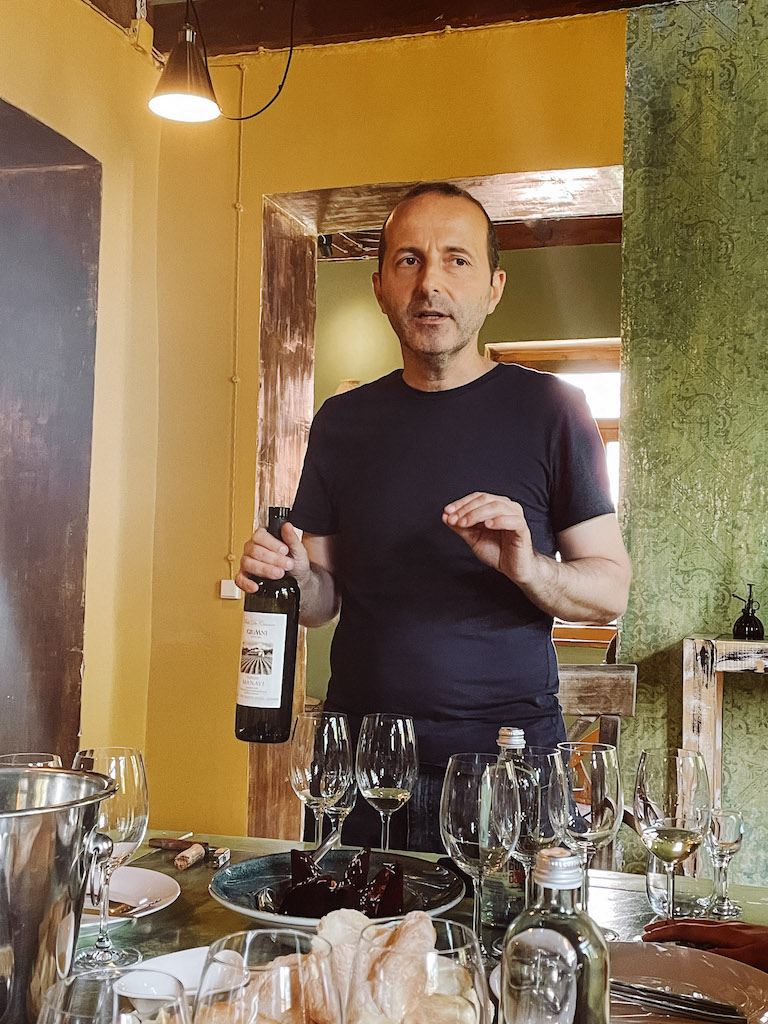 After the winery visit, we were taken to Sighnaghi, one of the most enchanting towns in Georgia, to explore. Known as the city of love because many Georgians choose it as their wedding location, it offers breathtaking views of the mountains, incredible city walls where you can walk on, a monastery complex, and very pretty shops.
Even if we have been based in Georgia on and off for a few years, for some reason we had never made it here, and loved it! In fact, we loved it so much we are going back next week.
We then headed to Kerovani Winery, a family-run, artisan wine cellar. They're small-batch producers of organic Qvevri wines (less than 15 thousand bottles a year). After the visit to the winery, they offered us a tasting of 3 of their artisan wines in their terrace.
But our day was far from over! Next up was a visit to a micro-producing, family-owned winery where we got to sample 3 more wines with an assortment of homemade cheese, the freshest tomatoes I've ever tasted, and a few other appetizers.
But the best part of the whole tour (every single participant said so!) was indulging in a scrumptious dinner during Supra, a traditional Georgian feast. If you've never had a supra, you can't understand the amount of food and wine that gets consumed during one!
We learned local toasts from the toastmaker (or tamada, as they're known in Georgia), and joined the winemaker and his family for a sumptuous meal paired with unlimited wine.
The local hosts are a family of musicians, and they performed polyphonic singing accompanied by multiple instruments. They were absolutely incredible, we all wished that the supra was even longer than it was.
The tour exceeded by far our expectations, both in the quality and quantity of food and wine (trust me – the portions of everything were beyond abundant!), in the expertise of everyone involved, and in the intimate, top-notch experience we were treated to.
This Kakheti wine excursion is a premium tour, meaning it guarantees exclusivity, authenticity, and quality. While it's higher priced than the mid-range tours of other companies, I wholeheartedly believe it's worth the price tag for the experience it offers.
👉 The tour company works with small family vendors and because of this sometimes they have to substitute locations on the tour, meaning your experience might slightly differ. The vibe remains the same though!
⚠️ Note that polyphonic singing can not be 100% guaranteed. Please mark in your booking request if polyphonic singing is important for you and they'll do their best to accommodate your request.
🌱 Vegetarian and vegan options are available if communicated in advance.
📝 This tour includes: A visit to 3 wineries (an independent wine cellar, a small-batch winery and a micro-winery), a 6-course lunch, a dinner feast with a local winemaker, +10 wine tastings, hotel roundtrip transfers from Tbilisi with a driver/guide, bottled water, all entry fees, and a small-group tour guarantee. ➥ BOOK IT HERE
Use this coupon code for 5% off: STEPH5
Other GREAT Wine Tours To Kakheti
Vines & Mountains: Telavi Tour in Kakheti
The Vines & Mountains – 1 Day Kakheti Food & Wine Tour in Telavi (Meet The Wine Artisans!) is one of the most thorough wine tours available, perfect for those looking to really delve into the ancient making traditions and taste all-artisan wines.
You'll start with a visit to an independent winery, where you'll taste the authentic Qvevri wine and indulge in local cuisine for lunch.
After experiencing what traditional wine tastes like, you'll learn all about this unique making technique in a family workshop. Not only will you get to sample more artisan wine, but also an aged local spirit, chacha.
The tour includes a visit to a third, micro-producing winery for tastings paired with snacks and a cooking class at the winemaker's home. Learn to prepare khinkali, and then have them for dinner with some other snacks.
Honey tasting and a trip to Telavi's traditional market and to a monastery are also included. The tour lasts 12 hours, and groups are capped at 7 participants to guarantee a personalized experience.
📝 This tour includes: Hotel pick-up and drop-off, a visit to three Kakheti wineries, lunch, dinner, all wine and spirit tastings, all entry fees, bottled water, and vegetarian/dietary requests available. ➥ BOOK IT HERE
Use this coupon code for 5% off: STEPH5
A Wine Harvest Tour in Kakheti (TOP CHOICE)
During the harvest season (September and October) you can take part in a Rtveli Wine Harvest Tour: 1 Day Kakheti (Telavi) Wine Tasting & Food to learn all about the wine harvesting traditions and techniques.
If you're lucky and you happen to visit at the perfect time, you'll be able to participate to a real harvest with a local family. Otherwise, you'll still be able to participate in a simulation harvest, which is as fun as a real one.
Fran and I took part in this tour a couple of years ago and it was the perfect introduction to harvest in Georgia. We harvested the grapes, we crushed them, and then of course we ate and drank to our hearts' content.
First, you'll visit one of Georgia's oldest Orthodox monastery complexes. Next up is a visit to a Qvevri builder, responsible for making the clay vessels in which the wine is aged in the traditional Georgian way.
After a quick stop in Telavi, you'll stop at an independent winery in Kakheti for a cellar tour and a wine-tasting session where you'll compare wines that come from the Georgian traditional method and the classic European one. Here you'll also indulge in lunch before making your way to a family-run vineyard.
Here comes the highlight of the tours and my absolute favorite part: taking part in Rtveli, the wine harvest. Pick grapes and crush them by foot as you learn all about the harvest and the wine-making process of the winery.
Cap off the tour with a khinkali (local dumplings) making class, which you'll enjoy for dinner with a local winemaker and their family, paired with delicious artisan wines. The "supra" in Georgia is a feast – come hungry because there will be a ton of food!
🌱 Vegetarian and vegan options are available if communicated in advance.
📝 This tour includes: Hotel pick-up and drop-off, all food and wine tastings, bottled water, and all entry fees. ➥ BOOK IT HERE
Use this coupon code for 5% off: STEPH5
The BEST Budget Tours to Kakheti
👉 The tours above are by far the best options when it comes to Kakheti tours. Hands down. However, they are on the pricier side because they offer so much. I understand that not everyone wants to spend that much, and thankfully there are some very affordable, high-rated tours.
Obviously, you get what you pay for. Most of these tours don't include any food and only offer limited wine tastings. Some tours only visit mass-production wineries, and some don't include tastings of qvevri wines. If you can, I strongly recommend splurging a bit and choosing one of the tours above. If not, here are the very best options when it comes to budget tours.
▶️ From Tbilisi: Kakheti Wine Region, Including 7 Wine Tastings is a full-day excursion that starts with a tour around Badiauri and the Bobde Monastery of St. Nino before heading to the enchanting town of Sighnaghi. You'll explore the village with a local guide, and then make your way to a local wine cellar.
You'll visit Khareba Winery for a comprehensive tour around it and a wine-tasting session, and then continue to the 16th-century Corporation Kindzmarauli, which used to produce wine exclusively for the royal family. You'll indulge in a second tasting before returning to Tbilisi.
📝 This Kakheti wine tasting tour includes: Roundtrip transfers from Tbilisi, wine tastings, entrance fees, and water. ➥ BOOK IT HERE
---
▶️ Highlights of Kakheti wine region – Signagi, Bodbe, Wine tasting (Group Tour) is a 7-hour trip that enables you to discover the best of the Kakheti wine region.
You'll delve into the ancient wine-making process at Kakhetian Traditional Winemaking Factory, one of the largest companies in the country, as you tour its facilities and indulge in a tasting. Besides trying 5 different types of local wine, you'll also be treated to a Brandy tasting.
📝 This Sighnaghi day trip includes: Transportation (free hotel pick-up for groups of over 4 people), a guide, and wine tasting. ➥ BOOK IT HERE
---
▶️ The most authentic local experience – Kakheti Wine Tour From Tbilisi is a full-day excursion that combines wine, local food, and culture. You'll leave the city behind and head into Georgia's wine country to discover the ancient art of winemaking.
At Giuaani Winery you'll learn the distinctions between the traditional and modern productions, and taste 4 types of premium wines and the local spirit chacha. You'll visit the town of Badiauri for a bread-making class, the village of Sighnaghi, and the Bodbe Monastery of St. Nino, before making your way to Corporation Kindzmarauli Wine House.
After a winery tour and tasting, it's time for the last stop on the tour: a local wine cellar where you'll taste homemade wine and enjoy a traditional Georgian feast – a Supra.
📝 This Sighnaghi + wine tour includes: Hotel pick-up and drop-off, bottled water, wine tastings, and a guide. ➥ BOOK IT HERE
Want More Wine? Check Out this 2-Day Kakheti Wine and Food Tour
The Wake Up In Wine Country – 2 Day Kakheti Food & Wine Tour (Telavi / Signagi) is the ideal experience to dive in-depth into Kakheti's wonderful wine world. If you want to see it all, drink it all, and eat it all, this tour is for you!
The tour combines visits to independent, artisan, and family-run wineries with cultural visits to Kakheti's monasteries and towns, and an indulgent amount of local cuisine with plenty of wine.
You'll learn everything about the Qvevri wine-making method, discover both old and modern techniques, try your hand at making authentic dishes, and take part in an authentic Supra – a Georgian feast with traditional toasts.
Spend the night in a wine hotel surrounded by mountains to rest between two days filled with wine information and tastings, awe-striking landscapes, and delicious snacks, lunches, and dinners.
📝 This tour includes: Hotel pick-up and drop-off, all meals and wine tastings (vegetarian alternatives and dietary requirements available), all entry fees, and bottled water. ➥ BOOK IT HERE
Use this coupon code for 5% off: STEPH5
Kakheti Wine: All You Need To Know
By now you know that the area of Kvemo Kartli near Kakheti is considered the birthplace of winemaking, and that you ought to make a trip there to sample the unique, delicious Georgian wine. But what sets Kakheti wine apart, and what varieties will you be sampling?
One of the main differences between Kakheti and European wine, besides the use of the ancient Qvevri method instead of steel tanks, is the grapes' skin. Unlike most wine productions in the world, which remove the skin before or after very few hours into the fermentation process, Georgian white wines are fermented with the skin.
This is responsible for the distinctive orange color amber wine is known for, along with an increase in the levels of tannins which creates a robust, richer taste in the final product.
While modern methods have been introduced in the production of wine – especially in bigger-scale wineries – most local businesses ferment their wines in the egg-shaped, clay vessels that are buried underground to allow for fermentation (10-21 days). Then the qvevris are sealed and the wine is left aging for around 6 months, although this time can vary.
The Qvevri (The Georgian name for the amphora) also plays a role in the wine's final flavor, and it's one of the reasons Kakheti wine is so unique.
Among the most popular varietals produced there are the Rkatsiteli, a white wine known for its earthy notes, and Saperavi, a red considered to be the oldest wine grape in the world.
The white Kakhuri Mtsvane, and the blend between Saperavi and Cabernet Sauvignon are other two very well-liked wines from the Kakheti region.
Amber wines are also a very important part of the area's wine heritage, so you'll surely be tasting this full-bodied orange wine if you choose a premium tour.
Best Time To Visit Kakheti
Kakheti has a moderately subtropical climate, which plays a big role in the growth of wine grapes in the region, and it's best visited during late spring, summer, and fall.
In the spring you'll be treated to mild weather and the budding of the grapes, whereas visiting in the fall means you'll be there just in time for the harvest, getting to witness this mesmerizing part of the wine production. Plus, the landscape will be turning to a golden hue, making it even more breathtaking.
Summer in Kakheti might be hot, but not unbearably so. We personally went on the Sighnaghi tour in August, and it was perfectly fine. The van is air-conditioned, and the temperature in the wineries was perfectly fine. Don't let this stop you from having the time of your life.
Kakheti Tours FAQs
​​What is Kakheti known for?
Kakheti is Georgia's wine country, known for its enchanting hills, fantastic weather, and vineyards. Kakheti is home to various indigenous grape varieties, and it's where the famous Qvevri wine originated.
How to go to Kakheti?
Reaching Kakheti from Tbilisi takes under two hours by car. You can drive along the Khakheti Highway, or take the picturesque Gombori Pass. The main cities in Kakheti are Telavi and Sighnaghi, so you can make your way to one of them and start your exploration from there.

If you don't want to drive, you can also take a marshrutka, a shared van, from Tbilisi.
However, if you want to visit a few wineries in one day, I recommend joining a tour such as these ones (this is my favorite wine tour company in Georgia). It will save you a lot of hassle.