Inle Lake in Myanmar will be the highlight of your time in the country. Discover the best time and the best things to do in Inle Lake, where to stay and how to get there in this complete Inle Lake travel guide.
Inle Lake is a natural sanctuary in Myanmar. This picturesque lake is one of the most sought-after tourist destinations among tourists. It's a picturesque, freshwater lake that is part of the Taunggyi District in the Shan State province, and the second largest lake in the country spanning a total of 44.9 square miles.
In 2015, Inle Lake, Burma (this is the old name of the country and sometimes locals still refer to it as Burma) was named as one of the UNESCO World Network of Biosphere Reserves. This is the first natural feature to earn such distinction in Myanmar.
There is so much hype surrounding Inle Lake and I have to admit it's totally warranted. Picture this: it's a vast and serene lake that stretches to a length of 13.5 miles and comes with a width of 7 miles. The lake is fringed by marshes and a floating village made up of traditional stilt-houses. When you explore the village, watch out for the unique rowing style by the local boatmen. They do this by using one leg to steer the oar.
Aside from these traditional structures, the lake is also surrounded by hills that are home to several minority tribes indigenous to Myanmar. It is, therefore, more than just a natural wonder but also a place to experience first hand the culture and ancient traditions of Myanmar.
In recent years, Inle Lake tourism has grown. With a growing number of visitors, this has prompted the development of tourism infrastructure in the area. There are also more tour operators that cater to tourists. But don't think it's crowded as much as other places in Southeast Asia; even if touristy, the lake still totally feels like a hidden gem.
Plenty of festivals are held in the area at various times of the year. But even without these festivals, there are a number of attractions that you can explore and experience within the village near the lake.
How to Get to Inle Lake
There are several options available if you are wondering how to get to Inle Lake. If you are traveling from outside of Myanmar (or other parts of Myanmar), you can choose between several international and domestic flights to get you here. The closest airport to Inle Lake is Heho airport, which is approximately an hour away. There are numerous airlines that serve flights to this airport such as Air KBZ, Yangon Airways, Myanmar National Airlines, Asian Wings Airways, and Mann Yadanarpon Airlines.
We took a Bagan to Inle Lake flight (to Heho airport) with Mann Yadanarpon Airlines and it was a pleasant and smooth experience. There was a 10-minute stop in Mandalay, but we didn't even have to get out of the plane and back we were in the air soon after.
➤ Flights from Bagan to Inle Lake
➤ Flights from Yangon to Inle Lake
➤ Flights from Mandalay to Inle Lake
From the airport, pretty much getting a taxi is the only way to travel to Inle Lake is with a taxi. This is an expensive option too, since you need to pay a fixed fee of 40,000 Kyats, although at least in low season drivers were willing to negotiate more. There is an option to share the ride and split the fare with other travelers if you can find them. Another option is to prebook a taxi from Heho Airport to Nyaung Shwe in Inle Lake.
A less expensive but also less comfortable way to travel to the lake is via bus. This is the most common option of travel for locals in Myanmar. There are buses that depart from Yangon, Bagan, or Mandalay. You need to book a bus that travels to Nuang Shwe. As the travel can take up to 12 hours (depending on where you are from), there are also overnight buses that you can book to get to Inle Lake region. Check out your options down here:
➤ Transportation from Bagan to Inle Lake
➤ Transportation from Yangon to Inle Lake
➤ Transportation from Mandalay to Inle Lake
You can also use the search bar down here:
If you prefer to travel via train, there are direct routes that come from Yangon, Kalaw, and Thazi. One advantage of traveling via train is that you can enjoy scenic views of the mountains and fields along the route. The ticket prices for the train will vary depending on whether you choose to travel lower class and upper class. I've heard horror stories about the trains though, so do your own research before booking.
Once you are in Nyaung Shwe, there are plenty of options for getting to Inle Lake. Most of the town is walkable so you can choose to explore on foot. Many bicycle rentals are also available to make it easy to get around. As for exploring the lake itself, you can hire a long boat to tour you through the local villages in Inle Lake.
Best Time to Visit Inle Lake
Inle Lake is a flourishing tourist destination in Myanmar. If you want to experience the serene beauty of the lake, you need to know the best time to visit. This will also enable you to tour the villages and surrounding attractions near the lake.
Inle Lake features a unique geographical setting than most other destinations in Myanmar. It is much cooler but the temperature can vary depending on the season. The average temperature during the dry season is 22 degrees Celsius and can go up to 35 degrees Celsius. But the temperature can go down significantly in the mornings and nights.
It is recommended that you visit Inle Lake during the dry season. This means that you can get favorable weather and experience little rain. Myanmar is a great destination throughout the year, though, as there is no significant variation in terms of temperature.
To visit during high season, book a visit to Inle Lake anywhere from November to February. The temperature can range from 22 to 33 degrees Celsius. This type of weather enables you to enjoy a wide range of outdoor activities. Most of the festivals also take place during this time of the year.
The hot season, on the other hand, is from March to May. The temperature at this time of the year can range from 24 to 35 degrees Celsius. You can still expect sunny days but there will be some rain, too. However, the lake is smaller by now cause it's the end of the dry season, and it's been hot for a few months.
The rainy season is from May to October. Expect frequent and heavy rains during this time of the year. The rain in Myanmar brings some humidity, too. However, you'll encounter less tourists, so it depends of what kind of travel experience you prefer. When we visited in June, it rained a little but not excessively, so I wouldn't cross it out. Also, prices are much cheaper at this time.
Best Things To Do in Inle Lake, Myanmar
Inle Lake is one of the most popular tourist destinations in Myanmar. If you travel to the country, it's a must to include the lake in your itinerary. But what to do in Inle Lake? Follow these recommendations so you know what to include on your Inle Lake itinerary.
Take an Inle Lake Boat Tour
Well, this first one is pretty obvious: explore the lake. A boat tour is the best way to see the sights and attractions in Inle Lake. If you are in doubts about what to see in Inle Lake, no worries: you can rent a boat for a day and you will be accompanied by a guide who will show you the best of the sights in the lake.
Before you can get started on your tour, the first thing you need to consider is where to hire the boat from. You can ask the concierge at the hotel you are staying in to book one for you. You can also find a lot of boat rental tour operators near Inle Lake. The prices for the Inle Lake boat trip can vary significantly based on where you hire them from, but on average it can cost between $15-30 per boat, depending also on the quality of the the boat and the tour you'll choose (tours including Shww Indein Pagoda cost more). The boat tour is private, which means you get to tour the lake at your own pace. This will enable you to see as many attractions as you want.
We booked our tour directly with our hotel Sofitel Myat Min, and it was a fantastic tour. We paid $40 for the entire boat for a tour of the lake + Shwe Indein Pagoda. You can pay less when booking in town, but if you are staying along the lake and far from town, it really makes no sense having to go all the way to town. Having the boat coming directly to the hotel in these cases it's the best thing. Our tour was great, and definitely worth the money.
Note: If you feel like your guide did a great job on your tour, don't hesitate to give them a tip. Know that they will also receive a commission for every purchase you make through the businesses or shops they show you to.
The first thing you need to do when touring Inle Lake by boat is to see the local Inle Lake fishermen. The best time to watch them in action is early in the morning, which is why you need to make this your first stop on your boat tour. These fishermen are notable for their impressive balancing skills and their one-legged rowing technique. They use one leg to balance and the other one to steer the oar. Their hands, on the other hand, hold a conical net that they use for catching the fish.
Over the years, though, there have been new fishing techniques that were employed by the local fishermen. But you can still spot a few of them that use this particular technique. It's interesting to see how they have preserved this traditional method of fishing!
The next part of the boat tour will take you to the floating villages. These are actually house on stilts that are built above the waters of the lake, thus called floating villages. In order to tour the floating villages, you will be navigating your way through narrow canals and have the chance to get close to these floating houses. Take this opportunity to marvel at how the local life unfolds.
You will find local villagers washing their clothes, cleaning their homes, or paddling back to their homes – it is an enriching experience that you ought to savor while visiting Inle Lake. You can also take a break in the middle of the tour and have lunch at one of the Inle Lake restaurants (mostly floating), although some of them are tourist traps.
Then it's time to head to the floating gardens. A typical garden is grown in soil but the people who live in Inle Lake have developed a unique method of gardening that would fit into their environment. The Inle Lake floating gardens are built by the local villagers, and it enables them to grow and cultivate tomatoes for example. The local farmers obviously have to row to and from the garden in order to harvest the ripe tomatoes.
The Inle Lake boat tour must also include a visit to the silversmith or goldsmith shops in the lake. Once you step into the shop, the owners will take you on a tour. They will explain or demonstrate the process of making jewelry using gold or silver. If you like their crafts, you can show your support to these local business owners by buying their items as souvenirs.
Many tours also include stops to many of the following Inle Lake attractions that you'll find here below. Most tours are very similar, but make sure you know in advance what's included and what's not. You can also combine the common tour with Shwe Indein Pagoda, which I wholeheartedly recommend. This is the one Inle Lake day trip you can't miss.
Sunset Viewing on the Lake
One of the must-try experiences in Inle Lake is to watch the sunset. The lake offers picturesque scenery and looks quite serene as it is. Sunset is a magical time of the day but it can be extra special when you marvel at the sight in a scenic lake.
There are tours that enable you to tour the lake at sunset. You will be easing your way through the floating gardens and watch the local fishermen up-close. Make sure you check out the unique rowing style as the fishermen use only a single leg.
As you marvel at this sight, don't miss the sun setting over the Shan Mountains. As you admire the silhouette of the setting sun, you can also immerse yourself in the sight of local villagers going about their daily life. This is the best way to put a close to your boat tour in Inle Lake. As the last rays of the sun disappears behind the horizon, you can continue the rest of the tour or head back to your hotel.
Experience Daily Life at the Five Days Market
The Five Days Market is one of the most interesting attractions in Inle Lake. It is a local market wherein you can find fresh vegetables and other fresh local produce. While local markets are not uncommon in Asia, this one is unusual because it is a rotating market. The market stall owners rotate to five different locations in five days, thus it is called 5 Days Market.
Most of the market is on land, but there's also a small floating market in Inle Lake, constituted by a few people who sell directly from their boats. Don't expect a floating market like the one outside Bangkok though!
The locations in which the market stall owners will rotate in are at different points in the lake: Nyaung Shwe, Heho, Mine Thauk, Shwe Nyaung, and Taunggyi. Each of these areas hosts the market on a daily basis. These are the 5 main places in which the market is held in, but they could also be in other locations aside from those mentioned above.
The people who live in the area tend to flock to these markets. But there are also those who are from different areas that come here to buy local produce and other local items, and they all flock to the market by boat.
The tradition of this market dates back to the time of the Shan princes in order for them to collect taxes. But even when there are no longer Shan princes that rule the area, the tradition of the 5-day market has continued on until today.
This visit was the highlight of our time in Inle Lake. There were almost no other tourists when we went, which made the experience raw and beautiful. We could finally see the daily life of Burmese people off the tourist route, and Burmese people are incredibly nice and smiley. They are the nicest people I've ever met in all of my travels through 40+ countries!
Visit the Lotus Weaving Labs
If you have more days to spend in Inle Lake, it is a must to visit the Lotus Weaving Labs. Witness this rare and vanishing art form that is now unique to this area. You will get a new appreciation for this art form once you get a first-hand look at the process. The act of lotus weaving is intricate and labor-intensive. It is unique to this area because of the abundance of lotus plants that grow in the lake. Due to its abundance, the locals have found a way to make textile out of them.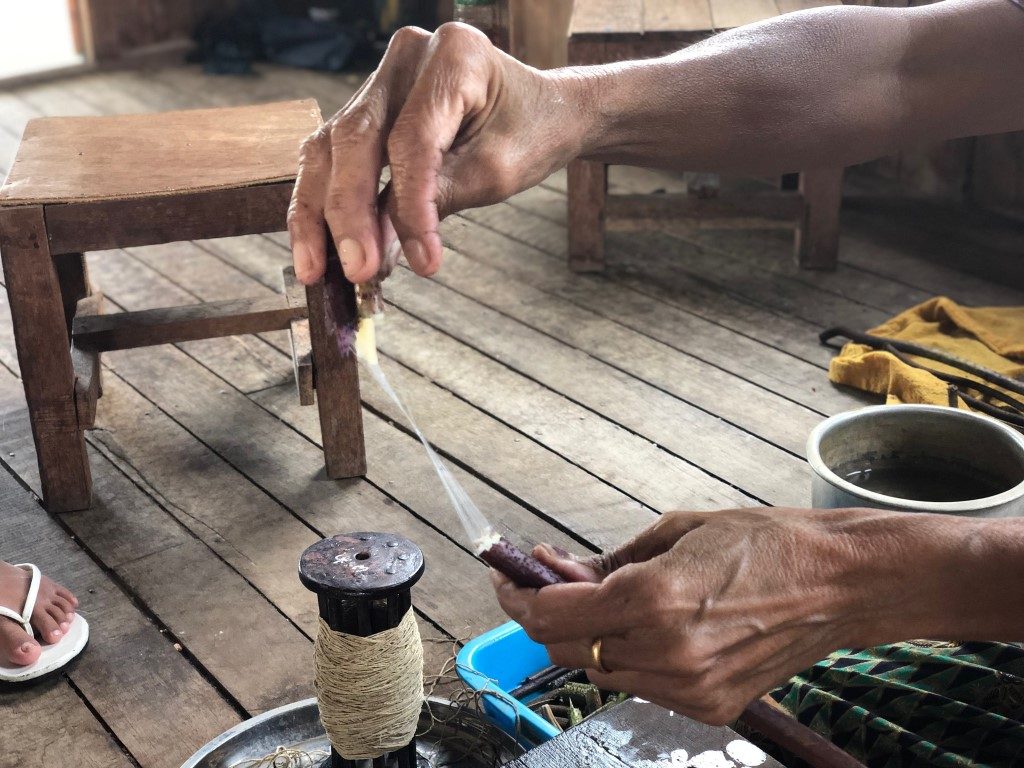 The textiles that were created from this method of weaving have produced a wide range of products. From scarves to blouses and traditional longyi, these are all made using the textile that was weaved here.
Visit Shwe Indein Pagoda
Shwe Indein Pagoda is one of the must-sees in the Inle Lake area. If you are looking for a change of scenery from the lake, this is another attraction to add to your itinerary. Here you'll find hundreds of pagodas!
The pagoda complex is not as crowded and this would be the perfect time to go. Many of the stupas here have been restored but some have been kept in their original state. Be in awe as you marvel at the stupas that tower above the complex, as if they are reaching out for the sky. The most interesting feature is that some of these temples and pagodas have been reclaimed by nature, with weeds and vines crawling through them.
You can even hike 30 minutes to an hour in order to get up the hill and get a great vantage point of the pagoda complex. You will get a much better appreciation for this cultural and historical complex. As a bonus, you can also enjoy a great view of Inle Lake as you make your way down the hill.
Tour a Cheroot Factory
A visit to a cheroot factory is another must-do for tourists who visit Myanmar's Inle Lake area. A cheroot is a form of truncated cigar that is found mostly in Asia, and especially in Myanmar. There are homemade and manufactured versions of it and are used by men and women alike. You can tour a cheroot factory as part of your exploration of Inle Lake.
Since this is a tradition in Burma, this experience is also a great idea for cultural travelers. It provides you with a glimpse into the tobacco culture in Myanmar and how it was part of the country's history (as it was popular during the time of the British Empire. You will learn about this history during your cheroot factory tour. During the tour, you will be able to see first-hand how these cigars are made, and if you want you can purchase some to take home as a souvenir.
Take a Day Trip to Kakku
Kakku is home to one of Myanmar's most spectacular monuments. It is known for the incredible collection of stupas – 2,478 in total! These stupas are built on the Shan state hillside that is among the hidden gems of the Inle Lake region. This is an ancient religious monument that is a must when you are looking for a great day trip from Inle Lake.
As mentioned above, Kakku's most notable attraction is the collection of 2,478 stupas that were built 20,000 years ago. It was originally built for by the Indian Emperor Ashoka but was later expanded by King Alaungsithu during the 12th century. More stupas were added during the 17th and 18th centuries. Most of the stupas are in their original state but many underwent restoration as they had been damaged by earthquakes and other forms of extreme weather. This monument is a site of religious devotion.
To get to Kakku, you must drive for two and a half hours from Inle Lake. Do take note that this monument is located along a mountain ridge so you will be driving in poor road conditions, but it's still worth the drive as it's one of the best places to visit in Inle Lake.
Inle Lake Trekking: from Kalaw to Inle Lake
If you like going on treks or simply looking for an adventure-filled experience in Myanmar, you need to go on a trekking adventure from Kalaw to Inle Lake. You can do this trek for one day but most travelers would recommend staying for one night via a homestay. It's one of the best things to do in Inle Lake to immerse into the local life and get to know the villagers,
Whether you choose to do the trek for a day or spend a night, it is a must-try experience. The trek from Kalaw to Inle Lake takes you through fields of chili peppers, ginger, mustard seeds, onions, and garlic. You can also stumble upon locals herding their buffalo into a field of crops.
It is an interesting glimpse into the local way of life so you can understand how these people provide for their families. These people are also known to be quite hospitable, so do not be surprised if you are greeted with smiles or if they wave at you.
The unassuming countryside town known as Kalaw is quickly becoming a hotspot for tourists. Its proximity to the Inle Lake region can be attributed to that rise in popularity. Many of those who visit Inle Lake opt to venture out into this trek to uncover this so-called hidden gem. Once you reach the elevated plains of Kalaw, you can see a stretch of mountains and valleys from above. This picturesque landscape seemingly rewards your efforts with one of the best natural views you can get in Myanmar.
Marvel at the Phaung Daw Oo Pagoda
Phaung Daw Oo Pagoda is one of the most beautiful pagodas in the Inle Lake region. This monastery is highly reveled because it is home to the five golden images of the Buddha. The devout Buddhists who come to this monastery are responsible for covering the Buddha images with gold leaves. Each of the images varies in size – from 9 to 18 inches tall. They are constructed from solid gold and are extremely heavy. They are over 800 years old.
The center of the pagoda features an ornate shrine with pedestal. The Buddha images housed within the pagoda get plenty of Buddha devotees who visit the monastery to pay their respects. Only male devotees are allowed to place the gold leaf onto the Buddha images, though.
Phaung Daw Oo Pagoda Festival is one of the largest festivals in the country, which is held at this monastery. This festival usually takes place in September or October. During the festival, four of the five images are paraded around the lake through a traditional long boat. The fifth image is left in the pagoda to guard the resting places of the other images.
If you want to visit Phaung Daw Oo Pagoda, you can do so by boat. There is a landing pier in front of the pagoda.
Where to Stay in Inle Lake
If you are planning to stay within the Inle Lake region, you have two choices. You can stay in Nuang Shwe, or you can choose one of the resorts that are scattered all along the banks of the lake. These are mostly luxury resorts, but it's a destination where you should really think about splurging.
We just passed through Nuang Shwe and it's a pretty big town, with traffic and noise and everything that comes with it. Not exactly an idyllic place by the lake. We stayed on the lake in a secluded location, where we could hear the birds chirping, and I'm 100% sure it's what made our experience unforgettable. It would have been completely different if we had stayed in town.
Among the luxury resorts, the Sofitel Inle Lake Myat Min is one of the best places to stay, if not THE best. It is the ultimate luxury experience in this part of Myanmar, and you'll find out that it's even quite affordable.
A Review of Sofitel Inle Lake Myat Min
We arrived from Heho airport with a taxi, the journey was quite long, and as soon as we arrived at Sofitel Inle Lake Myat Min a bellboy helped us with our luggage. We were escorted to the reception where the check-in process was smooth and pleasant. We were given a welcome drink and they even had a special gift for us!
READ OUR FULL REVIEW: Sofitel Inle Lake Myat Min: An Enchanting Resort
It's so incredible when the staff takes the time to make the experience personalized for the guests. There are many 5-star hotels around the world, the way to create an unforgettable experience is to go above and beyond with the details. The staff had checked out our Instagram, realized it was our anniversary, and made a photo frame by hand with the photo from my Instagram.
From the glassed wall of the reception we could see the incredible layout of the entire resort that finishes on the lake, which reminded us of the layout of the 5-star Novotel Phu Quoc Resort, another Accor Hotel we had visited 2 months earlier.
This luxury boutique resort offers luxury rooms with a cozy village configuration. The resort is so big that they took us to our suite in an electric cart, and what a room.
We stayed in a Junior Suite, which was 75 square meters. As soon as you enter, you step in the living room with a big sitting area and the minibar, and double curtains for privacy. We found some tasty fresh fruit on the table.
The bathroom comes with a huge shower space, a very nice tub, double sinks with all kinds of top-quality amenities, and a separate toilet.
The bed is as comfy as it gets, and it features a mosquito net that gets set up during turndown service. Reception will ask at what time you'd like to have the staff come in for turndown service, and they will make the bed and leave cookies or cake for the night.
From the bed, there's an incredible view of the lake, but if you really want to relax with the view you can step out in the balcony and lay down there.
Normally, the bungalows with the suites are all on top of the water. Since we visited in dry season, our view was a mix of water and plants, but we loved coming at this time because dry season means little guests, and it almost felt we had the whole resort to ourselves.
Aside from the luxurious and thoughtfully designed rooms, Sofitel Myat Min also boasts modern services and facilities.
The resort features 2 pools, one by the reception (but there wasn't much going on in this one since it was low season) and one by the lake. This last one is a very long infinity pool with a beautiful view, and it comes equipped with sunbeds and a full bar.
In the resort you'll also find a fitness center, a cozy library with a piano where you can relax with a book, a pool table, and a conference room.
Breakfast at Sofitel is a fantastic combination of buffet and à la carte. In the buffet you'll find mouthwatering croissants, lots of different tropical fruit, cereals, and an interesting selection of juices.
We were allowed to order as many dishes as we wanted from the à la carte menu, and Fran was so happy about it! Our favorites were the pancakes with tomato jam from the garden, the porridge with nuts, and the Eggs Benedict.
Sofitel Myat Min features two restaurants, Roots, the restaurant by the pool, and Kwee Zeeen. Roots is an organic fine dining restaurant serving both Burmese and international dishes, while Kwee Zeen is a more casual restaurant but was closed for the low season when we visited.
During our stay, we had all of our meals at Roots and it was always exceptional, probably the best place we've eaten at during our 3-month long Southeast Asia trip. It's also very well priced, especially for being the restaurant of a 5-star hotel. Most of the time we were spending around $30 for the two of us for a starter and two entrées.
One of our favorite plates was the Roots Wellness Bowl, a bowl of organic fresh veggies directly from the garden with feta cheese and some incredible mushrooms – you can't get any healthier than that!
We also had salmon, a great pumpkin soup, a soufflè with mushrooms, an avocado chocolate dessert… I'm getting hungry just remembering all of this!
The massage we got at the spa was the cherry on top. We chose the "Sofitel Signature Massage", which is a unique combination of Swedish and Myanmar traditional massage to provide deep tissue and muscle tension relief. It was SO incredibly good. Even if you are not staying at Sofitel, you can come for a massage: this must be the best place for a massage in Inle Lake!
And you want to know the best part of this all? You'd think that staying at a hotel like this would be super expensive, but it's not. During low season, when we visited, a King Luxury Room with breakfast included starts at $115, $138 for the Junior Suite with Lake View (which in my opinion is definitely worth the extra money). During high season, rates double, so it's one of those cases where luxury is affordable when you choose to travel during low season.
Check out RATES & AVAILABILITY for Sofitel Inle Lake Myat Min
Sustainability of Sofitel Inle Lake Myat Min
Sofitel Inle Lake Myat Min is surely an incredible resort, but even better it' has a strong commitment to preserve and promote both the environment and the community. Here are some of the measures taken by the hotel regarding sustainability.
• Waste water filtration and UV light treatment: All the grey and waste water gets filtered and treated so that the outflow contains purified water free of germs and technically even safe to drink.

• Organic Garden: They plant their own vegetables 365 days a year and have over 1 hectare of garden from which they collect all sorts of vegetable and fruits throughout the year. Sofitel then uses the harvest in our Roots Kitchen which severs 100% organic locally grown food.

• Compost area: Sofitel Myat Min is one of the first 5 star hotels in the area that composts its food waste and later uses it as a fertilizer for their garden.

• Less Plastic: In a continuous effort to curb the use of single use plastic, Sofitel has minimized plastic usage in and around our resort. This includes the use of glass water bottles, biodegradable takeaway containers and wooden cutlery for takeaway food, paper straws, woven bags, etc.
The next step will be to replace all the bathroom amenities (shampoos, conditioner razor etc) with plastic free alternatives like biodegradable products or shampoo and soap dispensers. Just to give you an idea on numbers, since starting this initiative last year they have already cut down over 35000 plastic bottles and nearly as many straws!

• Recycling: All the waste collected from the hotel and guest room gets segregated in a waste sorting area and recycled, which helps to keep the net garbage down to non-recyclable and non-biodegradable items.
• Architectural design: The interior design theme reflects the regional aesthetics as you will find many decorative pieces native to the region. There are also native materials used on the furniture and furnishings such as bamboo or rattan. Even when you are inside your room, you will feel like you are still part of the community and local environment.
If you want to enjoy the full Inle Lake experience, this hotel will offer the experience of a lifetime.
Check out RATES & AVAILABILITY for Sofitel Inle Lake Myat Min
We were guests of Sofitel Inle Lake Myat Min, but the opinions expressed in this post are exclusively our own. We really had an incredible time, no matter who footed the bill!