A 5-star hotel in Dubai with private pools and access to an incredible beach club in Palm Jumeirah. Read why you should stay at Five Jumeirah Village Hotel.
I'll say it straight out. I LOVED my stay at Five Jumeirah Village Hotel in Dubai. This hotel is luxurious and fun and oh so instagrammable. It was the perfect place for a staycation in Dubai.
And the best part? Five Jumeirah Village Hotel makes its incredibly luxurious amenities available to everyone with their affordable deals, becoming the perfect destination for those who want to experience the commodities of a 5-star hotel at budget-friendly prices.
The hotel is in a 60-story circular tower that boasts magnificent views of Dubai and the Gulf, and offers fully equipped, glamorous rooms and facilities, as well as many entertainment and dining options.
🏨 CHECK RATES & AVAILABILITY FOR FIVE JUMEIRAH VILLAGE
THE LOCATION
Five Jumeirah Village Hotel is located in Jumeirah Village Circle, right in the middle of New Dubai.
The hotel is 22 miles (35 km) from Dubai International Airport and 74 miles (120 km) from Abu Dhabi International Airport. Unless you're renting a car upon arrival, you can book the hotel's transfer services to be picked up in a Tesla and taken directly to Jumeirah Village.
You can also get to the hotel by taxi or by bus from Dubai Airport, taking the Line 11 Skybus and transferring at the Mall of the Emirates to a J01 Bus.
Keep in mind that there is no metro access near the hotel, so if you're planning to move around Dubai by metro to explore the best things to do in the city, this is probably not the right place for you.
I suggest staying here if you're looking to relax at the pool or at the beach club at the sister resort (complimentary transportation is offered), or if you're willing to take taxis everywhere.
THE CHECK-IN PROCESS
Five Jumeirah Village designers have done it very well. The guests' stay is designed to be full of Instagrammable moments. It all starts with plenty of fun neon signs in front of the hotel's entrance, so you can start shooting those pictures for the 'gram before even checking in.
However, the check-in process is probably the only thing that could (and should) be improved. When we checked in, there were a hundred other people trying to do the. We ended up standing in line (with not much social distancing enforced) for over half an hour, which is not acceptable for a 5-star hotel and not the first experience guests should have.
In my opinion, they should increase the number of check-in desks, or maybe have some extra people going around the room and checking people in by using a tablet.
THE ROOMS
Five Jumeirah Village Hotel offers different kinds of rooms and suites. We stayed in a Superior with Balcony, a 33 square meters room featuring a King bed, a desk at an appointed workspace and a private balcony with seating.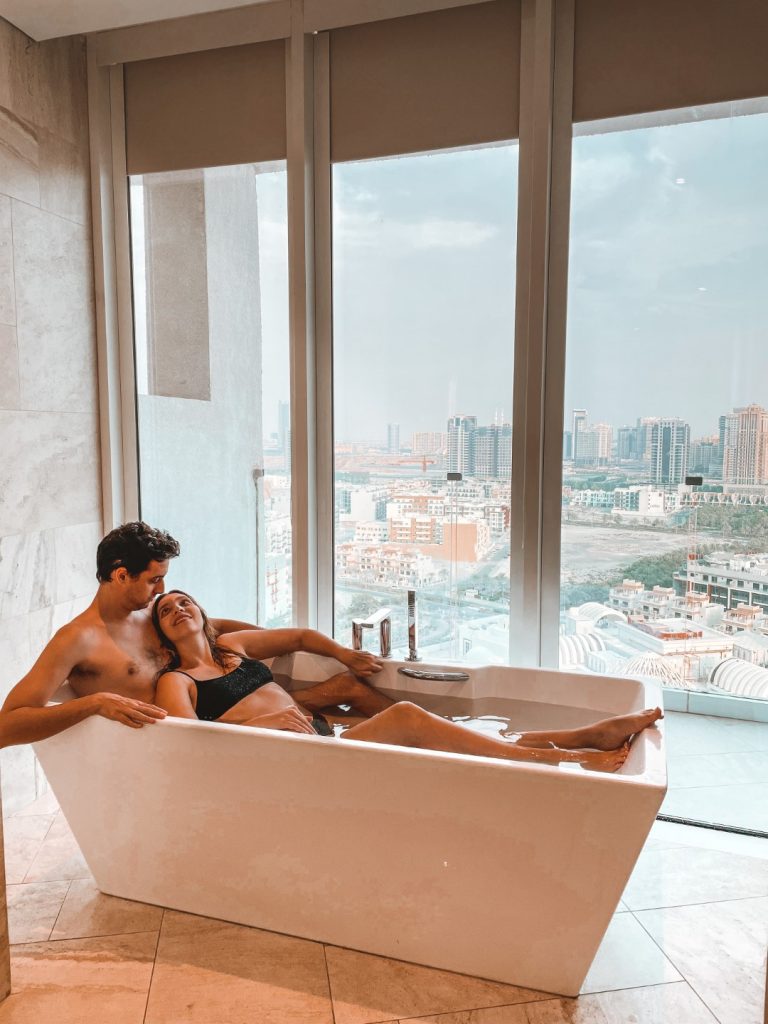 The room's highlight, however, was 100% the bathtub, facing floor-to-ceiling windows and magnificent views of the sunset.
Other room options include the Superior Double with Balcony, featuring two Queen beds, and the Superior Interconnecting with Balcony, which connects two Superior rooms offering double facilities; two balconies, two floating bathtubs, and three beds.
The Master Suite Jacuzzi is a 155 square meters room with a living and bedroom area, a spacious bathroom with tub, a private outdoor terrace and a jacuzzi.
The Sky Villas, which can accommodate from 4 to 10 people with 1 to 4 bedrooms, include a private pool on their terrace, as well as all the other amenities.
In fact, the outrageous design of the building is what Five Jumeirah Village is mostly famous for. A whopping 269 private pools and jacuzzis stick out from this circular skyscraper that is recognizable from far, far away. If you can splurge for a villa with a private pool or a suite with a jacuzzi, go for it! I'm sure it would be a unique and memorable experience.
🏨 CHECK RATES & AVAILABILITY FOR FIVE JUMEIRAH VILLAGE
THE FACILITIES
Among the hotel's top facilities are a high-tech gym, a Spa & Well-being center that provides massages, invigorating body treatments and corrective facials, and a beauty salon. There's also a kids club that comes in handy if you have children.
Five Jumeirah Village features two pools – one is definitely catering to the party crowd, with a DJ and a pool bar, while the other is usually empty and perfect if you just want to relax with a book.
One of the best things about staying at Five Jumeirah Village, however, is that you also get to enjoy the facilities at the sister resort Five Palm Jumeirah, a beachfront resort located in the iconic palm of Dubai.
ACCESS TO FIVE PALM JUMEIRAH
Five Palm Jumeirah, located on the famous Palm Jumeirah in Dubai, is the sister hotel of Five Jumeirah Village, and having access to its facilities is, in my opinion, the best part about the stay. In fact, staying at Five Palm Jumeirah costs considerably more, but you can get the best of both hotels by staying at Five Jumeirah Village!
Transportation is included and there are multiple departures a day, either by bus or by private car, depending on the number of people making the journey. When we were there, there didn't seem to be many people interested in spending the day at Five Palm Jumeirah, so only once we went by bus (which was perfectly comfortable).
Every other time, we were brought to and from the beach club on a Tesla, which we thought was pretty cool!
Once in Five Palm Jumeirah guests will have access to the well-known infinity pool, from where great views can be enjoyed, as well as crafted cocktails and light bites from the bar, and to the private beach club.
Beach by Five is one of the most popular beach clubs in Dubai, boasting a 150-meter private beach with sun loungers, cabanas and jacuzzis. The views on the Dubai skyline from the beach are absolutely incredible… I mean, where can you find such a view of skyscrapers while swimming in the sea?
I also love how the beach club features a bunch of Jacuzzis, perfect to relax with or without your partner.
The most unique feature of this beach club, though, is an incredible glass-lined pool… once again with incredible views over the skyline in Dubai. Especially if you're visiting during the summer, you'll LOVE this pool, which is always kept cool even when the temperature outside is close to 50 Celsius degrees (120 Fahrenheit) and the seawater feels more like hot tub's water.
The beach club hosts live events, DJs and parties, and it also features a beach deck where you can get signature cocktails or dine Mediterranean cuisine.
THE FOOD
Five Jumeirah Village Hotel is home to 5 different restaurants and bars where guests can dine and wine at their leisure.
Goose Island Tap House gastropub offers a massive craft beer selection and has its own tasting rooms, as well as many TV screens showing live sports matches; it has become a favorite among the sports lovers in Dubai. The pub also has an international food menu to pair your ales with… and it's a pretty good one!
We ate here one night and it was so good! Both their vegetarian and their regular burgers were out of this world, and so were the truffle fries. Service was 10/10 as well. During the week they feature a Happy Hour until 9 PM where you get two beverages for the price of one (wine, cocktails and beer). Considering the high price for alcoholic beverages in Dubai, happy hour made ordering alcohol much more reasonably affordable.
Soul Street serves signature gourmet street food, with culinary delights from India, Europe, Asia and Latin America. The restaurant is decorated with international street art and offers live entertainment.
Trattoria by Cinque is an authentic Italian restaurant by award-winning chef Giuseppe Pezzella. Inspired by Italy's classics, their stellar dishes are homemade pasta, focaccia, bruschettas and pizza, as well as delicious, homemade sauces.
One for the Road is a café that serves from hearty breakfasts to light meals during the day. Either for grabbing one of their freshly prepared sandwiches or sitting down to indulge in their cakes and croissants with a cup of coffee, the café is one of the busiest eateries in the area, also offering vegan options.
The Pool Bar is the to-go place for cocktails when relaxing at The Social Pool by Soul Street. They serve from glasses of champagne to your classical favorite drink, as well as light lunch options.
If you're looking for the ultimate escape, the hotel also offers an All-Inclusive Package so that your three meals a day and unlimited drinks at selected restaurants are included with your stay.
RATES & DEALS
🏨 CHECK RATES & AVAILABILITY FOR FIVE JUMEIRAH VILLAGE
Regular rates for a Superior room in high season start at around 200 USD a night. Rates are usually considerably lower in the summer months (low season).
Five Jumeirah Village Hotel, however, often has fantastic deals that make this luxurious hotel more affordable; some of the more popular are the pay 3 and get 4 nights, or pay 6 and get 8.
We stayed there in the summer, which is the low season in Dubai, and got an incredible pay 2 get 3 nights deal which came down to about 55 dollars a night – CRAZY for a 5-star hotel in Dubai! Especially when it includes access to the beach club and pool at Five Palm Jumeirah (more on that later!)