Wondering what are the best day trips from London by train? Then your trip is already wired for success: there are incredible destinations just outside the capital city waiting to be discovered!
London is one of the most popular tourist destinations in the world, visited by millions of tourists every year!
If you plan on spending a few days in London (and I highly recommend this!!), you should definitely include one or two day trips in your itinerary to visit one of the many gorgeous towns and cities nearby, and which can be reached very easily by train.
England truly boasts an immense amount of fairy tale boroughs, impressive monuments, and spectacular landscapes that should be enjoyed if you have the chance! Check out the most epic day trips from London by train – and good luck picking only one or two!
Bath
When it comes to the best day trips by train from London, Bath is one of the can't-miss destinations.
Bath is the largest city in Somerset, and it hasn't changed much since the times of Jane Austen and Ralph Allen, so it's no wonder it's been declared a UNESCO World Heritage Site. At every corner, the impeccable history and heritage of the city are undeniable and hypnotizing, so you'll probably feel like you've stepped back in time (and so far from modern London!) as you explore it. Among its main attractions are:
The Roman Baths, which date back to 43 AD (!)
The Royal Crescent, an impressive work of architecture
The Jane Austen Center is unmissable for literature fans
Bath Abbey and its Gothic interiors
Pulteney Bridge, a perfect location for pictures
➤ In alternative, you can book this Bath, Avebury and Lacock Village Day Trip which will give you free time in Bath, and also take you to the standing stones of Avebury and the cloisters of Lacock Abbey. ➥ BOOK IT HERE
LONDON TO BATH BY TRAIN
Route: London Paddington to Bath
Fastest train time: 1 hour 20 minutes
🚆 BOOK YOUR TRAIN TICKETS HERE
Cotswolds
Cotswolds is possibly the most popular day trip from London by train: it's gorgeous!
Its unmistakable charm has gained it the recognition of Area of Oustanding Natural Beauty (AONB). Cotswolds is a large region that runs through five different counties, and it's especially famous for its medieval, picturesque villages. Rather than traveling in time, you'll be transported to the setting of a fairy tale book!
If you only have time for one day trip from London by train, you won't regret choosing the Cotswolds, with its yellow limestone homes, medieval churches, and rolling hills. Some of the best villages to visit are:
Castle Combe, a village that's been kept intact since the 17th century
Stow-on-the-Wold, the site of the English Civil War's last battle
Bibury, one of the most charming villages in the area
Bourton-on-the-Water, which features five charming stone bridges
➤ You can otherwise book this Full-Day Tour of the Cotswolds which will bring you to the villages of Burford, Bibury, Bourton-on-the-Water, and Stow-on-the-Wold. ➥ BOOK IT HERE
LONDON TO COTSWOLDS BY TRAIN
Route: London Paddington to Moreton-in-Marsh
Fastest train time: 1 hour 30 minutes
🚆 BOOK YOUR TRAIN TICKETS HERE
Brighton
One of the best day trips from London by train in the summer is Brighton: pack your swimsuit and flip-flops!
This seaside resort in East Sussex is a popular beach destination for its laid-back, bohemian vibe, and the phenomenal party scene. It's also appraised for its open-minded community (it's the LGBTQ+ capital of England, after all), and it offers quirky shopping areas, a large musical and cultural art scene, and beautiful natural scenery. Things not to miss on your day trip from London to Brighton:
The famous Palace Pier
The Royal Pavilion
The charming Lanes
Brighton West Pier
The beach (duh!)
➤ Alternatively, you can book this Private Tour to Brighton and Seven Sisters with which you'll explore the town with a local, and then be taken to the impressive cliffs at South Downs National Park. ➥BOOK IT HERE
LONDON TO BRIGHTON BY TRAIN
Route: London Bridge to Brighton Railway Station
Fastest train time: 1 hour
🚆 BOOK YOUR TRAIN TICKETS HERE
Canterbury
Canterbury is another easy train trip from London. Listed as a UNESCO World Heritage Site, Canterbury was one of the most important pilgrimage sites during the Middle Ages, after the assasination of Archbishop Thomas Becket, whose shrine lays on the Canterbury Cathedral.
Known as the historic Cathedral City, it's best known for its impressive number of (you guessed it!) cathedrals. Even if you're not a church person, at least the city's main one, which is also England's oldest cathedral, can't be missing in your itinerary. Besides being a place of worship, Canterbury is also home to other famed attractions which includes:
Stroll around the Westgate Gardens
Visit St. Augustine's Abbey & St. Martin's Church
Check out the Westgate Towers & Museum
Learn more about the city at Canterbury Roman Museum
Join a Canterbury Ghost Tour and learn about the city's dark side
➤ An alternative is to book this Canterbury and White Cliffs of Dover Day Trip which will take you to explore Kent's highlights, from the historic city of Canterbury to Dover's world-famous cliffs. ➥ BOOK IT HERE
LONDON TO CANTERBURY BY TRAIN
Route: London Victoria to Canterbury West
Fastest train time: 1 hour 30 minutes
🚆 BOOK YOUR TRAIN TICKETS HERE
Guildford
While not as popular as the other cities, Guildford is one of the loveliest train day trips from London, featuring a medieval castle, beautiful parks and thrilling activities.
Guildford is a large town that belongs to the county of Surrey, and at its heart you'll find the medieval Guildford Castle, with its beautifully landscaped gardens and prominent square tower – a must-visit when in town! Guildford House, a 17th-century home, houses a museum and rotating exhibitions that are also worth checking out.
If you're looking for some fun, though, go ziplining and enjoy the rope courses at Wild Wood Adventure. Other incredible attractions in Guildford are:
Watts Gallery – Artists' Village, dedicated to George Frederic Watts
Loseley Park, where you can tour the house and its grounds
The Guildford Cathedral and its treasury museum
High Street for a nice stroll
LONDON TO GUILDFORD BY TRAIN
Route: London Waterloo to Guildford
Fastest train time: 40 minutes
🚆 BOOK YOUR TRAIN TICKETS HERE
Richmond
The affluent residential district of Richmond, located on the border of the River Thames, is one of the most accessible train trips from London. One of Richmond's most prominent attractions is Kew Gardens, a huge arboretum that's a definite must for botanical enthusiasts.
The 17th century Kew Palace and Queen Charlotte's Cottage, where the monarchs spend their summers, are open to the public, and they offer a very informative and entertaining visit. Don't forget to spend some time in the glorious Richmond Park, exploring its grounds or having a picnic as the locals do!
You can also go shopping or dine in an upscale restaurant in Quadrant main street
Catch a live performance at Richmond Theatre
Climb to the top of the Great Pagoda to enjoy the views
Walk among the trees on the Treetop Walkway
➤ In alternative, you can book the Royal Deer Park Bike Tour to cycle along the River Thames and Richmond Park, spotting deer and discovering the royals' hunting grounds. ➥ BOOK IT HERE
LONDON TO RICHMOND BY TRAIN
Route: London Waterloo to Richmond
Fastest train time: 30 minutes
🚆 BOOK YOUR TRAIN TICKETS HERE
Oxford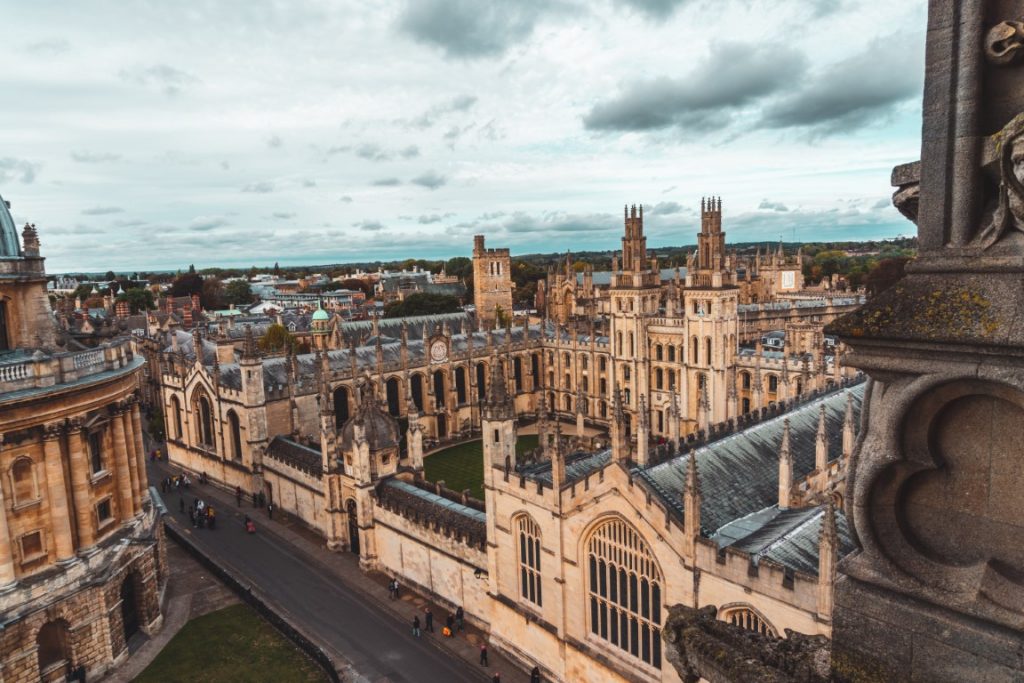 Oxford is world-renowned for its university, but there's much more to this gorgeous city that makes it a perfect destination for a day out from London by train.
Home to 38 colleges, the city gained the nickname of City of Dreaming Spires by the poet Matthew Arnold. All of them are located in the city's medieval center, and are greatly appreciated for their architectural beauty; the Oxford University dates back to the 11th century after all!
Shopping around the historic Covered Market, photographing the Bridge of Sighs, and enjoying a tasting at the Oxford Artisan Distillery are also amazing activities to enjoy in the city. Check out some more things to see and do in Oxford:
Explore the Oxford City Center
Visit Christ Church Cathedral and College
Walk around the famous Radcliffe Square
Learn about the role of the Oxford Castle and Prison during The Anarchy
➤ You can otherwise book the Oxford and Cotswolds Villages Day Trip which will bring you to the university city, and then stop at a couple of quaint towns in the Cotswolds. ➥ BOOK IT HERE
LONDON TO OXFORD BY TRAIN
Route: London Paddington to Oxford
Fastest train time: 1 hour
🚆 BOOK YOUR TRAIN TICKETS HERE
Mayfield Lavender Farm
If you need a break from the city, the Mayfield Lavender Farm is among the best train day trips from London. I mean, who can resist wandering around lavender rows?
This family-run lavender farm is in Barnstead and it opens during the lavender season, which goes from early June to late August. This is the perfect spot to get some insta-worthy photos, smell the exquisite lavender scent and, why not, indulge in some lavender-scented treats or souvenirs.
Besides the gift shop and coffee house, their second location also houses a nursery where you can choose between a wide choice of Lavender varieties to take home with you!
LONDON TO MAYFIELD LAVENDER FARM BY TRAIN
Route: London Victoria to West Croydon (then take the 166 Bus)
Fastest train time: 30 minutes
🚆 BOOK YOUR TRAIN TICKETS HERE
Arundel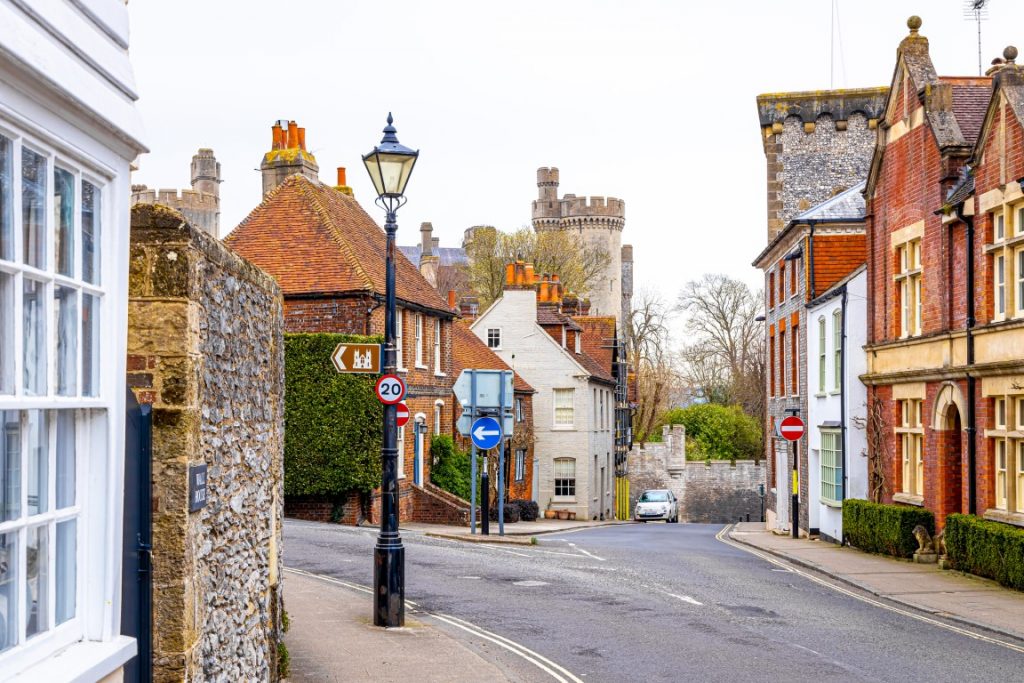 Arundel is a charming market town in Sussex with its Medieval Castle and Roman Catholic Cathedral pretty much intact. Like many towns in England, parts of it seem from a completely different era (because they are!)
In fact, its well-conserved town is one of the main reasons why tourists flock to Arundel, besides it offering a wildlife nature reserve, a wonderful hiking loop along the River Arun, multiple Antique shops, gardens, and interesting events. Other fun things to do include:
Check out the art scene
Widen your knowledge at the Arundel Museum
Visit the Bignor Roman Villa
Relax at Swanbourne Lake
Explore Saint Nicholas Church, divided to allow worship for both Catholics an Anglicans
➤ You can book this Private Day Tour to Arundel Castle which includes a tour of the 900-hundred-year-old castle, as well as a visit to its gardens and the town of Arundel. ➥ BOOK IT HERE
LONDON TO ARUNDEL BY TRAIN
Route: London Victoria to Arundel
Fastest train time: 1 hour 30 minutes
🚆 BOOK YOUR TRAIN TICKETS HERE
Cambridge
A day trip to Cambridge from London by train couldn't possibly be missing on this list. The friendly rival of Oxford due to their universities' competitions, Cambridge is known for having more museums, collections, and galleries per square mile than any other city outside of London!
With centuries of history, this city of idyllic beauty offers many attractions that can be enjoyed for free, so there's no excuse for not having a jam-packed day itinerary! When in Cambridge, don't forget to stop by the following places:
St John's Chapel
Fitzwilliam Museum
Trinity College's Wren Library
The University Museums
The Mathematical Bridge
Great St Mary's Church for amazing views
Go antique shopping at the Cambs Antique Centre and Hope Street Yard
➤ An alternative is to book the Cambridge from London Day Trip which will take you on a guided sightseeing tour of the city, and to explore some of its colleges. ➥ BOOK IT HERE
LONDON TO CAMBRIDGE BY TRAIN
Route: London Liverpool Street to Cambridge
Fastest train time: 1 hour
🚆 BOOK YOUR TRAIN TICKETS HERE
Mersea Island
Mersea Island is part of Essex and is known as the most easterly inhabited island in the UK. It makes for a great London day trip by train, featuring beautiful scenery with long stretches of beach, jetties, and estuary views on one part of the island, while on the other you'll find great shopping opportunities, restaurants and plenty of guesthouses in case you want to extend your stay.
Mersea Island is an ideal destination for outdoor enthusiasts, as theer are tons of watersports to be enjoyed, and chances to go sailing, swin, adn relax by the water. The foodies, on the other hand, will particularly enjoy the vintage Tearoom and the Vineyard!
LONDON TO MERSEA ISLAND BY TRAIN
Route: London Liverpool Street to Wivenhoe (from here take a taxi or bus to the island)
Fastest train time: 1 hour
🚆 BOOK YOUR TRAIN TICKETS HERE
Stratford-upon-Avon
Stratford-upon-Avon is another medieval market town and a wonderful destination for a day trip out of London by train. It's best known as the birthplace of 16th-century playwright William Shakespeare – who needs no introduction whatsoever – so wandering around town is a perfect plan for literature and history fans, and all those who escape these categories!
There are plenty of cultural, literary, and historical sights to explore in Stratford-upon-Avon, as well as modern shopping areas, picturesque eateries and cafes, and the River Avon where you can enjoy a boat cruise. The places you cannot miss while in town are:
Shakespeare's Birthplace, a half-timbered house where he spent his childhood and which is now a museum about his life
Anne Hathaway's Cottage, Shakespeare's wife's family home and where he would visit her during their courtship
The Church of the Holy Trinity to admire its Gothic architecture
The MAD Museum for an incredibly fun time
➤ You can otherwise book the Oxford, Stratford, and Cotswolds Day Trip which will bring you to Shakespeare's birthplace for a guided tour around town. You'll then pass through the Cotswolds on your way to Oxford. ➥ BOOK IT HERE
LONDON TO STRATFORD-UPON-AVON BY TRAIN
Route: London Marylebone to Stratford-upon-Avon
Fastest train time: 2 hours
🚆 BOOK YOUR TRAIN TICKETS HERE
Fish & Chip Suppers, Spa Valley Railways
If you are up for a unique experience, then take a short trip from London by train…without ever getting out of the train! The Spa Valley Railway is a heritage diesel train that will take you through the High Weald countryside as you indulge in a supper of the English classic – fish & chips!
On top of that, you'll also enjoy all kinds of drinks on the train – from bottled beers, wines, cider, and real ales, all the while keeping your eyes glued to the windows, so you don't miss the spectacular landscapes you'll be passing by.
Rye
Rye is a quaint village in East Sussex, often referred to as one of the postcard-perfect towns in the UK. You won't miss a chance of visiting Rye on a London getaway by train, will you?
The town is like a labyrinth filled with winding streets, medieval cafes and inns, and quirky shops, and you may even spot some oast houses! Rye's history goes back to Medieval times, and it went from being an entrepôt to a fishing port, a naval base, an agricultural hub, and a market town. Today, it's a delight to wander around! Activities to consider while you're there:
Visit the Rye Nature Reserve and the Camber Sands
For a trip down history lane, stop by the Rye Castle Museum, Mermaid Street, and Lamb House
LONDON TO RYE BY TRAIN
Route: London St Pancreas International to Rye
Fastest train time: 1 hour 10 minutes
🚆 BOOK YOUR TRAIN TICKETS HERE
Blenheim Palace
Blenheim Palace is a monumental country house listed as a UNESCO World Heritage Site, which serves as the official residence of the Dukes of Marlborough, being the only non-royal country house to be called a palace.
With over 300 years of history, it's most popular for being the birthplace of Winston Churchill, who was the grandson of the 7th Duke, and for its role as a convalescence hospital during the Great War. You can visit the Palace State Rooms and also tour Churchill's birth room and the exhibition about his life, as well as the stables and the living areas of both the family and the staff.
Blenheim Palace also boasts an impressive park with gardens and a maze – very romantic according to some, but enjoyed by more than just love birds!
➤ You can book the Blenheim Palace, Downton Abbey & Cotswolds tour to visit the Palace with a guide, plus explore two Cotswolds villages and the town where many Downton Abbey scenes were filmed. ➥ BOOK IT HERE
LONDON TO BLENHEIM PALACE BY TRAIN
Route: London Marylebone to Oxford Parkway (you'll then need to catch Bus 7)
Fastest train time: 1 hour
🚆 BOOK YOUR TRAIN TICKETS HERE
Seven Sisters Cliffs
The Seven Sisters Cliffs is a series of chalk cliffs that will take your breath away. If you're after natural wonders on a day trip by rail from London, these cliffs, which are part of the South Downs National Park, are top of the list.
The cliffs rise 656 feet (200 meters) above sea level, and they gain their name from the seven hilltops that make up their silhouette – although an eighth one was created by sea erosion. Used as the backdrop for countless movies and TV shows, and endless pictures of visitors, the cliffs offer something more than just an impressive background: a trail!
The Seven Sisters coastal trail is 14 miles long (22.5 km) and it's ideal for avid hikers. If that seems like too much for you, you can try some of the trails at the Country Park, or else enjoy the view and do some wildlife spotting!
➤ In alternative, you can book this Seven Sisters and South Downs Full-Day Tour which will bring you to marvel at the impressive white cliffs and discover the National Park they're part of. ➥ BOOK IT HERE
LONDON TO SEVEN SISTERS BY TRAIN
Route: London Victoria to Eastbourne
Fastest train time: 1 hour 30 minutes
🚆 BOOK YOUR TRAIN TICKETS HERE
Windsor Castle
Windsor Castle is one of the most iconic buildings in the UK. One of the official residences of the Queen, it has been the home of queens and kings for a thousand years! You'll know that Her Majesty is home if her standard flies from the castle's Round Tower, so remember to look up.
Besides its role as a royal residence, it's also noteworthy for its breathtaking architecture, which blends Gothic, Victorian, and Georgian styles – easy task if you've been around since the 11th century, and boast the title of the oldest and largest occupied castle in the world! When you visit the castle, don't miss some of these highlights:
St George's Chapel
Queen Mary's Doll's House
The ceremonial and historic routes through the State Apartments
Changing the Guard Ceremony
➤ You can book the Half-Day Trip to Windsor with Castle Tickets to be taken from London to the royal residence, where you'll get to tour its rooms with a multimedia guide and wander around the gardens. BOOK IT HERE
LONDON TO WINDSOR CASTLE BY TRAIN
Route: London Waterloo to Salisbury
Fastest train time: 1 hour 30 minutes
🚆 BOOK YOUR TRAIN TICKETS HERE
Stonehenge
A very popular and easy day trip from London by train is Stonehenge, a prehistoric monument believed to have been constructed around 3000 BC. Besides this estimate, the rest of its history is a complete mystery, and possibly what attracts more than a million visitors every year.
The impressive ring of standing stones is approximately 13 feet (4 meters) high, and the reason behind its construction is one of the biggest enigmas that surround it. Even if there's no juicy backstory to hear about it, Stonehenge is a breathtaking landmark that's worth the trip in itself!
To visit Stonehenge, you can take the train from London and the journey will take about 1 hour and 30 minutes. There is a train that departs every 30 minutes to Salisbury Station so you'll get on one quite easily!
➤ An alternative is to book the Full-Day Windsor, Stonehenge, and Oxford Tour which takes you to explore those three iconic destinations with a guide. ➥ BOOK IT HERE
LONDON TO STONEHENGE BY TRAIN
Route: London Waterloo to Salisbury
Fastest train time: 1 hour 30 minutes
🚆 BOOK YOUR TRAIN TICKETS HERE
Whitstable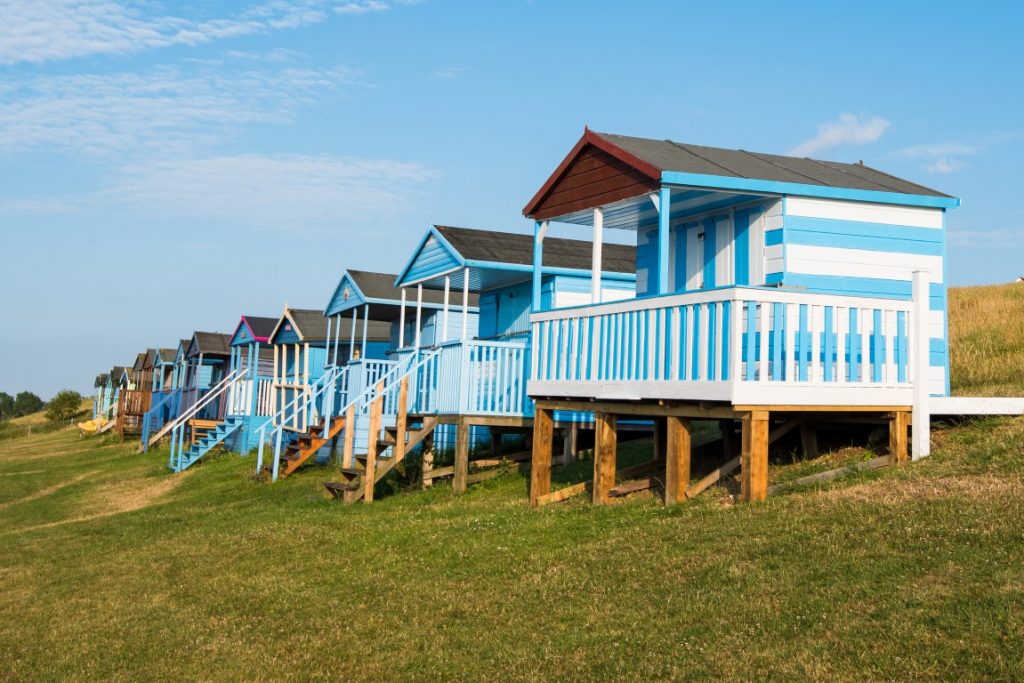 Whitstable is a great beach day trip destination from London, ideal for those looking to escape the hustle and bustle of the big city. This charming fishing village features shingle beaches, colorful houses that will look awesome in your IG grid, and fishermen's huts.
Whitstable is small enough that it can be explored on foot, and have time to relax by the beach or enjoy a good meal without rush while still checking out all its picturesque spots. There are not many attractions in town, making it a wonderful choice for those looking to spend some quiet time by the sea, but there are very recommended beachfront restaurants where tourists can enjoy the view while digging into their fish and chips.
LONDON TO WHITSTABLE BY TRAIN
Route: London Victoria to Whitstable
Fastest train time: 1 hour 30 minutes
🚆 BOOK YOUR TRAIN TICKETS HERE
Royal Tunbridge Wells
In western Kent, the Royal Tunbridge Wells is a historic spa town with more than 400 years of history. This town used to be known as one of the most fashionable towns in England; the abundance of independent shops that line the High Street will give that away!
In addition to the shopping boulevard, there are many quaint cafes, buzzy bars, and one-of-a-kind shops worth visiting, as well as plenty of historical sites around town:
The Tunbridge Wells Museum and Art Gallery
Penshurst Place & Gardens
Bayham Old Abbey
Scotney Palace
Eridge Rocks Nature Reserve
LONDON TO ROYAL TUNBRIDGE WELLS BY TRAIN
Route: London Bridge to Tunbridge Wells
Fastest train time: 45 minutes