A must-see on any trip to Mexico, the remains of these once-powerful cities will amaze you! Check out this guide to the best Aztec and Mayan ruins in Mexico.
They say that History is told by winners. That's a controversial term, but among the Spanish-speaking towns of Mexico (the language of the conquerors), there are many other voices, many other stories waiting to be told. The stories of the ones who lost.
Colossal pyramids, sacred temples, and beautiful palaces covered in art rise strong from among the trees or sit perched on hilltops to reclaim (and retell) history.
If you're planning to go to Mexico, I bet visiting at least one of the many archeological sites and Mexico ruins is on your list (and if it's not, then it definitely should be). From the cliffs of beach-side Tulum to the deep green of the southern jungles, and the western valleys, Mexico is a treasure trove of wonders, both historical and natural.
The Mayans and Aztecs, along with many other Mesoamerican civilizations, once dominated present-day Mexico and Central America. Now, the remains of their cities are scattered all over the country, and it's something to behold.
Each site has something unique to offer: roaming around Mayan ruins in the jungle, climbing the most ancient temples in Mexico, looking out over the turquoise waters of the Caribbean Sea from an old fortress… there is something for everyone.
You could spend years visiting all the ruins of these empires, but I know you probably don't have that much time, so here's my list of the best Aztec and Mayan ruins of Mexico. Good luck picking which one you'd like to visit the most!
But first, where are the Mayan ruins located? They are pretty much all over the country, so check out the map below to have a clearer picture in your head. It will help you when navigating the long list.
MAP OF MAYAN RUINS IN MEXICO
Check out in the map below the location of the most important ruins and pyramids in Mexico.
Ok, now let's get to it, shall we?
9 TOP AZTEC & MAYAN RUINS IN MEXICO
Chichen Itza
The ancient Mayan city of Chichen Itza is one of the greatest archaeological sites in the Americas, and the most famous of the Mexican Mayan ruins. Undoubtedly one of the biggest tourist attractions in Mexico, it receives millions (yes, millions) of visitors every year.
After all, it's a UNESCO World Heritage site and in 2017, it was listed as one of the New Seven Wonders of the World. We all recognize the famous step-pyramid that dominates all the photos, but what exactly is Chichen Itza?
Located in the jungles of the Yucatan region in Mexico, near the colonial town of Valladolid, Chichen Itza was an important Mayan city and it is the largest archaeological ruin of that civilization. A major political, religious and cultural center in the Mayan empire, it was also a site of pilgrimage for more than 1,000 years, and it is often compared to sacred pilgrimage sites such as Jerusalem or Meca.
The name Chichen Itza means "at the mouth of the well of the Itza." The Itza were an ethnic group of Mayans who had risen to power, and the well in the name refers to a nearby cenote that was considered sacred and where rituals were conducted.
The city's importance in the Mayan world is undisputed, but what is unclear is why it went into decline and was later abandoned. Or when. In any case, it remains an active archaeological site and one of the biggest centers of pre-Columbian life in Central America.
The site was abandoned for a long time, but now most of the ancient structures have been restored. With towering temples, a Mayan ball court, and impressive monuments it is most definitely worth a visit on your trip to Mexico.
READ ALSO: Visiting Chichen Itza, Mexico | A Complete Guide
If you would like to visit the Mayan ruins in Chichen Itza with someone else doing the organizing, here are some tour options:
➤ To kill three birds with one stone, this Chichén Itzá, Valladolid & Cenote Tour is a great option for a more than reasonable price. This tour will take you to Chichen Itza, the colonial city of Valladolid, and cap the day with a swim in a sacred cenote. If you are staying in Cancun, the Riviera Maya, or Tulum, pick-up is included! ➥ BOOK IT HERE
➤ If you're coming from Valladolid and would rather get to Chichen Itza on your own, I recommend you at least get skip-the-line tickets (millions of visitors, remember?) ➥ BUY TICKETS
Chichen Itza Opening Hours: 8 am – 5 pm
Closest city to Chichen Itza: Valladolid (44 km / 27 miles away)
Palenque
Southern Mexico is a region of wonders. Tucked away in the deep green of the Chiapas jungle, Palenque is another one of the archaeological sites that lures tourists for its historical importance and natural surroundings.
Once a bustling Mayan city and now UNESCO World Heritage Site, Palenque had connections with other big centers in Mayan times, such as Chichen Itza or Tikal. The city was in full bloom during the 7th century AD, but, just like most of the ancient sites of Mayan civilization, it started to fall into decline and was eventually abandoned. The constructions were overgrown by the jungle and not discovered again until 1746.
Home to some of the most incredible Mayan temples in Mexico, it is believed that only about 10% of the site has been uncovered. Archaeologists believe that there could be a thousand more structures left to be discovered in the jungle.
You can climb most of the buildings and get amazing views of the site and its surroundings, which include lush green jungle, rivers, and waterfalls. It is worth staying a couple of days and chill in nature!
Even though they are the most important Mayan ruins in Chiapas, the thing about Palenque is that it's in a remote location, nowhere near the big tourist routes, and it will take you some time (and determination) to get there. But don't be put off by this, Palenque is worth your time.
There is a small airport in the town of Villahermosa (2 hours from Palenque), but not many flights are available, so you will probably be arriving by bus or car (if you have rented one).
READ ALSO: A Day Trip to Palenque, Misol Ha, and Agua Azul Waterfalls
From Cancun, it takes an overnight bus to get there (around 13hs), it's around 5hs from Campeche and 8hs from Merida. The nearest tourist town is San Cristobal de las Casas, but still expect a few hours drive in a pretty bad road full of potholes.
There are places to stay and restaurants in Palenque town (7 km from the ruins), or you can take an organized tour from San Cristobal de las Casas.
➤ This Agua Azul and Palenque Day Trip Tour sounds like a good idea, doesn't it? They will pick you up from your accommodation in San Cristobal, and take you on a day trip to the ruins and to see the nature around, including the gorgeous waterfalls of Agua Azul and Misol-Ha. ➥ BOOK IT HERE
Palenque Archaeological Site Opening Hours: 8 am – 4:30 pm
Closest city to Palenque: Palenque / Villahermosa (144 km / 89.5 miles away) / San Cristobal de las Casas (213 km / 132 miles)
Tulum Ruins
Ah, Tulum. Who doesn't love Tulum? Once a hidden spot, it has become a gem in the Mayan Riviera for its proximity to Playa del Carmen, turquoise waters, and world-class beaches. But there's more to Tulum than sand, sea, and sunshine.
Next to Chichen Itza, the Mayan Ruins of Tulum are one of the most popular tourist attractions and ancient Mayan sites in the Yucatan Peninsula, and the best ruins in Riviera Maya. Built as a seaport fortress on a steep ocean cliff, the ruins consist of large and thick limestone walls and brick buildings that protect the city from the East.
El Castillo (The Castle) is the main pyramid at the heart of the site, and it used to serve as an ancient lighthouse. Directly across El Castillo, you have the Temple of the Frescoes, the most well-preserved building along with the murals, which are kept intact!
Unlike other archeological sites, the Mayan ruins in Tulum, Mexico are unique because they are situated on a cliff overlooking the ocean, which makes it arguably the most picturesque Mayan ruins in the Yucatan peninsula, or even in Mexico!
READ ALSO: Tulum Ruins: A Complete Guide
➤ If you're staying in Cancun or Playa del Carmen and would like to visit some of the best of the Yucatan peninsula in a single day, this Combo Tour of Tulum Ruins, Reef Snorkeling, Cenote and Caves is a fantastic option. It includes hotel pick-up and drop-off, entrance to the Tulum ruins, snorkeling on a coral reef, swimming in a cenote, and a jungle walk. Really, it doesn't get any better than this! ➥ BOOK IT NOW
➤ If, on the other hand, you would rather visit these Riviera Maya ruins independently, you can get entrance tickets here. ➥ BUY TICKETS
Tulum Archaeological Site Opening Hours: 8 am – 5 pm
Closest city to Tulum Archaeological Site: Tulum (8 km / 5 miles away), Playa del Carmen (64 km / 40 miles away)
Monte Alban
Monte Alban was one of the earliest cities in Mesoamerica and it's the most important archaeological site in the Valley of Oaxaca. It was home to the Zapotec civilization and a big socio-political center for over 1,000 years, between 500 BC and 800 AD.
The site is wide and open, a pleasure to walk around, and less crowded than other ruins in Mexico. It is located on a flattened mountain top, so it's not only great to go back in history, but also to enjoy spectacular views of the surrounding mountains and valley! You will be able to see Oaxaca and other smaller towns in the area too.
Back then, this elevated position allowed the government to look over its citizens and territory. Just like Chichen Itza, Monte Alban was also added as a UNESCO World Heritage Site in 1987.
The Zapotecs were influenced by other civilizations, like the Aztecs and the Mayas, which you will see in the temples and tombs with hieroglyphic inscriptions, and the ball courts. And, in case you were wondering, yes, there is a pyramid and yes, you can climb it! You will be rewarded with breathtaking views of the surroundings if you go all the way up. Definitely worth it.
At the entrance of the site, there is a small museum, a restaurant, and clean bathrooms. Monte Alban is around 7 kilometers from the city center of Oaxaca City, and it can be reached by a local bus (15-20 minutes), taxi, or as part of a tour.
➤ For all the fun and none of the hassle, this Monte Alban half-day Tour will pick you up and drop you off in Oaxaca, and take you to Monte Alban by the hand of a local bilingual guide. ➥ BOOK IT HERE
READ ALSO: 9 Oaxaca Tours Not to Miss
Monte Alban Opening Hours: 8 am – 4:30 pm
Closest city to Monte Alban: Oaxaca (7 km / 4.3 miles)
READ ALSO: 9 Incredible Things To Do in Oaxaca
Coba
There are two big advantages of visiting the Mayan ruins of Coba: they're not nearly as crowded as the other ruins in Mexico, and climbing to the top of the pyramid is still allowed. Yesssss!
Now that I have your attention, let me tell you a bit more about the place. This site is deep in the jungle between Tulum and Valladolid, making it a little more "remote" than others, hence the lack of tourists. It is still only a 45-minute drive from Tulum and easy to access.
Coba was an incredibly important city in Mayan times, and it differs from them in that it was not a single site but rather a collection of settlements connected to the main pyramid by more than 50 stone pathways known as "sacbes" (white roads). The area is still largely unexcavated and structures are very well preserved, with nature still growing wild around it.
The sites cover an area of around 30 square miles, so it's a great opportunity to walk around from site to site under the green canopy. Renting a bicycle is also a popular choice among tourists and it will make for a pleasant ride among the ruins and the jungle.
The pyramid in Coba is one of the few remaining Mayan pyramids in Mexico that you can still climb. So don't waste your time and visit! It is likely to change if tourism increases.
READ ALSO: A Guide to the Coba Ruins, Mexico
The largest pyramid in Coba is called Ixmoja, and it's also the tallest pyramid in Yucatan, with 42 meters tall (137 feet), or 120 steps, which is the fact you really need to know if you're planning to climb it!
It is a steep climb, I warn you, and the descent might be even more complicated than the way up! Luckily, there is a rope in the middle to help you, but don't try to climb if you're not in decent shape or feel unsure for whatever reason. It could be dangerous. Having said that, the views from up there are unbeatable and totally worth the effort: the ruins and then the deep green of the jungle as far as the eye can see.
➤ For an amazing day trip that will check a few items off your list all at once, I recommend this Tulum, Coba, & Cenote Tour. This tour will take you to both Coba and the Tulum Archeological Site, and you'll get the chance to swim in 2 different cenotes. Pick-up and lunch are included. Worth every penny! ➥ BOOK IT HERE
Coba Opening Hours: 8 am – 4:30 pm
Closest city to Coba: Tulum (47.6 km / 29.5 miles)
READ ALSO: 11 Unmissable Day Trips from Tulum
Uxmal
People seem to rave more about the Uxmal ruins more than they do about Chichen Itza, claiming this is the prettiest Mayan archaeological site in Mexico.
This indeed impressive site used to be the most powerful Mayan city in the Yucatan peninsula along with Chichen Itza, but, because the latter is very close to the big resort towns, Uxmal has been relegated to second place by tourists. If anything, this at least means smaller crowds, which is always good news.
The layout of the city is not geometrical as in other Mayan cities in Mexico. Instead, it's adapted to the hilly terrain, and it is also believed to be based on astronomical phenomena. The structures at Uxmal are also considered to be some of the best examples of Mayan art and architecture.
Without question, the most impressive and visually imposing structure on the site is the Pyramid of the Magician. The smooth curved design and the excellent state of preservation make this 35-meter high structure jaw-dropping.
The Uxmal archaeological site is the most important Mayan ruin near Merida, and the road is peaceful and well-maintained, so it makes for a very pleasant day trip. Once you're done visiting the ruins, there are many cenotes in the area you can visit to cool off after a busy morning!
READ ALSO: How to Get from Cancun to Merida
➤ For some extra magic, this Uxmal Light and Sound Show offers a different way of experiencing the site. Of course, you will visit the ruins, but then you will stay a bit longer because when the sun starts going down, you will witness how the pyramids light up and get filled with music in this beautiful light show. A very unique opportunity ➥ BOOK IT HERE
Uxmal Opening Hours: 8 am – 5 pm
Closest city to Uxmal: Merida (80 km / 49.7 miles)
Teotihuacan
Teotihuacan is the most visited tourist attraction and probably the most striking of the ancient ruins in Mexico. A fascinating archaeological site today, in its golden period, between the 1st and 7th centuries AD, it was one of the largest cities in the Americas.
The history of Teotihuacan is shrouded in mystery. Historians and archaeologists alike keep scratching their heads and trying to figure out who built the city, what for, and why it went into demise.
There are many mysteries unsolved, but one thing is certain: Teotihuacan has to be on your list of places to visit in Mexico. It's only a mere 40 km from Mexico City so you have no excuse.
The entire city spans a total land area of 13 square kilometers. In fact, nearly all of the people in the Valley of Mexico lived in ancient Teotihuacan, so plan at least 2 or 3 hours to roam around.
The city was named UNESCO World Heritage Site in 1987. Teotihuacan is composed of thousands of pyramids and residential compounds. The pyramids (which are also temples) that can be found on this site are so massive that they are often compared to the pyramids of Egypt.
Probably the most famous (and certainly the largest) structure in Teotihuacan is the Pyramid of the Sun (also known as Temple of the Sun), which dominates the landscape. The good news? You can climb it. The bad news? It's pretty tall! (65 meters /213 feet). But don't worry, once you see it, excitement will take over and give you the strength to climb. I mean, see the view from up there!
I could go all day about how amazing this city is, but it's better if you just go and check it out by yourself!
➤ If you want to take the edge off at the end of your long visit to Teotihuacan while getting an extra taste (quite literally) of Mexican culture, check out this Teotihuacan tour with Tequila Tasting! It includes pick-up from and drop-off at Mexico City, of course. ➥ BOOK IT HERE
➤ If you would rather go on your own, I recommend getting tickets in advance, it will save you time! ➥ BUY TICKETS
➤ Now, do you want a once-in-a-lifetime experience? This Hot Air Balloon Flight over Teotihuacan will provide. Yes, you will get to admire Teotihuacan and the surrounding valley from the air! A magical experience, to say the least, and one of the cheapest hot air balloon rides you will find anywhere. ➥ BOOK IT HERE
READ ALSO: 17 Best Tours from Mexico City
Teotihuacan Opening Hours: 9 am – 5 pm
Closest city to Teotihuacan: Mexico City (48 km / 30 miles)
Cholula
The ruins at Cholula, better known as the Great Pyramid of Cholula, are a massive archaeological complex near Puebla. This site is recognized as the largest archaeological site of a pyramid in the New World, as well as the largest pyramid in existence.
Yes, you read that right! Even if it's 55 meters in height, it cannot compete with the Giza Pyramid; the Great Pyramid of Cholula is much, much larger in volume. Its base covers 450 meters… on each side. It's the biggest pyramid in all of the Americas.
When the Spaniards arrived, they, unfortunately, pillaged the city and built a church on top. To this day, the Iglesia de los Remedios is still perched on the hilltop and worth a visit too. The views from the top are fantastic, with the imposing (and slightly scary) Popocatépetl volcano in the background.
As with other archaeological sites in Mexico, much is still unknown about it, but the pyramid seems to have been constructed for the god Quetzalcoatl and functioned as a temple. Its style and history are closely linked to the pyramids in Teotihuacan.
Getting to Cholula town from Puebla is easy. In fact, there's a tourist train that will take you there for free. Yes, for free. You can check the schedule here (in Spanish). You can also hop on one of the many local colectivos that connect the towns all day long. The Cholula Pyramid site is within the town limits, so just look for the hill with the big church at the top!
READ ALSO: How to Get from Mexico City to Puebla
➤ If you would like to visit on a day trip from Mexico City, check out this Puebla and Cholula Day Trip from Mexico City. You will have the chance to go around UNESCO-listed city of Puebla and visit the Cholula archaeological site with the aid of a knowledgeable guide. Hotel transport and lunch are included. ➥ BOOK IT HERE
Cholula Opening Hours: 9 am – 5 pm
Closest city to Cholula: Puebla (11.3 km / 7 miles)
Ek Balam
If you're looking for something that is accessible in the Yucatan Peninsula but still off the beaten path, then the Mayan ruins at Ek Balam are for you. This site is very close to Valladolid and not far from Chichen Itza either, and it makes for a great stop on a road trip around the area.
Ek Balam is Mayan for "black jaguar" and it's kind of a newcomer in the Mayan Ruins scene. Restoration only began in 1997, so it's still not well-known by tourists. You will appreciate the quiet, and the gorgeous views from the top of the pyramid, which you can climb, as opposed to what happens in most Mayan ruins in Mexico.
The site is composed of more than 40 structures, including several temples, two palaces, a pyramid, and a ball court, but it's still largely unexcavated, with only 1 square mile (out of the site's 12 square miles) is open to the public. Its highly decorated structures and the presence of a defensive wall set Ek Balam apart from other ruins in the area.
All the ones who visit it keep raving about how beautiful it is and well preserved, so go now before it gets famous!
Ek Balam Opening Hours: 8 am – 5 pm
Closest city to Ek Balam: Valladolid (28 km / 17.3 miles)
11 OFF THE BEATEN PATH MAYAN RUINS IN MEXICO
The most famous ruins in Mexico, like Chichen Itza and Teotihuacan, have undoubtedly earned their reputation and visiting them should definitely be on your list. But if you want to avoid crowds and boast in front of your friends about how you visited a lesser know side of Mexico, then this is your chance.
These are the best off-the-beaten-path Mayan ruins in Mexico.
Muyil Archaeological Site
Here's a great chance to see not only Mayan ruins without the crowds but also the huge Sian Ka'an Biosphere Reserve, which Muyil is a part of and I HIGHLY recommend visiting.
The Sian Ka'an Biosphere Reserve is an area of sublime natural beauty and one of the most ecologically diverse places on Earth. Many people stop in Muyil as part of their visit to Sian Ka'an, but I'll go back to that in a minute.
Back to the site itself, Muyil is a small archaeological site near Tulum, very lush and which receives few visitors, which gives it a magical feeling. Also known as Chunyaxché, Muyil was one of the earliest Mayan settlements on the Caribbean Coast, dating as far back as 300 BC (this is centuries before sites like Chichen Itza or Uxmal were established), and it had close ties to Coba. It remained inhabited right until the Spanish invasion.
Near the site, there is a gorgeous lagoon, which is already on Sian Ka'an's grounds. To get there, look for the wooden boardwalk to the north. It will lead you into the jungle, walking over areas with fresh cenote water and then right into the lagoon. It's a very peaceful experience, like a breath of fresh air, definitely one of the highlights of your visit. To get into this part of the site, you'll need to pay a small fee of 50 pesos (around USD 2.5), since you will be going into the nature reserve.
For an unforgettable experience, along with the ruins, I definitely recommend visiting Sian Ka'an, a UNESCO Biosphere Reserve. It's an experience you won't forget.
➤ The Sian Ka'an and Muyil Archaeological Site Tour will check both sites off your list. With pick-up included in Tulum, they will take you through a nature trail up to the lagoon, where you'll go on a boat ride, followed by a relaxing float down the canal through the mangroves. You will learn about the ecology of the area, explore the ruins at Muyil and cap the day with a healthy lunch. ➥ BOOK IT HERE
Muyil Opening Hours: 9 am – 3 pm
Closest city to Muyil: Tulum (23 km / 14.2 miles)
El Meco Ruins
In the middle of the wild but still a stone's throw from Cancun, you will find El Meco Archaeological Site. Opened to the public very recently, it is a small and very well preserved site.
El Meco was an important trading point in Mayan times but still depended on Coba for survival. From the top of the temple (which is the highest of the Cancun pyramids), you can see the Caribbean Sea all the way out to Isla Mujeres.
El Meco is believed to have been an important port for sea trade networks, and to have worked as a sort of lighthouse and vantage point for incoming ships. The views from the pyramid are incredible, you can get a view not only of the see but also from the jungle and all of Cancun's lagoons.
Going to El Meco makes for a relaxing visit. It is barely outside of Cancun, so it's very easy to get there (a local bus will drop you off), it's very quiet and full of trees that give a pleasant shade and provide cover from the scorching sun! A good option to visit with your kids.
There aren't many notable pyramids near Cancun, so if you are in the area and have little time for ruins, this site is definitely worth checking out!
El Meco Opening Hours: 8 am – 4 pm
Closest city to El Meco: Cancun (9 km / 5.5 miles)
READ ALSO: 41 Fun Things To Do in Cancun
Calakmul
For the most adventurous types, Calakmul is the real deal. Yet another UNESCO World Heritage Site, Calakmul is located deep in the jungle around Campeche, near the border with Guatemala. For obvious reasons, not many tourists venture this far, but those who do will get their reward. This site is a real gem!
Calakmul used to be the capital of a kingdom that included many other settlements, and when it was still a thriving community, around 50,000 people lived there (in the capital alone). The kingdom of Calakmul had a big rivalry and fought constantly with Tikal, until the latter won around 700 AD, which led to Calakmul's collapse and eventual abandonment.
The site today is made up of up over 6,000 ancient structures, with temples, many tombs, and of course, a great pyramid at the center of it all. The pyramid is 45 meters high, making it one of the highest Mayan structures! Climb the pyramid and you will get unbelievable views of the site and the surrounding jungle, which is part of a Biosphere Reserve.
Granted, it takes determination (and time) to get here, but, if you dare to go off-the-beaten-track, this is a fantastic opportunity to have a site almost completely to yourself.
Calakmul Opening Hours: 8 am – 5 pm
Closest city to Calakmul: Xpujil (116 km / 72 miles), Campeche (276 km / 171 miles)
El Tajin
El Tajin is a pre-Columbian archaeological site located amid the rainforests of Veracruz, in the southern part of Mexico. The El Tajin community flourished during the 600 to 1200 CE and, after the fall of Teotihuacan, it became the most important city and main trade center in north-east Mesoamerica.
Just as with Teotihuacan, the history of the city is shrouded in mystery and, to this day, it is still an enigma which civilization was responsible for building it. The site features a wide range of ancient structures including temples, pyramids, ball courts and palaces.
The whole site is considered a masterpiece of Mesoamerican architecture, but the structure that steals all the eyes in El Tajin is, without a doubt, the Pyramid of the Niches. Standing 20 meters tall, this pyramid has a very unique design, with stepped terraces that lead to the top and 365 niches stacked around its four sides. It is believed that the niches were used as some sort of astronomical calendar.
The city saw its doom when the Aztecs started to expand and brutally took over, and it remained undiscovered until 1785, way after the Spanish invasion! In 1992, El Tajin was recognized as a UNESCO World Heritage Site because of its architectural and cultural importance.
Despite its fascinating history, marvelous architecture, and beautiful surroundings, El Tajin is one of the least-visited archaeological sites in Mexico. So if you're looking for off-the-beaten-path ruins and a good mystery story, you know what to do!
El Tajin Opening Hours: 8 am – 5 pm
Closest city to El Tajin: Papantla (10 km / 6.2 miles) / Veracruz (248 km / 154 miles)
Bonampak
Next, I'm taking you to Chiapas, near the Guatemalan border again, to the ancient site of Bonampak. It might not be as impressive as other Mayan sites in Mexico in terms of architectural and spatial size, but size isn't everything. Bonampak has something very unique to offer: the finest examples of classic Mayan frescoes.
READ ALSO: 13 Unmissable Things to do in Chiapas, Mexico
Bonampak means "painted wall". Indeed, the site is known (and highly appreciated by archaeologists) for its murals: incredibly well-preserved frescoes that offer a complex view of everyday life in pre-Hispanic civilizations. The frescoes date all the way back to 790 AD and they are thought to have been painted in a single session each! An impressive feat and a window into history unseen on any other site.
At the time of writing, however, we have received comments saying that the murals are not open to the public, so do check this before you go. It is possible to get there from San Cristobal de las Casas, but it's better to go from Palenque. Going on a tour is also a good idea, since it can be a complicated part of the country to navigate.
Bonampak Opening Hours: 8 am – 5 pm
Closest city to Bonampak: Palenque (146 km / 90.7 miles) / San Cristobal de las Casas (338 km / 210 miles)
Edzná
Only an hour-long bus ride from Campeche, the ruins of Edzna make for a perfect one-day trip. It's hard to compete with ruins the size of Chichen Itza or Uxmal, but really, it's difficult to believe that hardly anyone visits these ruins! The good news? You might have the whole place for yourself! Quite literally! (not counting the iguanas, of course).
Edzná is believed to have been built around 400 BC and abandoned around1500 AD for reasons not yet clear. Edzná translates as "House of the Itzás" or "Place of the Itzás", as in… you guessed it: Chichen Itzá. "Itzá" itself was a term designated to refer to the people of that area in general, but it could have also been a powerful family that lived there before moving to (or maybe founding?) Chichen Itzá.
Since the immediate surroundings lack a water source, Edzna had elaborate underground systems to store rainwater. The site also contains a central plaza, a big palace, and a gorgeous 5-level pyramid that is 50 meters (165 ft) high! They used to allow tourists to climb the pyramid but unfortunately, it's not possible anymore.
There is a light and sound show on the site that is worth seeing! The pyramids get illuminated in different colors to recall the splendor of the Mayan times. The show takes place from Thursday to Sunday around 8 pm in the summer and 7 pm in the winter.
Edzná Opening Hours: 8 am – 5 pm
Closest city to Edzná: Campeche (52.5 km / 32.6 miles)
Chacchoben
If you are looking for a Mayan site close to Tulum, make sure you add Chacchoben to your list of destinations. The Chacchoben ruins are the most popular archaeological site in the south of the Yucatan Peninsula. It makes for a great day trip from Tulum or a half-day trip from Costa Maya.
Chacchoben, Mexico is an ancient Mayan settlement that dates back to 200 BC, although the structures themselves were probably built around 700 AD. The site was discovered in 1946 by a local family, and this is the crazy part: this family decided to settle there and they lived in peace among the ruins until an archaeologist found the site in the early 1970s and reported it to the Government.
Restoration began in 1994 and it wasn't until the year 2002 that the site became available for visitors to see, so it's all pretty new! (I mean, it's ancient but you know what I'm saying).
Today, only a portion of the site is open to the public. Many buildings are still covered in vegetation, patiently waiting to be uncovered and restored. The site features massive platform groups and large temples, and it's very popular with tourists from cruise ships that make a stop here.
Chacchoben Opening Hours: 8 am – 5 pm
Closest city to Chacchoben: Costa Maya (70 km / 43.5 miles) / Tulum (169 km / 105 miles)
Tula
About 2 hours from Mexico City and once the capital of the Toltec empire, there sits Tula. The city served as an important center between the fall of Teotihuacan and the rise of Tenochtitlan.
Considerably smaller than those larger cities, what sets Tula apart is the colossal basalt statues of Toltec warriors that sit on top of one of the pyramids, which was probably dedicated to the god Quetzalcoatl. These statues are not really so, they used to be columns that sustained a roof over the pyramid, and they demonstrate the power and might of the Toltec warriors and civilization.
Maybe too small to warrant an entire day trip, it's a good idea to combine your trip to Tula with a visit to another site, like Teotihuacan.
Tula Opening Hours: 8 am – 5 pm
Closest city to Tula: Mexico City (98 km / 61 miles)
Tepoztlan (El Tepozteco)
Avid hikers, this one's for you! This is one of the most unique Aztec ruins in Mexico.
High up in the mountains of the rainforest near Morelos, in the ancient town of Tepoztlan, you'll find the pyramid El Tepozteco. Dedicated to the Aztec god of Pulque, this pyramid was a kind of shrine that attracted pilgrims from far away… as far as modern-day Guatemala.
The hike up to the pyramid is nothing short of spectacular, with gorgeous waterfalls, lush vegetation, and rock formations. Mind you, it's a steep walk at times, with an elevation gain of 365 meters (1,200 ft), so it will kick your butt if you are not moderately fit, but the breathtaking views will make up for it!
In case that's not enough for motivation, on your way back, you'll come down to a fantastic market with cheap amazing homemade local food!
Bear in mind that "off-the-beaten-path" does not necessarily mean "empty". Even if it's not like the big, famous Mayan ruins, this is a popular spot for locals, especially on the weekends, when it can get packed!
Tepoztlan Opening Hours: 8 am – 5 pm
Closest city to Tepoztlan: Mexico City (83 km / 51 miles)
Mitla
Mitla is the second most important archeological site in Oaxaca (after Monte Alban) and the most important for the Zapotec civilization. Mitla is a Hispanicized version of the native word Mictlan, which means "place of the dead" or "underworld", whereas its Zapotec name (Lyobaa) means "place of rest".
This is because Mitla was constructed as a sacred burial site. Its importance was religious and ceremonial rather than political, as was the case with Monte Alban. The city was still developing when the Spaniards arrived and destroyed it.
What sets Mitla apart from other sites in Mexico is the intricate mosaic fretwork in geometric designs that cover most of the structures, like tombs, panels, columns, and even entire walls. The site is divided into 5 groups of structures. Tip: once you go into the complex you can't retrace your steps, so be sure to spend enough time in each section before moving on to the next one.
A small but unique site, you can see Monte Alban and Mitla in a single combined visit. They are both very close to Oaxaca.
Mitla Opening Hours: Thu-Sat 10 am -4 pm / Sundays 11 am – 3 pm / Mon-Wed: Closed (this information is affected by the pandemic situation and is subject to change)
Closest city to Mitla: Oaxaca (43 km / 26.7 miles)
El Rey
What the Mayan ruins El Rey lack in size, they make up for in convenience. This is arguably the easiest site to visit in Mexico, located right in the heart of the Hotel Zone in Cancun (no, I'm not kidding).
You won't find any giant pyramids here, but these Mayan ruins in Quintana Roo boast more than 40 structures in different states of conservation… and lots, lots of iguanas who think they own the place (they do!).
READ ALSO: 9 Mayan Ruins near Cancun that are Easy to Visit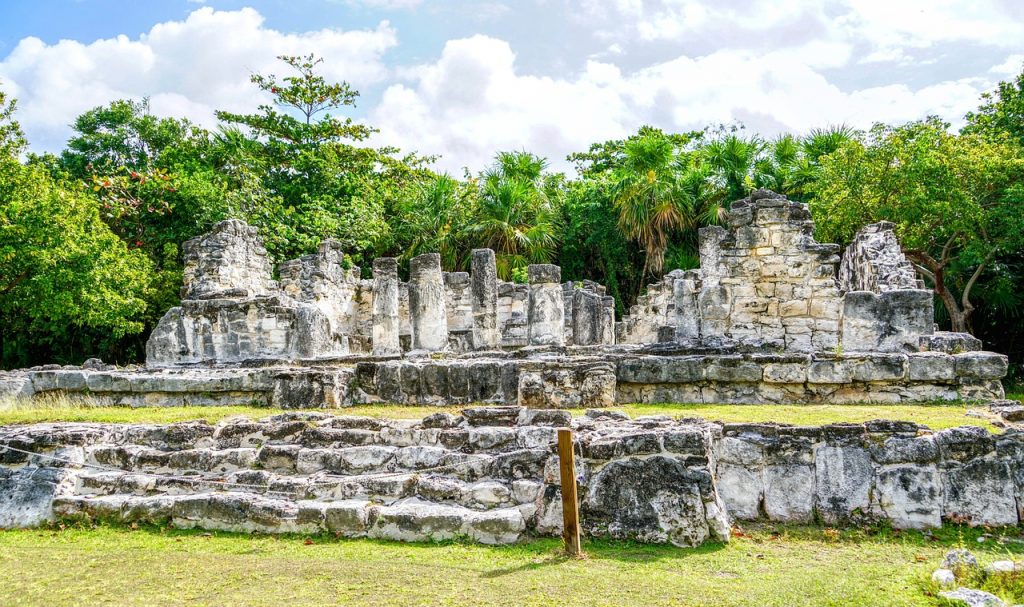 "El Rey" translates as "The King". Remains were found here that were thought to have been of a king, hence the name. The theory is that El Rey was the main area of a settlement based on sea trade and fishing.
It's a short visit but it can be a nice break from the Cancun tourist craziness! There are very nice beaches nearby and a lookout point.
El Rey Opening Hours: 8 am – 5 pm
El Rey exact location: km 18, Kukulcán Boulevard, Cancun Zona Hotelera
---
And we have come to the end! That was my list of the best Aztec and Mayan ruins in Mexico, but it is by no means an exhaustive one. Many more sites, big and small, are scattered all over the country, from the Aztec ruins around Mexico City to the Yucatan ruins or the Mayan Chiapas ruins further south, there is a TON to see. But this guide should have provided you with a basic idea of what's in store. Now have fun planning your next trip to Mexico!
AZTEC & MAYAN RUINS IN MEXICO FAQ
Where are the best Mayan ruins in Mexico?
There are great sites all over the country, but in general, they are in the south of Mexico, with a great majority of the most famous sites in the Yucatan Peninsula.
Where are the Aztec ruins in Mexico?
The Aztec ruins are mostly in what is now the Valley of Mexico, in Central Mexico. The ruins of Teotihuacan, the most visited in the country, are in this area, near Mexico City.
What is the best Mayan ruin to visit in Cancun?
To be honest, there aren't many notable ruins near Cancun. You can check out El Meco, which is modest but boasts the tallest pyramid in the area. However, for more famous, impressive ruins, head to Tulum or Chichen Itza.
Is it safe to visit the Mayan ruins in Mexico?
Yes, the ruins are safe to visit. The sites have security and only admit people who have purchased an entrance ticket. Be careful, though, when climbing a pyramid (if allowed). They have very steep and narrow steps, so don't attempt to climb if you're not in good or at least decent shape.
Which Mayan ruins can you still climb?
At the time of writing, you can still climb the structures of the Mayan ruins at Coba, Uxmal, Ek Balam, El Meco, El Muyil, and Calakmul. This could change any day.
Why can't you climb the pyramids in Mexico?
For 2 main reasons: to protect the structures (sometimes millions of tourists climb the pyramids each year, which was rapidly and severely damaging the ruins) and to prevent injuries (the climbs are steep and the weather is hot, which is not a good combination; after a fatal accident in 2006, many sites decided to forbid climbing).
Where should I stay in Mexico to see the Mayan ruins?
There are ruins all over the country, so it really depends on which ones you want to see. Most tourists stay in the Quintana Roo or Yucatan area, since they provide a good base to get to most of the major Mayan sites. For Teotihuacan (not Mayan, though), stay in Mexico City.
Can you go inside Mayan ruins?
No, it's not possible to go inside the temples and other structures.
Are the Mayan ruins worth seeing?
Yes, yes and yes. Try and visit at least one site during your trip to Mexico!
What are the best ruins near Playa del Carmen?
The three best runis near Playa del Carmen are Chichen Itza, Tulum, and Coba.
I want to visit the Mayan ruins near Mexico City. Where should I go?
You won't find any Mayan ruins, as the area of Mexico City was inhabited by the Aztecs and other civilizations. However, the Teotihuacan pyramids are really impressive and should 100% be on your Mexico City itinerary!